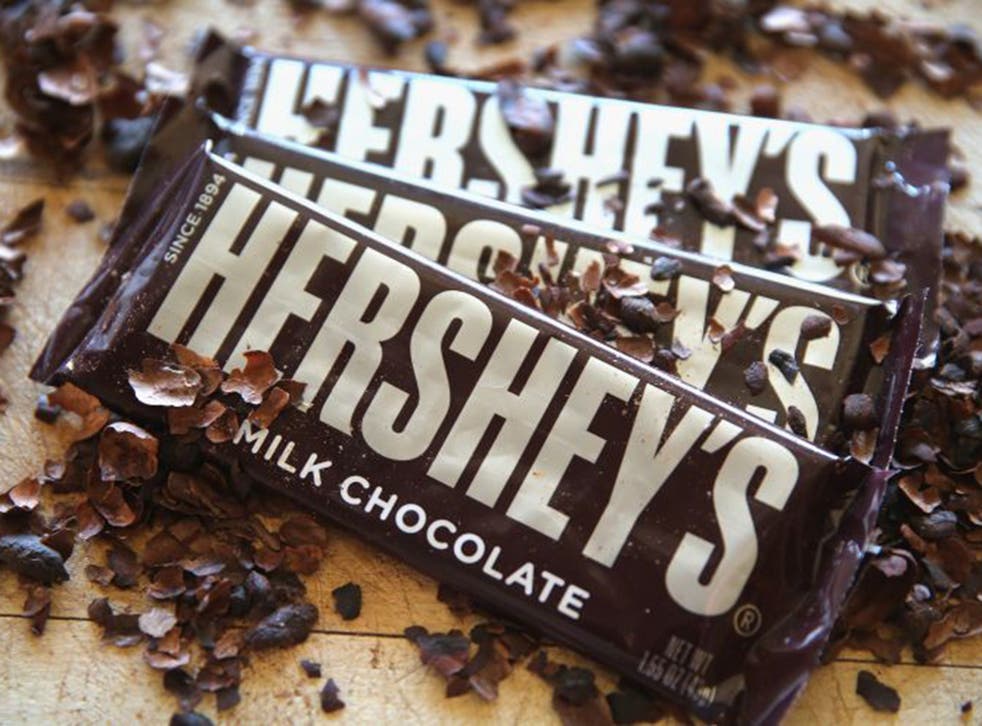 Hershey's angers US chocolate purists by forcing company to stop importing 'yummy' Cadbury bars
The British Cadbury's Dairy Milk has a higher fat content and lists its first ingredient as milk; the US version begins with sugar
America's chocolate connoisseurs are suffering a collective sweet-toothache after the chocolate manufacturer Hershey's reached an agreement with a US food import company that will force several beloved British chocolate products off American shelves.
Last August, The Hershey Company filed a lawsuit against Let's Buy British (LBB), a New Jersey firm that imports products from the UK, South Africa and Australia. The Pennsylvania-based confectioner claimed LBB had violated US trademark laws by importing UK products including Cadbury's Dairy Milk.
Under a licensing deal reached in 1988, Hershey's manufactures the iconic Cadbury's bar for the US market, using a slightly different recipe and packaging. But chocolate purists have long held that the British version tastes better.
Last week, to avoid further legal action, LBB agreed to stop selling any Cadbury's product made in the UK, as well as British-made KitKats, Rolos and Maltesers. Toffee Crisps and Yorkie bars – both produced by Nestlé in the UK – also fell victim to the deal: the former because its distinctive orange, yellow and brown packaging too closely resembles that of Hershey's line of Reese's Peanut Butter Cups; the latter because it infringes on the trademark of the York peppermint pattie, a chocolate-coated mint confection also made by Hershey's.
Lisa Powers, manager of Ye Olde King's Head, a British pub and gift shop in Santa Monica, California, said she was "deeply saddened" by the news. "We have been selling Cadbury's chocolate since opening [in 1974]: Flake, Wispa, Crunchie, Roses, Maltesers, Dairy Milk, Curly Wurly. There is no comparison in taste," she said. "What will happen at Easter? Can you imagine a child without Cadbury's buttons?"
Tea and Sympathy, a New York shop that sells British food, lamented the news on its Facebook page, saying it would sell British chocolate or no chocolate at all. "They want us to sell their dreadful Cadbury approximation, but we can't in good conscience sell you such awful chocolate when we have made our reputation on selling you the yummy real English stuff," the post read.
Hershey's says it intends to halt the sale of any UK-made Cadbury's bars in the US. The confectioner has taken similar action against other companies selling "grey-market" goods that infringe on its US trademark rights, said Hershey's spokesman Jeff Beckman.
Best-selling chocolate bars

Show all 10
"It is important for Hershey to protect its trademark rights and to prevent consumers from being confused or misled when they see a product name or product package that is confusingly similar to a Hershey name or trade dress," Mr Beckman said in an email.
The differences between UK and US Cadbury's Dairy Milk are more than merely imagined: the British version has a higher fat content and lists its first ingredient as milk; the US version begins with sugar. To qualify as chocolate in the UK, a product must contain at least 20 per cent cocoa solids. In the US, the lower limit is 10 per cent, and American-made Dairy Milk is just 11 per cent cocoa. US bars also contain a different blend of chemical emulsifiers, giving them a longer shelf life.
"We make delicious chocolate products that are formulated for the taste preferences and expectations of consumers in each region of the world where we do business," Mr Beckman said. "They all deliver a delicious, great-tasting experience and a sense of goodness."
Join our new commenting forum
Join thought-provoking conversations, follow other Independent readers and see their replies