Hotdogs and champagne... it's the rise of gourmet junk food
Last year it was burgers. Now fried chicken and frankfurter outlets get the gastro treatment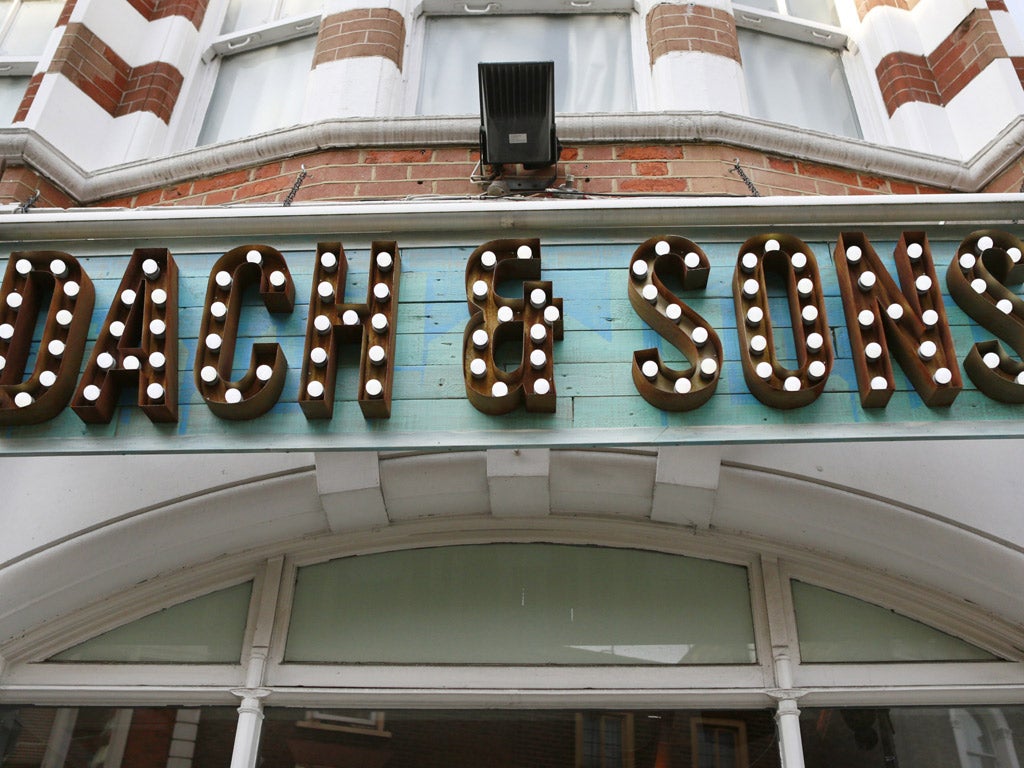 Just 12 months ago we were expected to swallow the idea of a fancy burger for £7, and not even get a portion of chips for that price. This year, the traditional fast food staples of fried chicken and hotdogs are getting the gastro treatment, also with price tags to match. Foodie joints are opening across the UK, with only a cursory nod to their poor relations over at Chicken Cottage, KFC or the mobile stalls selling greasy onion-topped hotdogs outside clubs at two in the morning.
Last week, an outfit called Roost trialled a range of chicken snacks at Street Feast, in Dalston, east London, while Dach & Sons, an eaterie dedicated to hotdogs, burgers and sliders, opened its doors in Hampstead. Next month will see the openings of Bubbledogs – champagne and hotdogs – in central London, and Wishbone, a fried chicken joint in Brixton. Meanwhile, the Soho House Group in central London is moving into rotisserie chicken, opening Chicken Shop in Kentish Town in September.
Mark Hix's Tramshed, which opened earlier in the year, sells only chicken and steak, while Primo's, which opened a hotdog outlet in the Corn Exchange in Leeds two years ago, expanded into the out-of-town Xscape family entertainment centre in April. It is now planning to open hotdog outlets in Manchester, Newcastle and Sheffield.
Nick Julian, operations manager of Primo's, said his firm was rebooting junk food for the middle classes: "We're taking a product and moving it along in quality, taking it up a notch. There has been a rise in single-dish restaurants, as people want something more niche and original than faceless chains."
William Leigh, co-founder of Wishbone, has similarly spent a year perfecting his recipe for fried chicken. "It's important to get a well-sourced, great-tasting product. People are choosing one product and doing it well – and diners are voting with their feet." He said the queues outside the central London burger joint Meat Liquor and the barbequed ribs outlet Pitt Cue Co reflect their popularity.
Simon Anderson, co-founder of Roost, said he believes the rise of gourmet junk food comes from people wanting to eat childhood favourites, but, "cooked really well, using amazing cuts of meat".
James Knappett, former chef at the Michelin-starred restaurant The Ledbury, is co-founding Bubbledogs with his wife, Sandia Chang, and agreed that the emphasis is on the quality of the meat. "We thought it would be fun to put something as humble as hotdogs with champagne. Our buns are handmade, we use the best ingredients and no food contains preservatives."
Nick Jones, whose Soho House also owns the Dean Street Townhouse and Pizza East, has sourced birds from Banham Farm in Norfolk for his rotisserie-style Chicken Shop. "We have created a delicious marinade and a completely new method of cooking them with our bespoke grill," he said. "I feel the time is right for a simple but high-quality restaurant like Chicken Shop."
Guy Fielding, of NPD Group food-service analysts, said: "It's getting restaurant-quality food in a contemporary setting. There's the visual experience of seeing it cooked fresh, rather than being pre-packaged or microwaved, and it's affordable and quick. Restaurants have to get the experience right, and push the provenance."
Elizabeth Carter, consultant editor of The Good Food Guide, said gourmet junk food is "a really big trend". She added: "They're casual, fast, snappy and busy. It's cheek-by-jowl dining, and we have a huge gap in the market." She believes that the UK has given hotdogs a bad name. "We're only just catching up that people will pay a little more for quality." She said the no-booking policy, common to gourmet fast-food restaurants, can be "very annoying" but "helps to create a buzz". But, rather than taking customers from chains such as KFC, she believes customers at gourmet junk food outlets would otherwise have gone more upmarket.
The traditional fast-food chains do not share this view. A spokesperson for KFC said: "All of our chicken on the bone is Red Tractor-assured. In terms of taste, we don't believe that anything comes close to Colonel Sanders's secret recipe." He added that meals at KFC are cheap enough to feed a family of four for £10.
Fast food nation: Junk meals at five-star prices
Roost, Dalston, London
Trialling at Street Feast in London last Friday night, Roost is dedicated to all things chicken: soup, £6 buttermilk fried wings and thighs, and £7 burgers, compared with Chicken Cottage which sells 10 spicy wings for £3.99 or a KFC meal with two pieces of chicken, including chips and a drink, also for £3.99. All Roost chicken is sourced from a farm in Norfolk. Simon Anderson, its co-founder, said: "We are taking the things we loved as children and taking away any guilty feelings, as the meat is ethically sourced."
Bubbledogs, central London
The country's first Grower champagne and hotdogs joint is expected to open in August. Toppings for the dogs include BLT, with truffle mayonnaise; salsa, with red onions, chilli and coriander; and avocado, lime and rock salt. Prices are expected to be between £6 and £7 for a dog, compared with a £2.50 hotdog from the stand outside the British Museum in London.
Primo's, Corn Exchange, Leeds
Selling £3.95 gourmet hotdogs made from 96 per cent meat, topped with Monteray Jack cheese, salsa or guacamole, Primo's – which opened a second hotdog concession at Xscape in Leeds in April will expand to Sheffield, Manchester and Newcastle.
Dach & Sons, Hampstead, London
Hotdogs, burgers and sliders – all at £8 – are paired with craft beer and whisky, with sides of bone marrow popcorn. Sausages are made on site by an in-house butcher at this joint that opened last Friday.
Wishbone, Brixton, London
The UK's first free-range fried chicken restaurant, seating about 40 people with room for 25 more to stand and nibble chicken wings, will open next month in Brixton Market. Prices are yet to be decided, but there will be a veggie option for those who aren't poultry munchers.
Soho House Chicken Shop, Kentish Town, London
Free-range rotisserie chicken from Nick Jones, founder of the Soho, Shoreditch and Babington House clubs. While prices have not yet been confirmed, the chicken joint will simply sell chicken, either quartered, halved or whole. Sides will include triple-cooked chips, coleslaw and corn on the cob.
Genevieve Roberts
Join our commenting forum
Join thought-provoking conversations, follow other Independent readers and see their replies