How the bubbly burst
The finest champagne grapes will wither on the vine this year – made redundant by recession.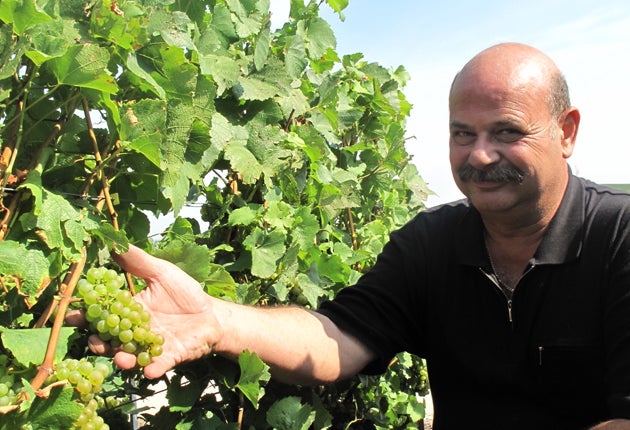 Some of the most prized of all champagne grapes are grown on the chalky, sun-blasted slopes above the village of Chouilly, just east of Epernay. What seems to be a single, immense vineyard, part of the celebrated Côte des Blancs, is actually a medieval quilt of small family holdings.
To an outsider, the rows of vines with golden chardonnay grapes ripe for the picking, are impossible to tell apart. Not for Philippe Gué. He knows his vines like a mother knows her own children in a crowded playground.
Mr Gué drove us over rutted tracks to one of his own rows among thousands of others, awaiting the sound and fury of the grape harvest that begins today. He stooped and plucked a bunch of tiny grapes for tasting. Some were tinged with the marks of a recent bombardment by hail. Otherwise, he said, they were close to perfect.
Each grape exploded in the mouth like a depth-charge of liquid honey, but left a lingering tang of sharpness on the tongue. "They have great sweetness," Mr Gué said. "But also just the right amount of acidity, the perfect balance to make an excellent 2009 vintage of champagne."
Many of these wonderful grapes will never pop a cork or overflow a glass at a wedding or christening. When the champagne vendanges, or harvest, starts today, Mr Gué, an award-winning small producer in Chouilly, will leave one-third of his grapes – the equivalent of 20,000 bottles of champagne – to wither on the vine.
For years, champagne has defied the slump in other French wines and expanded its sales, especially in China and Russia but also in one of its oldest and biggest markets, Britain. But now the champagne bubble has burst. There are over one billion bottles of champagne – almost three years' global supply – piled up in store.
After difficult negotiations, the big champagne houses and the thousands of small producers agreed this month to defend the "image" of champagne as a costly but affordable luxury, rather than allow prices to fall to the level of "other" sparkling wines from Italy, Australia or New Zealand. Instead of maintaining full production and allowing lower prices to stimulate demand, they will dump grapes, or store grape juice, equivalent to more than a quarter of this year's harvest.
"It breaks my heart to abandon grapes of such high quality," said Mr Gué. "But what else can we do? If the demand is no longer there, we cannot keep producing at the same level. It costs money to pick the grapes. It costs money to make and store the wine. Fruit growers do just the same. If there is no demand for peaches or apricots, they leave them on the tree."
For years the big champagne houses – Moët et Chandon, Lanson, Veuve Clicquot – have been scarcely able to buy enough grapes to keep up with world demand. But now the trend has abruptly reversed. Global sales of champagne fell by 19 per cent in the first half of this year – when the world found it had little to celebrate, or could not afford to pay £25 for a bottle of reasonable quality champagne. Global sales may fall to 260 million bottles this year, compared to a peak of 339 million bottles in 2007.
The champagne glut has led to speculation that prices this Christmas may fall to as low as £10 a bottle in Britain (where sales have slumped by around 40 per cent since the beginning of 2008). But the main champagne trade body insists that these reports are premature. "There may be some cut-price offers by supermarkets for the lower-price champagnes," said Daniel Lorson of the Comité Interprofessionnel du vin de Champagne (CIVC). "But overall we expect the price of champagne to hold up well. That is the strategy we have chosen."
The cut-price route taken by other French wine-growing areas in the past – Beaujolais, middle-market Bordeaux, Muscadet – has been calamitous in the long run, the champagne industry argues. Their sales boomed in the 1980s and 1990s and then collapsed. Champagne does not want to go down the same route.
"Champagne is something special, something that is associated with festivity and the high points in people's lives," said Mr Gué. "If you want to keep up the quality, it is relatively costly to make and to store. If you let prices fall too far, you might damage the brand forever."
The champagne industry is sensitive about reports of grapes being left to rot on the vine. The truth, as always in wine politics, is rather complicated. Growers and big champagne houses have set the ceiling on grapes which can be used for champagne this year at 9.7 tonnes a hectare for small producers, and 8 tonnes a hectare for vineyards owned by the big champagne houses. Last year, the agreed harvest was 13 tonnes of grapes for every hectare (roughly two and half acres).
The difference, the equivalent of 100 million bottles of champagne, does not necessarily have to be left to rot. Growers have the right to keep a fixed amount of wine in a "quality reserve" – non-sparking, white wine which can be made into champagne at a later date, if demand increases.
Those growers who have space in their allotted reserve can go above the 9.7 tonnes limit this year. Those who have already reached the maximum, like Mr Gué, have no choice but to abandon a large part of their harvest.
Like many small producers, Mr Gué sells half of his grapes to a big champagne house in his case, Veuve Clicquot. The rest he bottles and sells under his own label. These sales, to personal callers and regular customers, have not been affected by la crise. Mr Gué will therefore reduce his grape sales to Veuve Cliquot, rather than cut production of his own, or rather his late father's label, René Gué.
"There are already plenty of champagne bargains if you know where to look," Mr Gué said. "We sell our own bottles to callers from €13 [£11]. I think that's excellent value for champagne."
Mr Gué's champagne is indeed prized by those who know it. He sells for a very reasonable price, compared to champagnes of similar quality in the French or British shops. Not everyone can drive to Chouilly to stock up for Christmas. The fact that Mr Gué's reasonable prices have resisted the recession better than some of the big-name labels might, nonetheless, give the industry cause for thought.
Small producers can cope with a deliberately reduced champagne harvest for one year, but not for two or three. Twelve months from now, if sales fail to recover, there could be a bitter harvest in Champagne.
Join our commenting forum
Join thought-provoking conversations, follow other Independent readers and see their replies