Huffin and puffin over a duffin - the doughnut-muffin hybrid raising heat between Starbucks and small pastry chain
'They're protecting something that they clearly aren't the originator of' complains businesswoman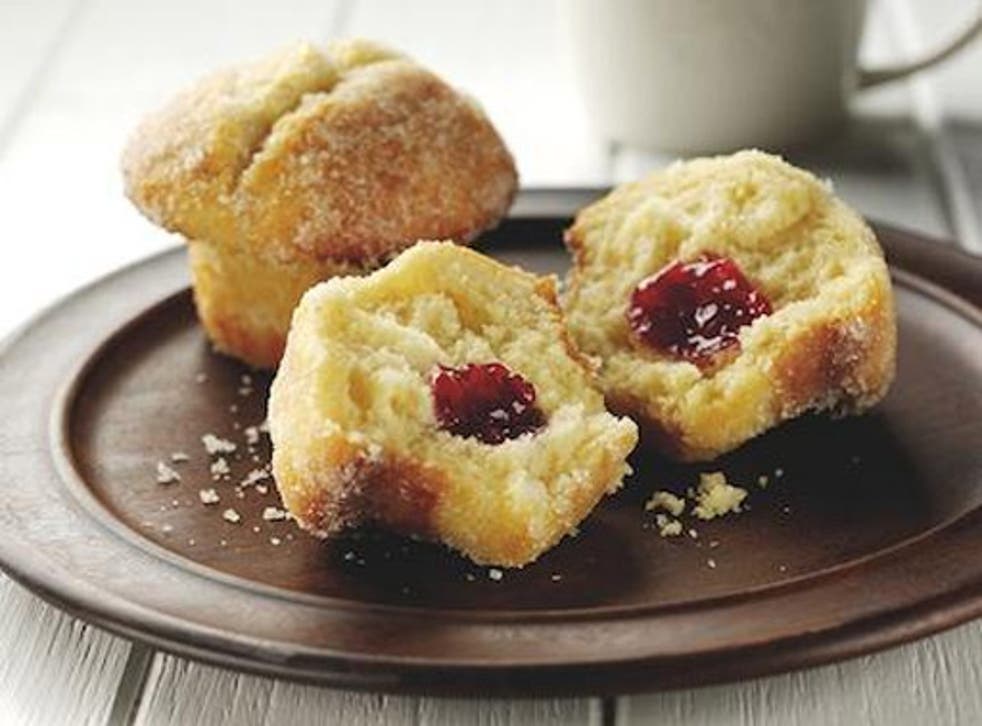 The owner of a small chain of local bakeries has hit out after Starbucks UK trademarked the name of one of her most popular products - a sweet doughnut-muffin called the duffin.
In a battle of David versus Goliath, Bea Vo, owner of Bea's of Bloomsbury, said she was shocked to discover that the duffin had been successfully trademarked last month by pastry supplier Rich's Products, which developed the treat for Starbucks UK.
She now fears that the high street coffee chain could, in theory, prevent her from selling the snack in her four bakeries across London.
The duffin is a sticky combination of muffin and doughnut that is baked, dipped in melted butter and then coated in sugar. Ms Vo's version of the duffin, which she devised more than two years ago, also includes nutmeg and buttermilk and is injected with raspberry jam. Her recipe closely resembles the Starbucks treat that went on sale at 730 branches across the country last week.
"Starbucks maintains its original account that its invention is a unique invention and that it did an extensive online search for the word duffin and found nothing and as a result their supplier trademarked that name. I think that's rubbish," Ms Vo told The Independent.
She added: "I would love to see the emails between Starbucks and Rich's Products during the birth of their invention."
When Starbucks launched its duffin, which is "lightly spiced with nutmeg and has a raspberry jam filling", the coffee chain described it as the "perfect creation", while Rich's Products said Starbucks was a "pioneer of innovation" in pastry.
But Ms Vo is far from convinced. She points out that she included her duffin recipe in a cookbook published in September 2011. She also claims to have been selling the pastry in her four branches since April of that year.
"Of course the concept of the doughnut/muffin has been around online for a few years, but this version with nutmeg is my particular take on it," she said. "I don't mind if Starbucks chooses to create a crappy version of my duffin, but don't trademark it, which gives you the legal right to prevent anyone else using the name duffin, especially the people who used it for two years before you."
Starbucks UK confirmed that its supplier Rich's Products had trademarked the name in the UK.
Ian Cranna, the firm's vice-president for marketing and category, said: "Since launching, we have discovered there are other duffins out there in the UK, including at Bea's of Bloomsbury… however we'd like to make it clear that neither Starbucks nor Rich's Products has suggested to Bea's of Bloomsbury that they will attempt to stop them selling their own duffins."
Ms Vo described Starbucks' statement as "laughable" though and is concerned about possible future legal consequences: "They own the trademark. The only purpose of owning the trademark is to protect the name. But they're protecting something that they clearly aren't the originator of."
She added: "It's like saying we trademarked the word fairy cake and we're going to let this one person make fairy cakes because they've come up with it. But everyone else, well, we're going to f*** them over."
Rich's Products did not respond to repeated requests for comment.
Battle of the bakers: Other hybrid pastries
Cronut
Created by the French pâtisserie chef Dominique Ansel's bakery in New York this summer, the cronut kicked off the craze for hybrid pastries. It is a messy iced doughnut made from deep-fried croissant pastry and filled with cream and covered in sugar.
Greggsnut
Mr Ansell trademarked the term "cronut", so the British bakery chain Greggs jumped in with the "Greggsnut" – an imitation that it claimed was the "most exciting launch since the sausage roll".
The Townie
This pastry mash-up of a brownie and a tart was also created by Bea's of Bloomsbury at the suggestion of Victoria Stewart, a food writer with the London Evening Standard, and has taken US bakeries by storm.
Register for free to continue reading
Registration is a free and easy way to support our truly independent journalism
By registering, you will also enjoy limited access to Premium articles, exclusive newsletters, commenting, and virtual events with our leading journalists
Already have an account? sign in
Register for free to continue reading
Registration is a free and easy way to support our truly independent journalism
By registering, you will also enjoy limited access to Premium articles, exclusive newsletters, commenting, and virtual events with our leading journalists
Already have an account? sign in
Join our new commenting forum
Join thought-provoking conversations, follow other Independent readers and see their replies