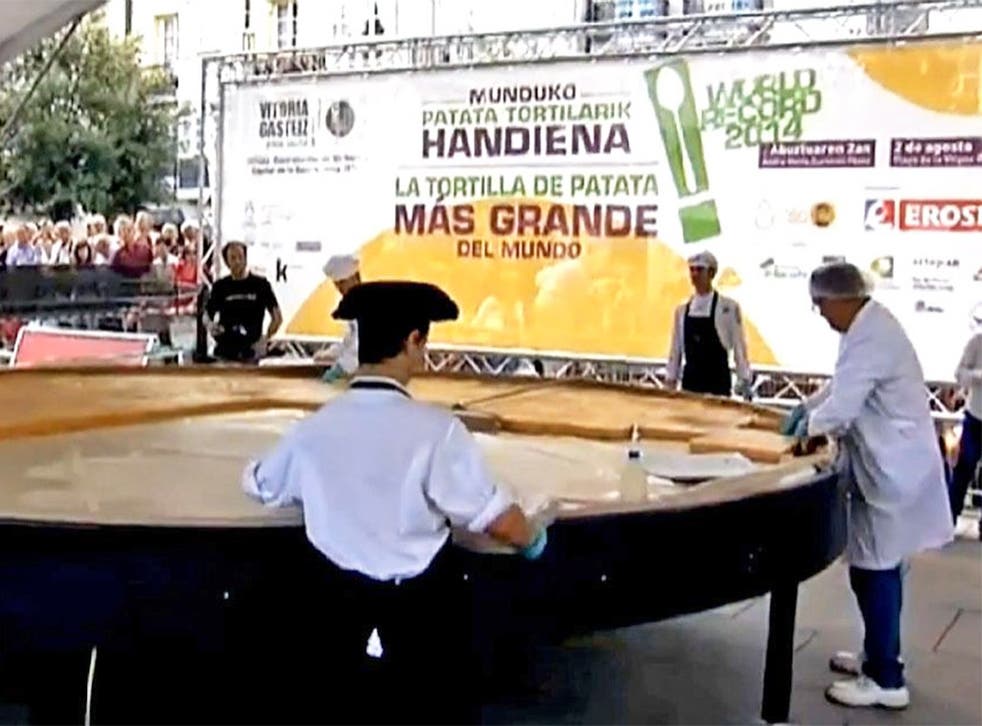 Huge fry-up turns sour after Spanish city's record omelette bid falls flat
The tortilla de patatas contained 840kg of eggs, 1,600 potatoes, 30 onions, 150 litres of olive oil and weighed 1,500kg
Alasdair Fotheringham
Wednesday 03 December 2014 19:38 Comments
You can't make an omelette without breaking eggs, but you can certainly make one without breaking records – as the citizens of a Spanish city discovered this week when their attempt to make the world's largest tortilla was rated as indigestible by the official history books.
Vitoria's unsuccessful bid was cooked up this summer, when chefs used a specially built five-metre-wide pan for a tortilla de patatas containing 840kg of eggs, 1,600 potatoes, 30 onions and 150 litres of olive oil. The final product weighed 1,500kg, took more than four hours to cook, and was big enough for 10,000 servings. Television stations from as far afield as Kuwait sent crews, and the Spanish film director Juanma Bajo Ulloa was reportedly so impressed he recorded footage for a future production.
"We were named Spain's 2014 Gastronomy Capital which is partly why they decided to try making the biggest omelette," Ainara Hernando, a local writer, explained to The Independent.
In August there were reports that Vitoria's tortilla was set for a place in Guinness World Records. However, a statement confirmed that "the evidence submitted as part of the claim did not beat the existing record which stands at 11.036 tonnes achieved in Japan on 19 March 1994."
Guinness World Records Day

Show all 12
The statement also said that the tortilla had not been prepared correctly – an apparent reference to it being cooked in sections, then assembled like a jigsaw.
Opposition politicians in the city criticised Vitoria's mayor, Javier Maroto, for the omelette bid failing to solidify, claiming that "Tortilla-gate" had cost town hall coffers some €45,000 (£35,000) – something Mr Maroto denied.
Register for free to continue reading
Registration is a free and easy way to support our truly independent journalism
By registering, you will also enjoy limited access to Premium articles, exclusive newsletters, commenting, and virtual events with our leading journalists
Already have an account? sign in
Join our new commenting forum
Join thought-provoking conversations, follow other Independent readers and see their replies