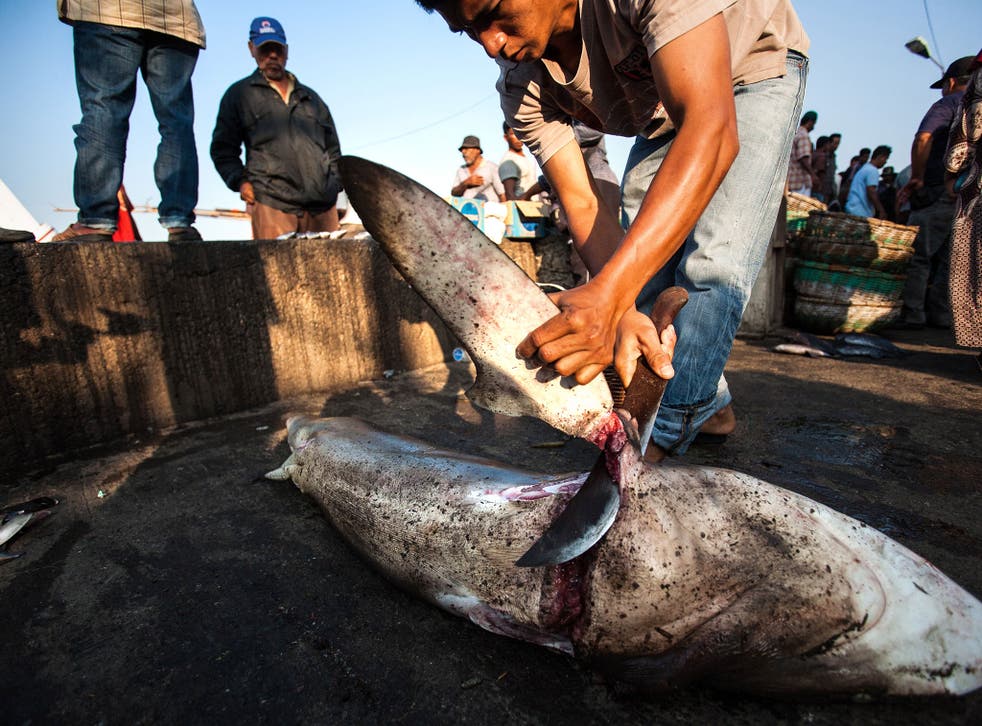 Illegal shark fins discovered at exclusive London Chinese restaurant
The stock has been confiscated and destroyed by Trading Standards
A stock of illegally imported shark fins has been confiscated from one of Britain's most exclusive Chinese restaurants and destroyed by Trading Standards, following a report in The Independent.
Royal China Club in London's West End – where lunch costs around £70 a head – is celebrated by critics for serving some of the best Chinese food in the capital.
But the upmarket restaurant came under investigation by Westminster City Council trading standards after the venue's marketing manager, Jason Chan, admitted it was selling shark fin soup – alongside other exotic items not listed on the menu – during an interview with this newspaper in January.
Mr Chen said many of the ingredients were brought through airport customs in suitcases because "if they were sent over, they'd get confiscated", leading to complaints to the local council by the marine conservation charity Bite-Back. Subsequent inquiries found the shark fins were being sent by post from Hong Kong in contravention of UK import law.
Graham Buckingham, campaign director at Bite-Back, said: "The parallels between the trade in ivory and shark fins are huge and the fact that the Royal China Club has now been caught illegally importing fins to the UK is a further evidence of the corrupt industry behind this controversial menu item."
Mr Chan had boasted of a range of rare off-menu items – including abalone and sea cucumber – and an increasing demand for them fuelled by wealthy Chinese tourists. A set menu could cost diners £2,800 a head, he said.
Royal China Club has not removed the soup from its menu but now must import it through legal channels.
Shark fin – and all the other ingredients offered by the Royal China Club – is legal if imported properly, according to the Department for Environment, Food and Rural Affairs. However, there is growing pressure for restaurants in the UK to remove the ingredient from their menus. In recent years, a third of restaurants who previously offered shark fins have removed it from menus. Paul Keung, manager of the Royal China restaurant, had appeared with the chef Gordon Ramsay in a 2013 documentary which criticised the use of shark fin, suggesting the restaurant's management would reconsider its use.
A council officer said: "The council undertook an investigation and discovered that they imported the produce through an unapproved channel and as such we have taken appropriate action against the restaurant."
Neither the restaurant, nor their PR firm, have responded to requests for comment.
Register for free to continue reading
Registration is a free and easy way to support our truly independent journalism
By registering, you will also enjoy limited access to Premium articles, exclusive newsletters, commenting, and virtual events with our leading journalists
Already have an account? sign in
Register for free to continue reading
Registration is a free and easy way to support our truly independent journalism
By registering, you will also enjoy limited access to Premium articles, exclusive newsletters, commenting, and virtual events with our leading journalists
Already have an account? sign in
Join our new commenting forum
Join thought-provoking conversations, follow other Independent readers and see their replies