Japanese vegetarians campaign for Tokyo's 50,000 restaurants to offer meat free dishes
The Tokyo Smile Veggies group wants eateries and shops to cater for the influx of vegetarian tourists when the counrty hosts the 2020 Olympics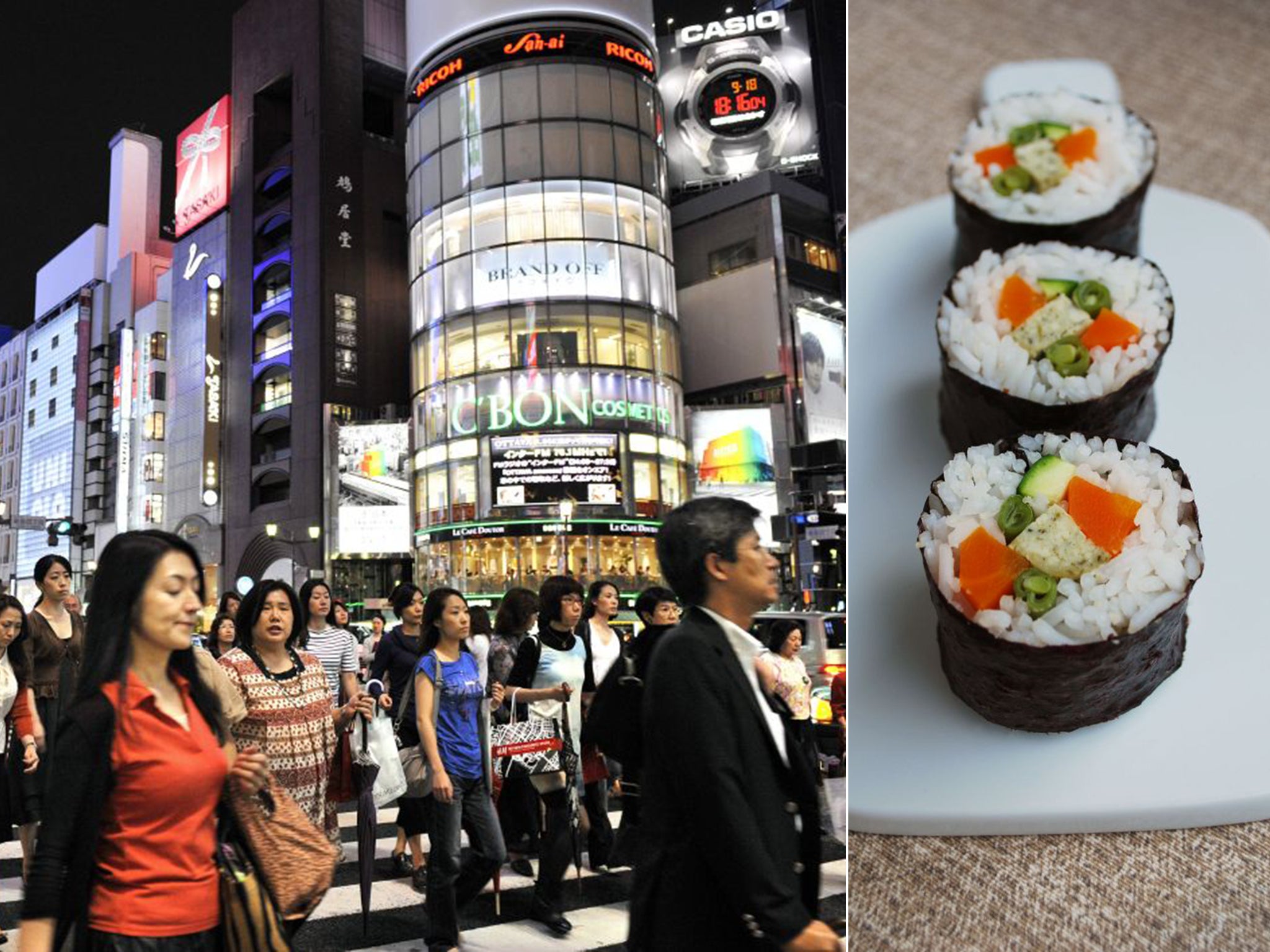 In a bright, modern restaurant in west Tokyo, a quiet revolution is being plotted. About 30 vegetarians have met to discuss how they can convince the restaurants of Japan's capital city to start serving vegetarian food.
Tokyo may be the gastronomic capital of the world – with more Michelin-starred restaurants than any other city – but it has lagged behind in catering for those who don't eat meat. But with Japan hosting the Olympics in 2020, and the associated influx of vegetarian tourists, the group Tokyo Smile Veggies aim to get 50,000 restaurants – the number of convenience stores in Tokyo – to offer vegetarian dishes by the time they arrive. They plan to do this by hosting workshops explaining what vegetarianism means, by offering recipes and training to chefs, and by getting restaurants that are vegetarian-friendly to display signs.
"We don't want to increase the number of vegetarian restaurants," said one of the group's four founders Aya Karasuyama. "We want vegetarian food to be served in normal restaurants. This hardly exists at present. People think vegetarians are strange and only eat salad."
Over the past decade there has been a rise in popularity in vegetarian and vegan food in Japan alongside a boom in macrobiotic food, which has led to the opening of about 500 vegetarian and macrobiotic (which serve meat but have many vegetarian options) cafés and restaurants, according to Tokyo Smile Veggies. The macrobiotic trend started not long after Madonna appeared on the Japanese show Smap Smap in 2006 hailing her macrobiotic diet, according to the owner of one restaurant.
But traditional Japanese restaurants tend not to include vegetarian food, and instead have lots of meat and seafood dishes – noodles have fish stock or pork as their soup base – or specialise in one type of food. Vegetarians are often met with a look of panic when they say that they don't eat meat or fish. Hanae Matsuya, a food PR, said: "Vegetarian restaurants open all the time but end up closing. Japanese are very good at cooking with vegetables at home so when they go out they like to eat meat."
She said vegetarian food "saved her life" after she turned to a macrobiotic diet after becoming depressed following the Japanese tsunami of 2011. "After the earthquake everything changed," she said. "People started to pay more attention to their health, and cared about where food came from. Food safety became a big issue, and many Japanese are now interested in organic farming."
Kumiko Fukazawa, another of the group's founders, became a vegetarian due to health problems, and cut out meat from her husband Shusei's diet at the same time. "At first the food was awful," he laughed. "But it got better and better and I started to feel a lot healthier, and lost 13kg [2 stone] so now I am vegetarian, too."
Historically, Japan does have a tradition of vegetarianism. Buddhists are banned from eating flesh and some of the tastiest vegan food in the world "shojin ryori" is eaten at Buddhist temples across Japan.
"It's been really tough as many people don't understand what being a vegan is," says Masato Hayashi, a marketing manager who has been vegan since he was a teenager. "Even though shojin ryori is vegan, Japanese people have not made the connection and it's seen as special food."
Patricio Garcia de Paredes, a macrobiotics teacher from Spain who lives in Yamanashi prefecture, west of Tokyo, travelled to the capital for the meeting. "Japanese chefs are very good at cooking with vegetables, but they think their customers just want meat," he said.
"In Europe, 20 years ago, vegetarians would be given a salad in a restaurant and everyone would feel sorry for them. This has changed completely, so it will change in Japan."
Join our commenting forum
Join thought-provoking conversations, follow other Independent readers and see their replies