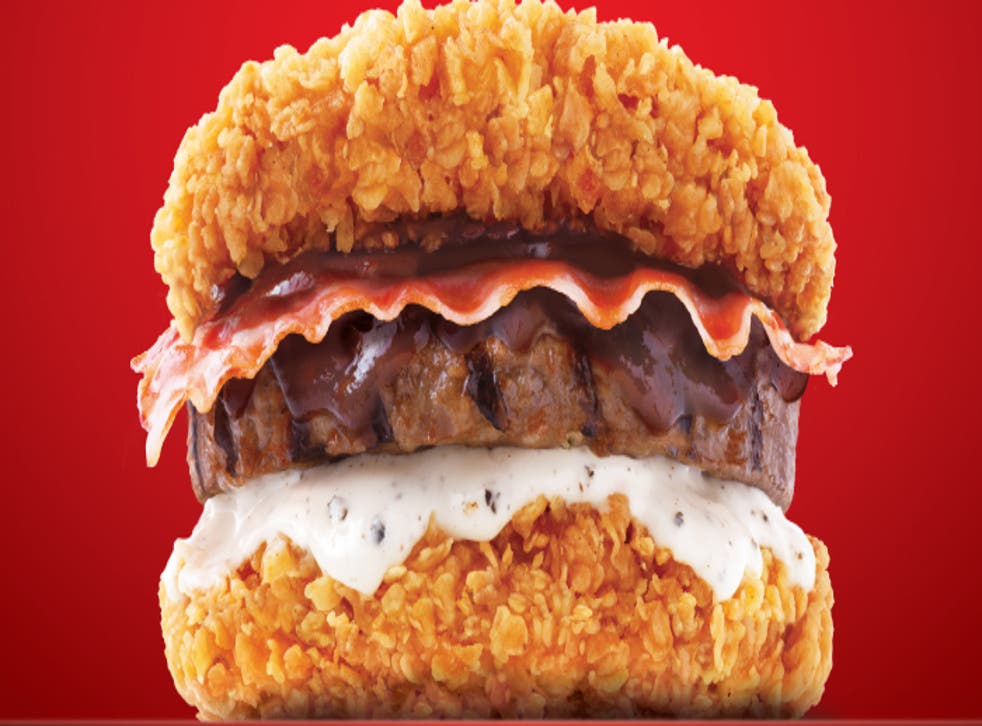 KFC unveils breadless meat beast burger with fried chicken acting as buns - but only in Korea
The 'Zinger Double Down King' is a play on KFC's successful 'Double Down' burger released in 2010
Perhaps only suitable for those on the Atkins diet, KFC in Korea has unveiled its latest bunless creation that could make your eyes – and your arteries – water.
The 'Zinger Double Down King' builds on the success of its ancestral burger (from 2010) called the Double Down, which was a breadless symposium of cheese and bacon sandwiched between two slabs of fried chicken.
The Double Down was never released in the UK (fortunately?), though that hasn't stopped eager Brits trying to fashion one for themselves out of the insides of two tower burgers.
Now, however, South Korea has taken it one step further by adding a beef patty to the mix and some extra sauce.
It went on sale on 18 October and is sold on its own for about £4 or in a meal for £7. It is also contains about 750 calories.
Apparently, two million of the original 'Double Down' burger were consumed by Canadians in less than two months of them being on sale in 2011.
The alternative burgers

Show all 10
Last year KFC Korea also created the Double Down Maxx, which was comprised of two fried chicken pieces sandwiching a hash brown in addition to cheese.
Join our new commenting forum
Join thought-provoking conversations, follow other Independent readers and see their replies