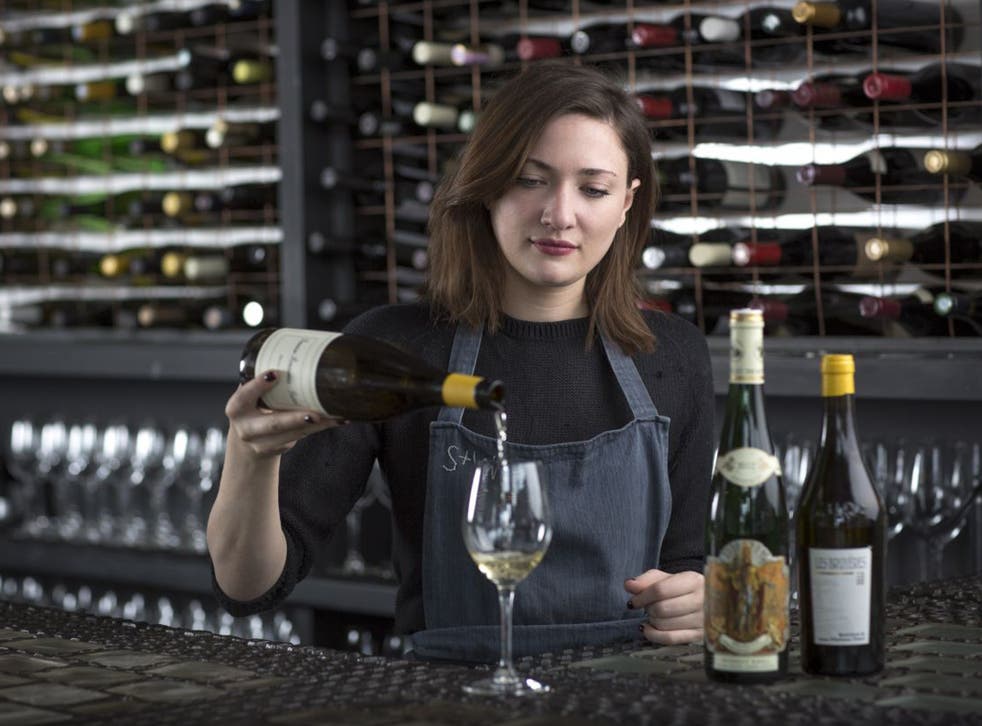 Move over, men of the wine world, and make way for the sommelière
More women are taking on the traditionally male-dominated role of wine waiter, and Britain leads the field
Susie Mesure
Sunday 01 June 2014 00:15 Comments
That image of a stereotypical sommelier – male, balding, condescending and probably French – might just need a rethink. And it's all down to a group of women who are dominating the new wine scene and proving you don't have to be a suited old wine bore to make a living as an oenophile.
The change is most noticeable in some of Britain's top restaurants, where women are now just as likely as men to help diners demystify the wine list. Gordon Ramsay Holdings and the steak group Hawksmoor are among those to employ female sommeliers. And last year's Young Sommelier of the Year was a woman: Kathrine Larsen.
Emily O'Hare, head sommelier for the past seven years at the River Café in west London, has helped to blaze the female-led trail, which spans pop-up wine "sessions", mobile wine bars and some of the capital's hottest new wine bars.
Industry experts believe the wine revolution is the natural successor to its foodie forerunner. "People aren't stopping at food; now they want to understand wine. And with wine there's so much to know," says Ms O'Hare, who at 33 is one of the older oenophile cheerleaders.
Charlotte Sager-Wilde, 29, who opened Sager + Wilde, an east London wine bar with her husband Michael last year, employs Paisley Tara Kennett as the bar's general manager. Ms Sager-Wilde said: "There's a cycle: in the 1990s it was about cocktails, then coffee, craft beer, and now it's time for wine.
"I've seen a vast change in the kind of consumer that enjoys wine and the kind of wine they're drinking: it's not just house wine any more."
She said Sager + Wilde had only just employed its first man; he follows eight female wine experts. "It was never intentional only to employ women. It just happened because everyone came to us via word of mouth," she added.
About one-third of the mature students studying wine production or how to run wine businesses at Plumpton College, East Sussex, are women, according to its head of wine, Chris Foss. He said the college was struggling to meet demand from all the new English vineyards for its graduates, making wine a good industry for both genders.
Tomorrow's inaugural London Wine Week, the first of its kind in the UK, is run by Emma Murphy, who used to run special events for Gordon Ramsay. "There are more women coming through across the board, especially as managers. They are leading new types of events, all aimed at making wine more approachable," she said. One such example is London Wine Sessions, a one-day wine fest this Saturday featuring talks and plenty of tasting.
Ruth Spivey, 32, perhaps epitomises the new oenophile. The former model launched a wine car-boot fair to try to appeal to a new type of wine drinker. "Maybe girls veer down a more fun, approachable route," she said. "Maybe because I'm a women, [wine] seems more approachable to other women." That said, she isn't aiming to attract only women, and the crowds at her events are "about equal", she added.
If this is enough to make the archetypal red-trousered wine-lover of yore reach for his spittoon in disgust, he can take comfort from the fact that the changes don't go down well with everyone. Ms Sager-Wilde admits she's had "old-school" male customers questioning her knowledge and demanding to see her husband. "Some people are just very old-fashioned about wine in general and that's a shame," she added.
But Julia Oudill, 24, sommelier at La Compagnie des Vins Surnaturels in London, says she's finding working in the UK far easier than her native France. "In Paris, I had a lot of hostility; you're not taken seriously as a young woman. They would ask to see the sommelier, even though I was one."
She believes women taste wine differently from men. "The nose for a woman is more delicate," she said. "We are more precise." But she refused to be drawn on which gender was better. "It's very important to have a balance between men and women, because women have a different perception from men."
Register for free to continue reading
Registration is a free and easy way to support our truly independent journalism
By registering, you will also enjoy limited access to Premium articles, exclusive newsletters, commenting, and virtual events with our leading journalists
Already have an account? sign in
Join our new commenting forum
Join thought-provoking conversations, follow other Independent readers and see their replies