Nestle responds to 'shrinking Quality Street tin sizes' after backlash from outraged customers
Nestlé has said the picture is an unfair comparison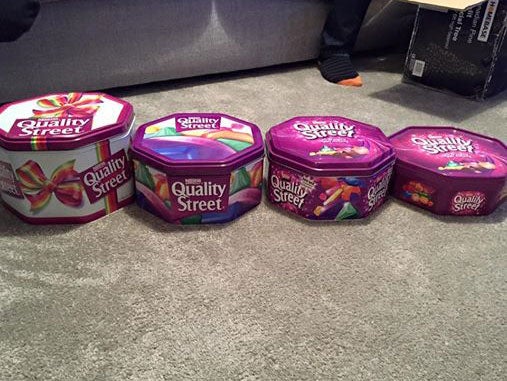 Quality Street has responded to pictures showing the shrinking size of its Christmas tins after the images sparked criticism from outraged customers.
Charlotte Stacey Hook from Washington, Tyne & Wear, posted a picture of the Quality Street tins she has collected over the past 20 years.
"Been putting the Christmas tree up, always keep my tins to put my decorations in after Christmas!" wrote Ms Hook on Quality Street's Facebook page.
"Look how they've changed in size from 1998 till 2014! Bring back the big tins! Loyal Quality Street customer!"
The latest tin weighs 780g and appears less than half the size of the tin Ms Hook bought nearly two decades ago.
Nestlé, which owns the British confectionary brand, have defended their festive tins saying the picture is an unfair comparison as a larger 1.3kg tub is still on sale.
Food and drink news
Show all 35
Since being posted on Tuesday the message has been shared over 35,000 times and received more than 85,000 likes.
Scores of Nestle customers have taken to social media expressing their dismay over the shrinking tubs, with one labelling the Quality Street tins' evolution the "new Freddo price scandal".
Another user described the tin as the "grim, distressing and crippling reality of Christmas in 2015".
A Nestlé spokesperson said: "This image does not compare like for like. As well as the 780g tub pictured, we also have a 1.3kg tin available which lovers of Quality Street might like to try this Christmas.
"We want to give the best possible value for money and we believe that this product is still extremely competitive."
Join our commenting forum
Join thought-provoking conversations, follow other Independent readers and see their replies