New gold Stilton retails at £60 a slice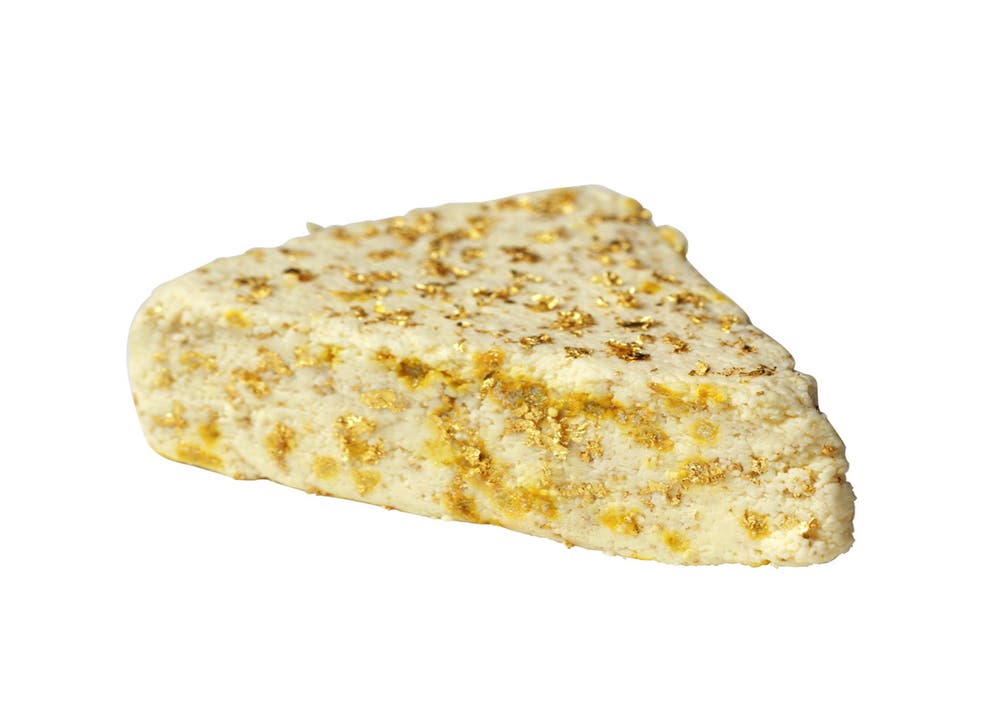 Try adding this to your after-dinner cheeseboard this Christmas - a Stilton made of real gold which costs £60 a slice.
A whopping £6 price tag for a single cracker-sized wedge (if you divide the £60 slice into 10 portions) may seem a bit decadent to some but celebrities are already queuing up to get their hands on some of the swanky Stilton.
Long Clawson Dairy in Leicestershire will make a limited edition run of it this Christmas and has already been contacted by a variety of interested parties including a Gulf-based oil sheikh and a famous pop star.
Made from premium white Stilton shot-through with a combination of real edible gold leaf and real gold liqueur, its creators say it is Britain's "blingiest" cheese, 67 times more pricey than regular Stilton, which comes in at around 90p for 100g.
At £60.87 per 100g slice, or £608 a kilo, Clawson Stilton Gold is the world's most expensive Stilton and the most expensive cheese of any kind made in the UK.
Janice Breedon, a spokeswoman for Long Clawson Dairy, said: "For confidentiality reasons I can't publicly identify the people who have inquired about our Clawson Stilton Gold but, suffice to say, they are all very well known.
"We wanted to create something special, a unique Stilton cheese, for the Christmas market - just a limited run to hopefully get more people interested in Stilton.
"We're frankly amazed that word has leaked out and we're being contacted by some very important and well-heeled people about the cheese.
"It does look amazing though. You can see the gold clearly in the slices and we've not been shy with how much gold we've put in the batch.
"It's Britain's blingiest cheese but, judging by the inquiries we've had, I'd say most of it will be leaving the country before Christmas."
Clawson Stilton Gold is currently available to buy online at Long Clawson Dairy's website http://www.clawson.co.uk.
PA
Register for free to continue reading
Registration is a free and easy way to support our truly independent journalism
By registering, you will also enjoy limited access to Premium articles, exclusive newsletters, commenting, and virtual events with our leading journalists
Already have an account? sign in
Register for free to continue reading
Registration is a free and easy way to support our truly independent journalism
By registering, you will also enjoy limited access to Premium articles, exclusive newsletters, commenting, and virtual events with our leading journalists
Already have an account? sign in
Join our new commenting forum
Join thought-provoking conversations, follow other Independent readers and see their replies