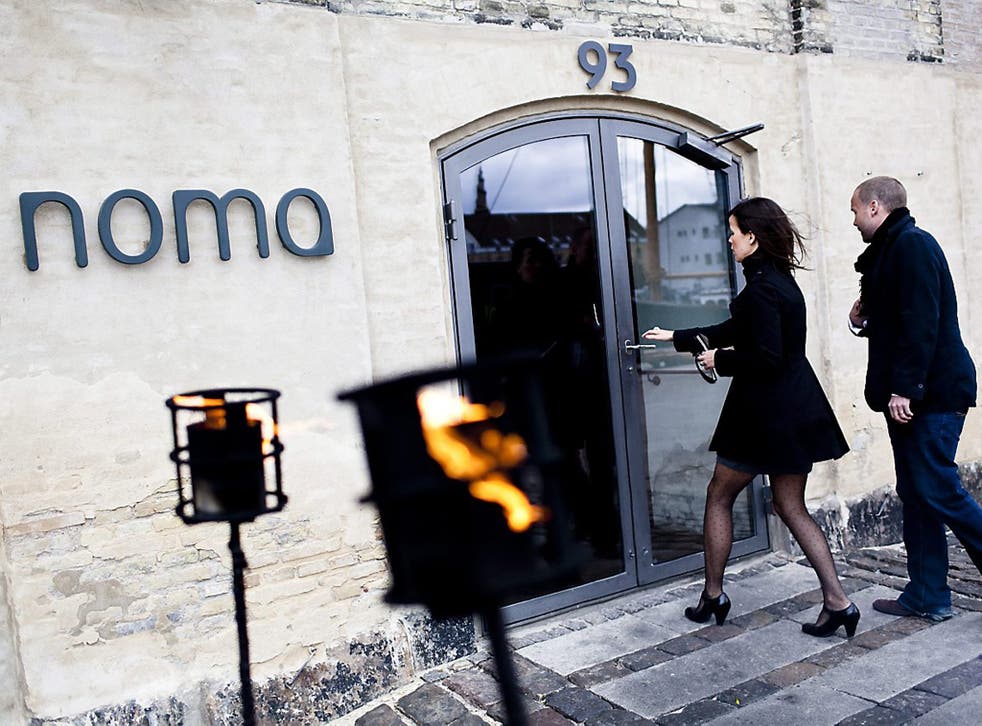 Noma, 'the world's best restaurant,' feels the heat after 63 diners get vomiting virus
It has been voted the world's best restaurant three years in a row, but is unlikely to be be winning any hygiene awards after dozens of diners fell ill with food poisoning.
Noma, the two Michelin-starred venue in Copenhagen, has been censured by the Danish food inspectorate after 63 out of 78 customers who ate there over a four-day period last month suffered from a norovirus that causes vomiting and diarrhoea.
The restaurant, run by René Redzepi, who has worked at El Bulli and the French Laundry, and Claus Meyer, issued an apology after Denmark's food authority found that poor hygiene in the kitchen was to blame for the outbreak.
The agency, Fødevarestyrelsen, wrote in its report: "There has been illness among staff who have handled the food product. The inspection visit was due to guests complaining of vomiting and diarrhoea."
Noma was also criticised for not disinfecting its kitchen quickly enough to prevent the virus from spreading. There was also no hot water in the taps that staff used to wash their hands.
The restaurant was inspected late last month after diners became ill with what is known in Denmark as Roskilde virus, the Copenhagen Post reported.
Noma acknowledged that internal procedures had not been good enough and that an e-mail from an employee reporting his sickness had not been seen in time.
The managing director, Peter Kreiner, said: "Since the outbreak we have worked closely with the health authorities to get to the bottom of it and find the source of infection.
"We are extremely sorry about all of this and I have personally been in dialogue with all the guests who were affected and discussed compensation for them." The restaurant would not be closing down, he added.
Noma – a portmanteau formed from the Danish words nordisk, meaning Nordic, and mad, meaning food – was named the best restaurant in the world in 2010, 2011 and 2012 by Restaurant magazine, an accolade previously held by Spain's El Bulli, the French Laundry in California and the British chef Heston Blumenthal's Fat Duck in Bray, Berkshire. The winner of the 2013 award will be announced next month.
The restaurant offers reinvented Nordic cuisine and a meal for two with wine can cost hundreds of pounds. Despite having only 40 covers a night, it receives about 100,000 booking enquiries a month.
Last year Mr Redzepi was praised by the competition judges for being "the standard bearer for the New Nordic movement" and was recognised for using local and seasonal ingredients and foraged foods.
While its Christianshavn premises were closed last summer for renovations, Noma set up a pop-up restaurant at Claridge's hotel in London, offering a nine-course dégustation at £195 a head that included beef tartare with sorrel, juniper salt and tarragon cream – and live ants.
Noma is not the only top venue to be hit by its high-paying guests falling ill. The Fat Duck was closed for about three weeks in 2009 after hundreds of customers became unwell with norovirus. The Health Protection Agency later concluded that shellfish were to blame.
Register for free to continue reading
Registration is a free and easy way to support our truly independent journalism
By registering, you will also enjoy limited access to Premium articles, exclusive newsletters, commenting, and virtual events with our leading journalists
Already have an account? sign in
Join our new commenting forum
Join thought-provoking conversations, follow other Independent readers and see their replies