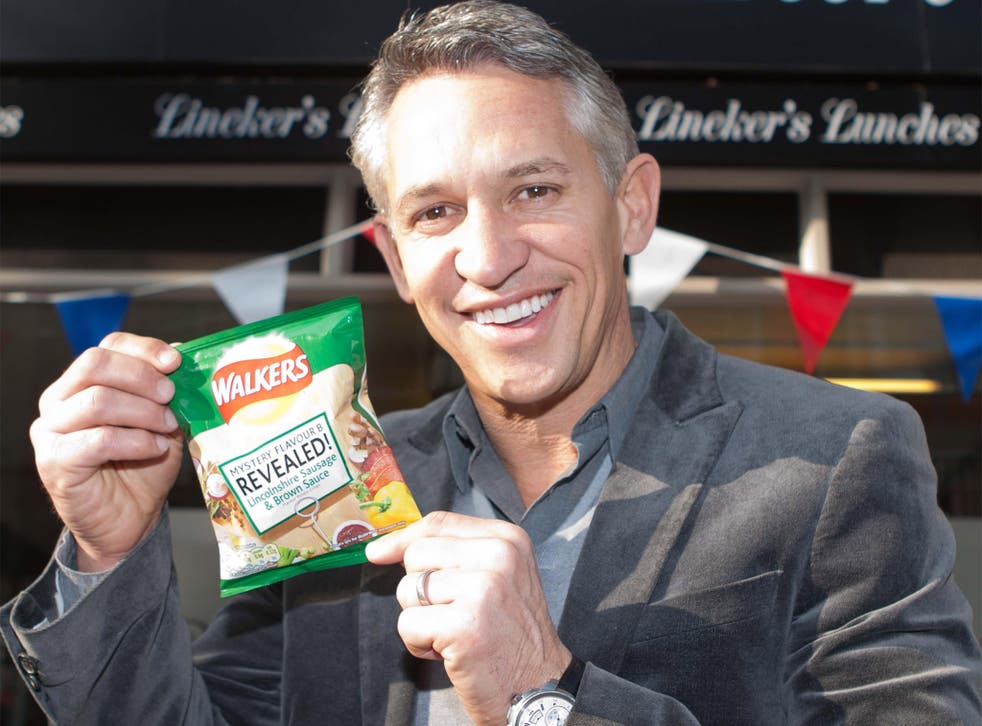 Not suitable for vegetarians: Walkers' new potato crisps range uses real ingredients - including meat
Manufacturer has been quietly remaking its bestselling lines with authentic British ingredients, upsetting some vegetarians
In a novel experiment, Walkers is to make crisps using real meat.
For weeks the country's biggest crisp manufacturer has been quietly remaking its best-selling lines with authentic British ingredients and trialling the packs in shops.
Among the re-made flavours, for instance, is cheese & onion, where cheese powder from Somerset has replaced the artificial flavour enhancer, monosodium glutamate.
The biggest changes, however, involve the two meat lines, smoky bacon and roast chicken, which previously contained no meat.
Walkers is planning to make smoky bacon with extracts of British pork certified ethical by the RSPCA and roast chicken with actual free-range chicken.
The move to home-grown British ingredients – to be promoted by Gary Lineker in a social media campaign next month - has caused some controversy among vegetarians.
Some of them have got a taste for the meat flavours, which were previously given a tick for vegetarianism and labelled "Suitable for vegetarians" and some have urged Walkers to rethink.
The use of a real British ingredient in each of the 10 "home-grown" lines is part of an effort by large food manufacturers to assure customers of the provenance of processed food.
Previously some Walkers crisps were entirely embarrassingly lacking in the headline food blazoned across packs.
Leicester-based Walkers hopes the long-planned switch - which has involved several trips to the countryside to meet small-scale artisanal food producers - will help banish its image as a junk food firm.
During recent days it has been quietly slipping supplies of the new flavours such as salt & vinegar with "with Cheshire salt" and sour cream & chive "with sour cream from Dorset" into shops.
However so far there has been no sign on the shelves of any of the new smoky bacon and roast chicken flavours.
At the beginning of this month, Walkers tipped off the Vegetarian Society that while the flavours had been sage for vegans and vegetarians within weeks "they will now contain extracts of real meat."
In online forums, some vegetarians protested at the move.
One wrote: "Whether this is simply a publicity stunt planned by their marketing department to cause public outcry, or whether Walkers think this change in ingredients will increase their profits, I will certainly be contacting them to let them know how I feel, and urge you to do the same."
Another wrote: "The more people that email them, the more likely they will be to reconsider the new ingredients."
Walkers has sought to calm the row, with its customer services department writing to one complaint: "I am really sorry that you will no longer be able to enjoy Walkers Roast Chicken and Smoky Bacon flavoured crisps. I can understand your concerns over this matter however; we are using only Free Range Chicken and Freedom Food Pork to ensure the highest standards of animal welfare."
In 2007, the US snack food giant Mars was forced to abandon a switch to animal rennet in its Mars Bars after it was bombarded with protests from vegetarians.
Walkers' PR company, Freud Communications, plans to place the uplifting news of the new recipes to national newspapers in coming weeks.
There will also be a Twitter and Facebook campaign starring the the Match of the Day presenter Gary Lineker, who is half way through a new three-year contract promoting his home-town brand.
He will be pictured touring artisanal producers with his father Barry, who ran a fruit and veg stall in Leicester market for years.
Walkers did not want to comment ahead of the publicity launch.
Join our new commenting forum
Join thought-provoking conversations, follow other Independent readers and see their replies