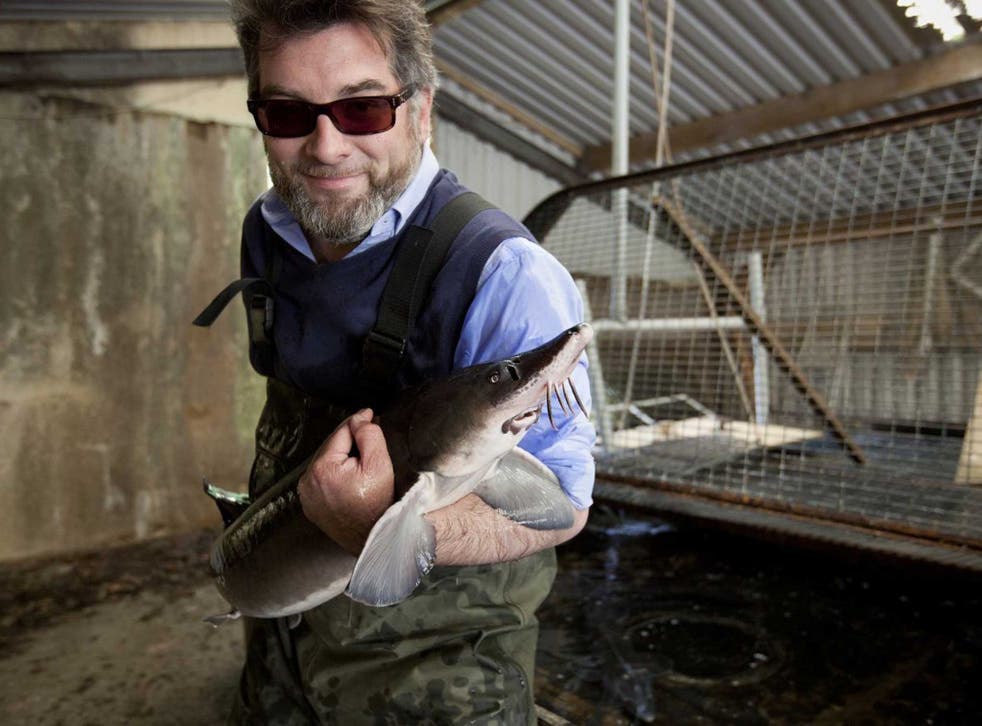 Nothing fishy about our caviar, say UK farmers
Rivals overseas are furious, but Exmoor roe is given the thumbs up
If the Exmoor businessman making the only caviar in the UK needed any more proof of its authenticity then he could hardly beat the scandal that is raging about its provenance. After all, caviar and corruption go together like, well, caviar and champagne.
The war of words broke out last year when Exmoor Caviar emerged as the ingénue in the multimillion-pound industry, with allegations, counter-allegations, anonymous letters spooking chefs, private investigators, and calls for trading standards to investigate. European Commission officials have been dragged into the row, which was reignited by the news that the caviar will go on sale at Selfridges, in London this week.
There's just one problem: the fuss, which has cost Exmoor Caviar potential supply contracts, looks to be as cooked-up as the blinis on which caviar traditionally sits. None of the claims against Exmoor Caviar, which is served by some of the best chefs in Britain, including Raymond Blanc and Simon Rogan, have been substantiated.
"You don't know the half of it," said Ken Benning, the firm's founder, at his farm in Exmoor last week. "I've been in front of chefs trying to sell, and people have come in, pulled out documents, accused me of being a liar, that we're committing fraud – all completely slanderous to us."
Three years ago Mr Benning teamed up with father-and-son farmers Pat and George Noble, who had kept sturgeon, among other species, for their ornamental fish business, which now runs alongside the caviar operation. It's a valuable market: 250g of Exmoor Caviar costs just under £500, although the same amount from Prunier, one of the most prestigious names in the industry, costs £1,650.
A simple question lies at the heart of the issue: what makes caviar British, which is Exmoor Caviar's unique selling point? Mr Benning started the business by importing about 100 female sturgeon from Germany, fish that began life in other countries such as Hungary, Russia and Poland, and now spend their days in Devon freshwater.
"We didn't know how to produce or sex the [ornamental] fish. So we bought some female sturgeon, which we knew had caviar inside them. Other people have trained us how to sex them and how to produce British caviar. We don't call it 'British sturgeon'. But we do call it 'British caviar'. The reason is it doesn't become caviar until it comes here."
But there is a limited market of high-end restaurants and shoppers willing to splash out on the food known as black gold. Hence any newcomer is potentially going to take business from the eight other caviar firms registered in the UK.
A promotion at Nathan Outlaw's restaurant in London's Capital Hotel last year was cancelled at the last minute in what Mr Benning said was an example of a chef being spooked at bogus claims. A spokesman for Mr Outlaw said logistical reasons were behind the cancellation.
Competitors urged Devon trading standards officers to investigate the farm, where the sturgeon that produce caviar are kept in six holding tanks, which contain dozens of almost full-size sturgeon, hundreds between one and two years old and thousands of fingerlings. Cornish salt is added to the eggs which are packaged in London. The trading standards officer "found nothing untoward in the operation".
As Exmoor Caviar is processed at the farm Mr Benning is entitled to call his product "British". A Defra spokesperson confirmed: "If the last substantial change of a product takes place in Britain, then it is acceptable to call the product 'British'."
Dr Graham Wood, head of sector for fishery products at the European Commission's Food and Veterinary Office, said: "Caviar produced in the UK, from fish slaughtered in the UK, would carry a UK country of origin code." None of the companies that have made claims against Exmoor Caviar were willing to go on the record.
One rival seemed to be finally convinced that Mr Benning is following the rules. "Well, the law's an ass, in that case," the owner raged.
Register for free to continue reading
Registration is a free and easy way to support our truly independent journalism
By registering, you will also enjoy limited access to Premium articles, exclusive newsletters, commenting, and virtual events with our leading journalists
Already have an account? sign in
Register for free to continue reading
Registration is a free and easy way to support our truly independent journalism
By registering, you will also enjoy limited access to Premium articles, exclusive newsletters, commenting, and virtual events with our leading journalists
Already have an account? sign in
Join our new commenting forum
Join thought-provoking conversations, follow other Independent readers and see their replies