Owl bar is London's latest 'just one thing' hip bar
These guys have got LIVE OWLS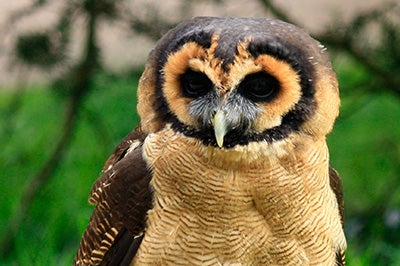 Following on from the cereal, cat and dog cafes and with joints like Burger & Lobster and Hummus Bros as its single-issue ancestors, an owl-themed cocktail bar is set to open in London.
A pop-up open in Soho between March 19 and 25, Annie the Owl will allow patrons to do what they have always dreamed of – sip cocktails whilst petting live owls.
It has been made in the image of Tokyo's owl cafes (see Fukuro no Mise above) and has opening hours of 8pm to 2am due to the birds being nocturnal.
Here are the six owls which will be staring into your soul while you demolish a negroni:
Annie
Ruby
Darwin
Winston
Cinders
Hootie (top secret, a finalist in the World Owl Beauty Pageant)
The sextet are being supplied by professional falconers and have been trained to be around the public (and drunks presumably).
Drinks will include an owl-presso martini and 'The Hoot'.
"There will be a minimum of four to five owls and professional falcon trainers, running for two hour slots," said Sam Sheiky, event curator.
"It is for a good cause and Londoners will have fun. We have spent lots of time taking care of animal welfare and making sure the owls will be comfortable."
Tickets will cost £20 and be sold via a ballot, with profits going to The Barn Owl Centre charity.
Join our commenting forum
Join thought-provoking conversations, follow other Independent readers and see their replies