Paddington Bear: To marmalade's rescue from darkest Peru
With the industry in a pickle, Paddington Bear has been enlisted as the face of the fruit preserve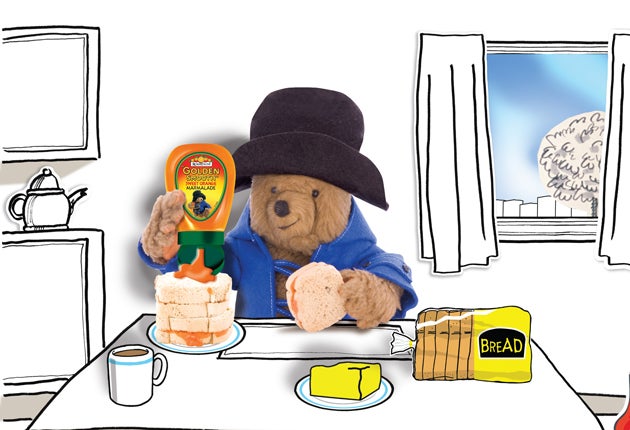 After successfully concluding negotiations with the handlers of an anthropomorphised South American bear, Britain's biggest marmalade maker has pulled off one of the most obvious commercial tie-ups in history: signing up Paddington Bear.
From this month, jars of Robertson's Golden Shred will carry images of the marmalade-loving children's character from "darkest Peru" in exchange for an undisclosed sum to his creator, Michael Bond.
For Robertson's, the deal should attract children to marmalade, whose sales have been tumbling for years and which is overwhelmingly bought by the over-45s. It is also an opportunity to develop a long-term association with an affectionately regarded figure following an indifferent response to the licensing of characters from the stories of Roald Dahl.
Robertson's phased out its Golly mascot in 2002, saying it no longer connected with modern shoppers but denied it was responding to complaints about racism.
The brand's owner, Premier Foods, was only able to secure the deal after a contract for Paddington with Marmite had expired. David Atkinson, spreads manager at Premier Foods, hoped the UK's most famous Peruvian would appear for as long as Golly, who lasted for 90 years.
"At the moment we have got no firm end to the tie-up and there are no plans to take him off," he said. "When you have got someone as well known as Paddington, the most famous marmalade lover in the world, why would you want to take him off again?"
Britain is the only country which consumes significant quantities of marmalade, spending £55m a year on the orange preserve, but sales fell by 3 per cent last year.
Mr Atkinson was at a loss to explain why it had taken so long to hire Paddington. "It's just something we haven't done," he said. "If you go back far enough, there were the golliwogs and we had a while with Roald Dahl, but that didn't really get traction with consumers. We looked at this 18 months ago but, unfortunately, when we were looking at it Paddington appeared on TV with Marmite so we weren't able to do a tie-up."
Premier Foods would not discuss how much it paid the Bond family, but it is not believed to be substantial.
Michael Bond, 84, based his creation on a teddy bear he noticed on a shelf in a shop near Paddington railway station in London on Christmas Eve 1956, and the first story was published in 1958.
His daughter, Karen Jankel, 51, acts as the "guardian" of the bear's commercial deals, which are dealt with by the entertainment company Chorion. "We have to weigh things up and have to work out whether they are a good idea but, being marmalade, this was quite an easy decision. It's a good fit," Mrs Jankel said.
"It is extraordinary that it hasn't happened before now. It's probably because marmalade isn't normally thought of as a children's product, but Paddington appeals to a range of age groups. He's very much a family bear."
Join our commenting forum
Join thought-provoking conversations, follow other Independent readers and see their replies