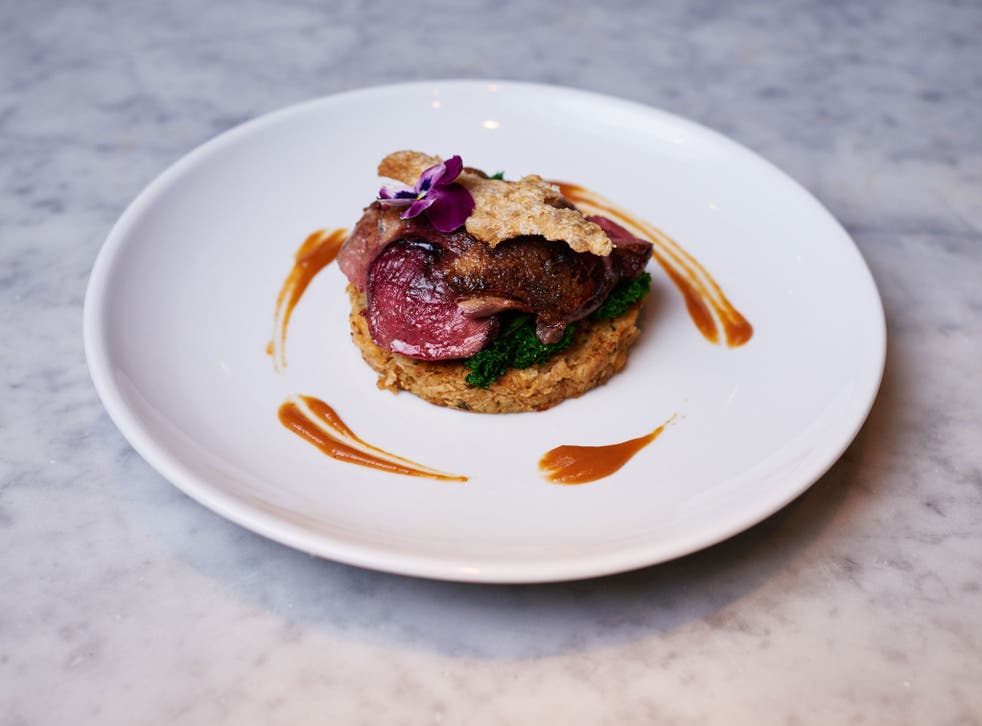 Pure Taste: Britain's first paleo restaurant is catering to the caveman instinct in Notting Hill
Taking the latest diet movement from Neanderthal to nouveau cuisine
The dating game has really come on over the last couple of million years. Nowadays, it's acceptable practice to take your intended to a nice restaurant, complete with soft candlelight and a decent wine list. Holding doors and chewing with your mouth closed are imperative. Clubbing the object of your affection over the head and dragging them back to your cave are generally frowned upon.
So a new restaurant concept has caused a bit of confusion. Can you eat like a caveman in civilised company? Does it involve chowing down on massive hunks of meat and beating your chest in appreciation? Is there even cutlery?
The Notting Hill set is a well-heeled lot, where the only loincloths being donned would surely be due to a new fashion trend. And here, jostling for attention with the other ultra-hip eateries on Westbourne Grove, is Britain's first "paleo" restaurant. Pure Taste Restaurant promises a menu that is gluten, sugar and dairy-free, without scrimping on taste.
The paleo, or caveman, diet has inspired plenty of advocates and column inches in the past few years. The principle is that humans have not evolved enough to digest modern foods, lacking the enzyme needed to process gluten-rich grains such as wheat, rye and barley. Also excluded under the paleo plan are dairy, alcohol, legumes (including all beans, peas and peanuts), processed oils, coffee and refined sugar. So anything that our prehistoric ancestors couldn't produce. What's allowed? Meat, fish, eggs, nuts and non-starchy vegetables – all produced as naturally as possible.
The paleo diet is not without its detractors. Some experts warn that cutting out whole food groups can be dangerous, and argue that wholegrains can be a great source of vital nutrients and fibre. However, others claim that going paleo has helped them to lose weight, gain energy, and even that it can help to alleviate problems such as skin conditions and allergies, irritable bowel syndrome, depression and chronic autoimmune conditions.
Whatever the health benefits, there is no denying that the plan can be restrictive, time consuming and potentially very boring. Even the best steak could become dull day after day. But at Pure Taste, diners are cooing over delicate scallops, tangy salmon roulades and creamy cheesecake. Yes, cheesecake, with zero cheese, not that you'd ever know. No refined sugar or grains either, of course. And the "cheese" in the roulades is made with macadamia and cashew nuts, yet would fool even the British Dairy Council. The portions are dainty and pretty, and delicately flavoured – far from any preconceptions of huge carcasses being roasted on spits that I might have had. Chips? Sweet potato fries will sate your needs. And although it isn't strictly paleo, there is a wine list – filled with organic and biodynamic options, of course.
For the chef Holly Redman, running the kitchen of a paleo restaurant has been a labour of love. She suffers from coeliac disease and spoke of her frustrations when eating out, and being met with "coeliac… What can't you eat again?" from clueless waiters. She developed a menu that can be modified to cater not just to coeliacs and paleo advocates, but a host of dietary restrictions. Fifteen, no less – including egg-free, vegetarian, vegan, low FODMAPS, Weston A Price diet, autoimmune paleo, SCD, and Whole 30. You may have never heard of some of them, but the clamour during the crowd-funding process was all Redman and operations director (and paleo eater) Adib Bamieh needed to know that there was a real demand for a well-labelled menu.
Of course, it isn't easy to cut out elements like gluten and retain the right texture. For Redman, a chemistry graduate and nutritional therapist, it was a challenge she relished. "I wanted to create an eating experience that is about showcasing the best in fresh, sustainable and 'free-from' food," she says. "With the move to returning to real food, people seem genuinely excited about the prospect of eating somewhere different."
And the proof is quite literally in the pudding, if the race to whip out the smartphones is any indicator. Cameras flash and tweets are hastily sent before everyone tucks in. Yes, modern dining has come a long way.
Register for free to continue reading
Registration is a free and easy way to support our truly independent journalism
By registering, you will also enjoy limited access to Premium articles, exclusive newsletters, commenting, and virtual events with our leading journalists
Already have an account? sign in
Register for free to continue reading
Registration is a free and easy way to support our truly independent journalism
By registering, you will also enjoy limited access to Premium articles, exclusive newsletters, commenting, and virtual events with our leading journalists
Already have an account? sign in
Join our new commenting forum
Join thought-provoking conversations, follow other Independent readers and see their replies