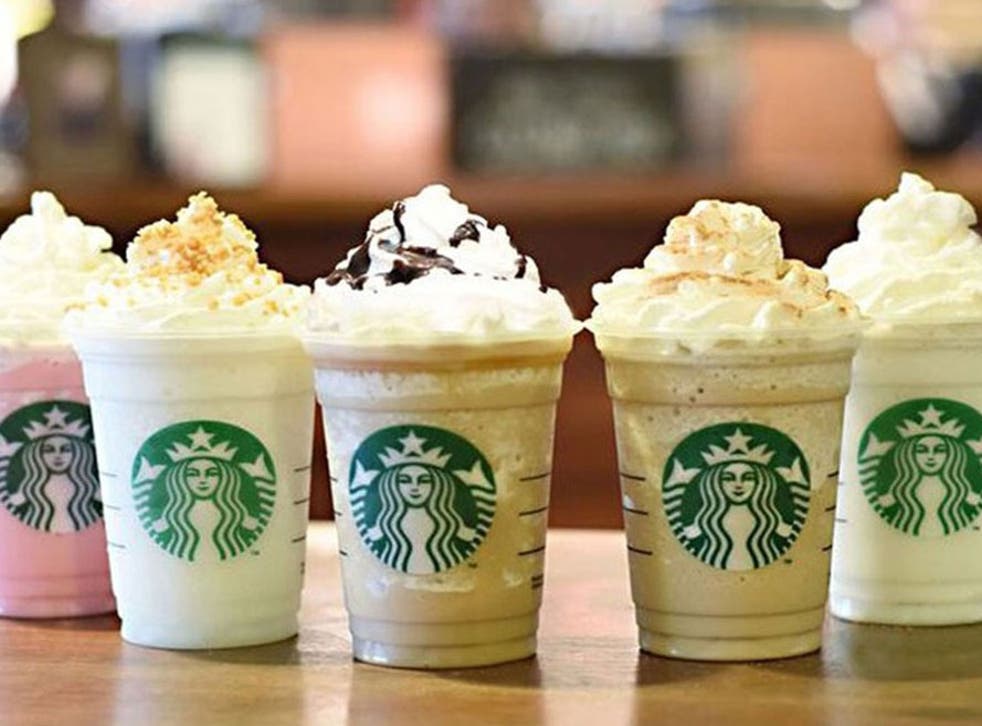 Starbucks' new Frappuccinos contain 'as much sugar as a litre of Coke'
Coffee giant unveiled six new Frappuccino flavours this week
Victoria Richards
Thursday 11 June 2015 07:29 Comments
Cinnamon roll, caramel cocoa cluster, red velvet cake crème- and that's just to drink. But as Starbucks unveiled six new Frappuccino flavours to celebrate the chain's 20th anniversary this week, the amount of sugar in each was also revealed - and it's enough to give you a toothache.
According to MINA, the worst offender amongst the new flavours is the Cinnamon Roll, which Starbucks describes as "sweet and spicy".
It's made up of cinnamon dolce syrup blended with coffee, white chocolate mocha sauce and vanilla bean, topped with whipped cream and a cinnamon dolce sprinkle - so perhaps it's no surprise that it also contains an enormous 102g of sugar (20 teaspoons), the equivalent of drinking a one-litre bottle of Coca Cola.
It's also more than double the recommended daily allowance of sugar for adults in the UK.
Next on the naughty list is the Caramel Cocoa Cluster, with 97.3g (19 teaspoons) of sugar - made up of toffee nut syrup, blended with coffee, topped with a dark caramel sauce, whipped cream and mocha drizzle.
At three, it's the Red Velvet Cake Crème, with 87g (17 teaspoons) of sugar hiding inside its chocolate chips, mocha sauce, raspberry and vanilla syrup, topped with whipped cream. That's the equivalent of two slices of carrot cake.
10 food and drinks with hidden sugar highs

Show all 10
Then it's the Cotton Candy Crème, which has 83g (16 teaspoons) of the sweet stuff. It's neon pink and is made up of vanilla bean crème, blended with raspberry syrup and, if that wasn't enough, is also topped with whipped cream.
Cupcake Crème is at number five, with 79g of sugar (15 teaspoons), consisting of vanilla bean crème, blended with hazelnut syrup and the obligatory whipped cream.
Lastly, the Lemon Bar Crème has 71g of sugar (14 teaspoons) making up its lemonade and vanilla flavour, topped with whipped cream and a caramel sugar sprinkle.
If you're in Britain and you're still craving something sweet after reading that, then you might have to book yourself a plane ticket - the drinks, which are being dubbed by the coffee giant as 'fan flavours', and are reportedly inspired by the 'secret' Starbucks menu, are currently only available in the US.
A spokeswoman for Starbucks told The Independent: "We offer over 87,000 drinks that can be customised to suit individual choice, including lighter options for all of the Starbucks Frappuccino range, while our new Mango Passion Fruit Yoghurt Frappuccino comes in at under 200 calories in a tall size."
Register for free to continue reading
Registration is a free and easy way to support our truly independent journalism
By registering, you will also enjoy limited access to Premium articles, exclusive newsletters, commenting, and virtual events with our leading journalists
Already have an account? sign in
Join our new commenting forum
Join thought-provoking conversations, follow other Independent readers and see their replies