Suntory's new line of Yamazaki whisky has critics ecstatic as new bottles go for £200 each
The last batch of whiskys scored 97.5 out of 100 in The Whisky Bible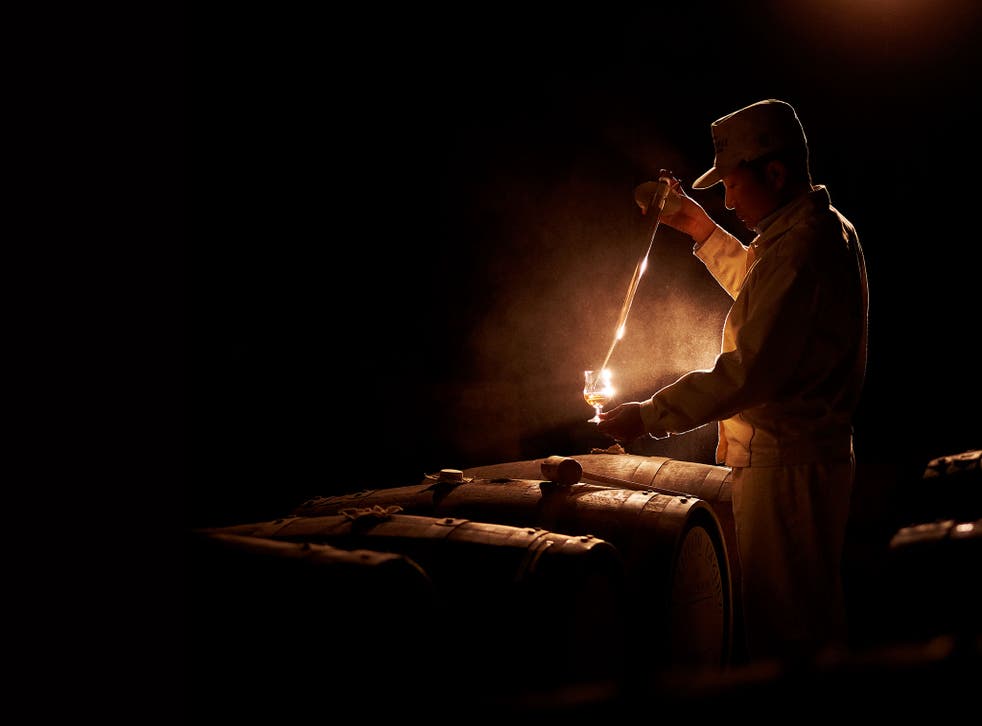 It was lauded as a drink of "near indescribable genius".
So impressed were critics by Suntory's Yamazaki Single Malt Sherry Cask 2013 that last year it became the first spirit from Japan to win the coveted World Whisky of the Year award from The Whisky Bible. The guide's author, Jim Murray, scored the drink at 97.5 out of 100.
Its successor is arguably the most hotly anticipated alcoholic drink in recent memory. And this week British whisky connoisseurs will finally be able to get hold of a bottle as the first shipment leaves the Yamazaki distillery, Japan's oldest, near Kyoto on 1 February.
At £200 a bottle the new single malt is double the price of its predecessor. However, the price tag will deter few fans, given that the only 2013 bottle available online at the moment costs £3,000.
Interest is at fever pitch, with a huge surge in popularity for Japanese whiskies in recent years following the Whisky Bible award. Murray said the prize "boosted the fortunes of the entire Japanese category overnight".
The mastermind behind the drink – Suntory's chief blender Shinji Fukuyo – embodies Japanese attention to detail. As well as travelling to Spain to choose which casks he will use, he also chooses the oak, oversees the process by which the inside of each barrel is charred to give a smoky, toasty flavour, sees them filled with sherry, and then travels to Spain again three years later to select which of the casks will be shipped to Japan to use for the maturation of his single malt.The 2013 whisky was aged for 12 years in casks previously used for Oloroso sherry. The new 2016 Yamazaki Sherry Cask has spent three years longer in oak and contains "an extra hit of 25-year-old whisky".
"Fukuyo is clear that he did not blend the Yamazaki Sherry Cask 2016 for the novice," Suntory said. Rather, it was created for "the 'Suntory Whisky Lover' – a lover of complex, refined and subtle tastes", the distillery added.
The company has produced more bottles this time – 5,000 compared to 2,600 in 2013. Around 1,500 will be sold in Japan, with 1,500 going to the US and the remaining 2,000 sold in 10 key cities across Europe, including London.
British stockists include Selfridges, Harvey Nichols and some specialist websites. Demand remains so high that the Master of Malt website will sell the 2016 whisky on a lottery system.
Wine critic Victoria Moore is one of the few to have already sampled the 2016 single malt. "On the nose, the 2016 is less fruity than the 2013, which smells richly of caramel, vanilla, rum and raisins and also has a broad, fruity palate," she said.
"The 2016 is tighter and highly fragrant, with the generous warmth of the sherry influence spreading outwards from a tight core of cocoa nibs, cardamom, barks and spices, with just a tiny bite of iodine. There are still some raisin notes here, but it's an altogether more savoury incarnation and very, very good indeed."
Kat Jackson, 36, from London, said she will be rushing out to buy a bottle having enjoyed the 2013 version, which still emerges on special occasions. "I came across Yamazaki though my work. It was the first whisky that I actually liked and became my gateway to whisky," she added. "When the Sherry Cask came out my other half and I bought a bottle and loved it. Part of us wishes now that we'd never opened it, given the price they go for, but we'll definitely be getting one of the 2016s to drink, and probably a couple of bottles to invest."
Scotland has been forced to raise its game. Having dominated the field for so long, it lost out again in last year's Whisky Bible awards, when Crown Royal Northern Harvest Rye, from Canada, secured top spot. It was the second year running that no Scotch made it into Murray's Top 5.
With Suntory producing what looks likely to be another blockbuster, whisky's spiritual home may have to wait a little longer to reclaim its crown.
Register for free to continue reading
Registration is a free and easy way to support our truly independent journalism
By registering, you will also enjoy limited access to Premium articles, exclusive newsletters, commenting, and virtual events with our leading journalists
Already have an account? sign in
Register for free to continue reading
Registration is a free and easy way to support our truly independent journalism
By registering, you will also enjoy limited access to Premium articles, exclusive newsletters, commenting, and virtual events with our leading journalists
Already have an account? sign in
Join our new commenting forum
Join thought-provoking conversations, follow other Independent readers and see their replies