Supermarkets urged to scrap buy-one-get-one-free as shoppers waste 222m tons of food a year
Lords report slams 'repugnant' scapegoating of farmers and the 222m tons of food thrown away each year by the West – as much as is produced in sub-Saharan Africa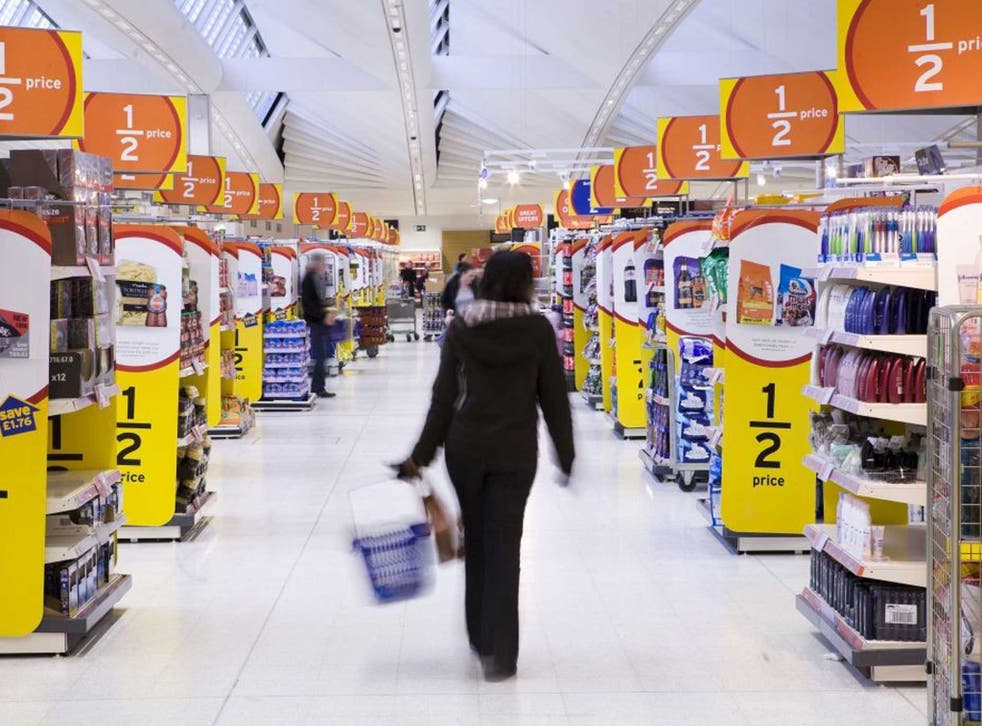 Supermarkets and food retailers are today accused of failing to take responsibility for the UK's food-waste crisis, contributing to 15 million tons of produce being thrown away unnecessarily every year.
A report published today by the House of Lords EU Committee concludes British retailers are shifting the blame on to customers by luring them in with Buy One Get One Free offers, a practice it says should cease. Farmers are also unfairly scapegoated by supermarkets cancelling orders at the last minute, the peers said.
The committee, which has been examining the impact of food waste in the UK and the EU, said Britain's inability to reduce the amount of unwanted food it produces was "morally repugnant" and costs the economy at least £5bn a year. Industrialised countries waste 222 million tons of food a year, just 10 million tons short of the net food production of sub-Saharan Africa, peers said.
The report turned its fire on Britain's retailers, saying they had the power to "influence the behaviour of producers, manufacturers and consumers but, thus far, have failed to take their responsibilities sufficiently seriously".
Evidence given to the committee showed how supermarkets transfer food waste to other areas of the supply chain. Retailers pass the burden of food waste on to the consumer "through incentives and promotions such as Buy One Get One Free, which encourage consumers to purchase in large volumes", the report said.
Actions by retailers "such as the cancellation of orders of food that has already been grown" pushes the problem back up the supply chain on to producers and farmers, it added.
According to estimates published by the European Commission, retailers only directly account for around 5 per cent of food waste, with consumers causing 42 per cent and producers 39 per cent.
But closer analysis suggests that retailers, and supermarkets in particular, have developed ways to distribute what could become their food waste, such as excess stock, to other parts of the supply chain. This creates the impression that producers and consumers are more at fault.
"It is clear that retailers must assume a far greater responsibility for the prevention of food waste in the home," the report says. "Retailers must ensure that incentives and promotions offered to consumers do not transfer waste from the store to the household."
Baroness Scott of Needham Market, the chairwoman of the committee, told The Independent on Sunday: "At the moment, [retailers] are causing this waste and yet it doesn't show up on their statistics .… You can look at raw data and say, 'Well, actually the supermarkets are doing pretty well', but it's when you start to see what's happening with the food that you get a different picture."
Retailers were also criticised for failing to inform consumers how best to store food and interpret date labels on products. Research given to the committee showed that only 37 per cent of consumers knew the difference between "best before" and "use by" dates on food packaging, with only 58 per cent bothering to check products after the expiry date before throwing them away.
Despite the key role retailers play in ensuring "consumers understand dates and are not misled... date labelling on foods remains confusing", the report concludes. It added that supermarkets also did not provide good enough advice on food storage.
The impact retailers have on producers was also highlighted. Evidence provided to the committee showed that through contractual agreements the retail sector has a "high level of control over the food sector generally and over producers in particular".
Farmers are heavily penalised if they don't supply enough produce to retailers, so they overproduce to avoid the risk. Many farmers who do not have an alternative market often see their surplus going to waste if another buyer cannot be found.
Feeding the 5000, the food-waste campaign group, told the peers that farmers often produced food exclusively for a specific supermarket, "so if an order is cancelled at the last minute, it is the farmer who bears the cost of the food waste".
The group also criticised the retail sector's requirements for "cosmetic standards" in food, arguing that supermarkets refusing to sell misshapen or discoloured fruit and vegetables was unnecessary and "indefensible". The report said that between 20 and 40 per cent of such crops in UK farms are never harvested as they do not comply with strict retail specifications.
Wrap, a government-funded organisation hoping to halve UK food waste by 2025, said that while retailers had to do better, customers also had a role to play. Its chief executive, Dr Liz Goodwin, said: "There is more consumers can do. It comes back to things like awareness – people still don't think they waste food, they're still confused by date labels and there isn't the same knowledge over how to use up leftovers … We all need to encourage each other to do something about food waste as there is so much of it and it's appalling, it's a waste of resources and a waste of money."
The British Retail Consortium said cutting food waste was a top priority for all retailers. In January it announced that from next year all major UK supermarkets will have to reveal the volume of food wasted in their stores every year.
Supermarkets have also been changing their policies to combat food waste in recent months. Tesco, which generated nearly 30,000 tons of food waste in the first six months of 2013, is trialling a scheme whereby it guarantees a fixed percentage of an order from a producer, regardless of any change in demand.
The report said that across the EU, efforts to reduce food waste were "fragmented and untargeted"; 90 million tons of waste were being generated every year. The peers called on the new European Commission, which will be established in November, to publish a five-year strategy on the issue in its first six months.
The extent of the problem is thought to be so significant that if no action was taken, the EU could produce around 126 million tons of food waste by 2020.
Register for free to continue reading
Registration is a free and easy way to support our truly independent journalism
By registering, you will also enjoy limited access to Premium articles, exclusive newsletters, commenting, and virtual events with our leading journalists
Already have an account? sign in
Register for free to continue reading
Registration is a free and easy way to support our truly independent journalism
By registering, you will also enjoy limited access to Premium articles, exclusive newsletters, commenting, and virtual events with our leading journalists
Already have an account? sign in
Join our new commenting forum
Join thought-provoking conversations, follow other Independent readers and see their replies