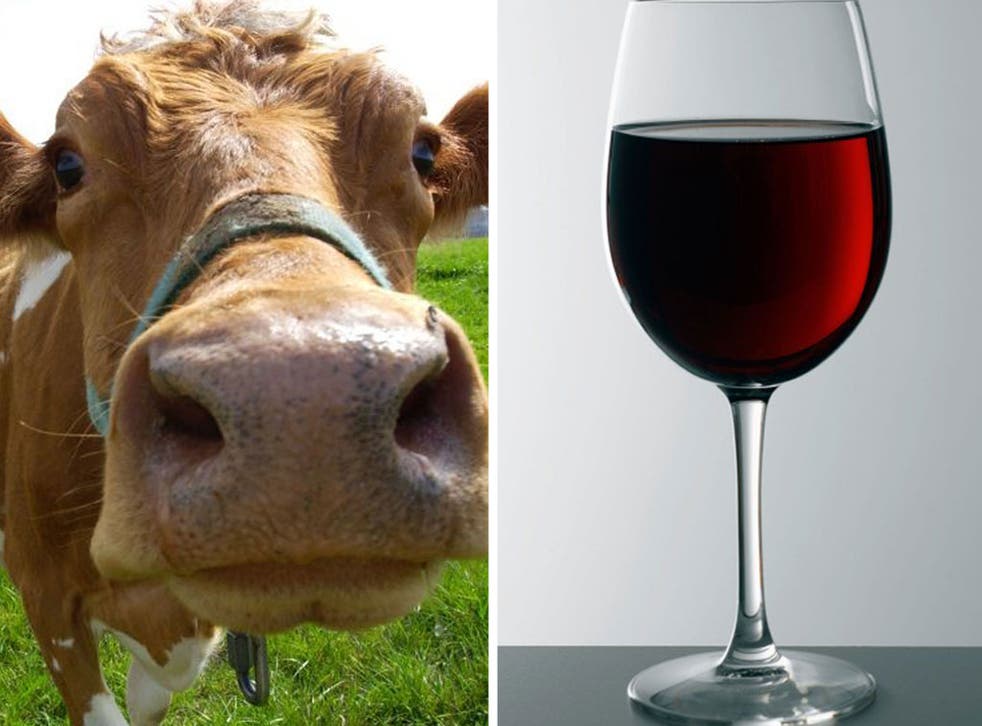 The Mooo-ton Rothschild for madame? Cows have a tipple to beef up flavour
The French are known to like their beef, and they also like their wine. In the southern village of Lunel-Viel, in the Hérault department in southern France, some farmers have taken the next step and are feeding wine to their beef cattle on the principle that if French beef tastes good now, it can only improve with a bottle of Saint-Geniès des Mourgues.
This was what a local farmer Claude Chaballier fed three animals last year – in a trial run that he's preparing to repeat next month. He says the resulting beef was "lean, marbled and tasty".
Two Angus and one Camargue were given a mix of leftover grapes, barley and hay before about two litres of wine were integrated into their diet.
Mr Chaballier says next month's experiment will again use a regional wine and should help to develop the practice, although he insists that "it's something that will have to remain local and small scale".
Scientists in Australia had already pointed to a link between feeding cows left-over wine products and an increase in milk production, and some Belgian farmers have been feeding beer to their beef cattle for at least a decade.
In Japan, farmers who produced the famed Kobe beef do so with the help of beer.
Food science specialists in France say that while beer and wine may seem like a departure from the standard bovine diet, the quantities of alcohol are not very high and that ruminants metabolise alcohol without much difficulty.
The founder of the "Vinbovin" brand in the region, Jean-Charles Tastavy, has said the animals can consume up to a litre and a half per day, a quantity he compares to two or three glasses for humans.
The only downside seems to be the price – last year's trial run tripled the cost of the animal feed and would push up the price of the best beef cuts to close to €100.
"It won't be for all pockets," Mr Chabellier admits.
He and other farmers ultimately plan to supply high-end restaurants and are already targeting the big culinary establishments in the region, although he says they've also given some to a small local restaurant where, he assures, it was judged "extraordinary".
French researchers say the improved taste of the beef doesn't just come from the chemistry involved in a change of diet for the animal; much as doctors have been known to praise the glass of wine taken in moderation, the occasional litre for French beef cattle may also increase their "wellbeing".
It's all in the diet... unlikely animal feed
Beer-fed pigs
A Southport butcher's shop made headlines last year when it began selling pork from pigs fed with beer and grain used in the brewing process, which it said improved the texture of the meat. Farmers in the UK have also been known to feed Wagyu cattle up to 40 pints of beer a day in an attempt to replicate the taste of Japanese Kobe-style beef.
Grass-fed chickens
Though corn is generally seen as the best feed for a tasty chicken, some farmers swear by putting their birds out to pasture to guarantee a better flavour.
Apple-fed sheep
Anecdotal evidence says that feeding sheep apples before slaughter can sweeten and tone down the taste of mutton.
Register for free to continue reading
Registration is a free and easy way to support our truly independent journalism
By registering, you will also enjoy limited access to Premium articles, exclusive newsletters, commenting, and virtual events with our leading journalists
Already have an account? sign in
Join our new commenting forum
Join thought-provoking conversations, follow other Independent readers and see their replies