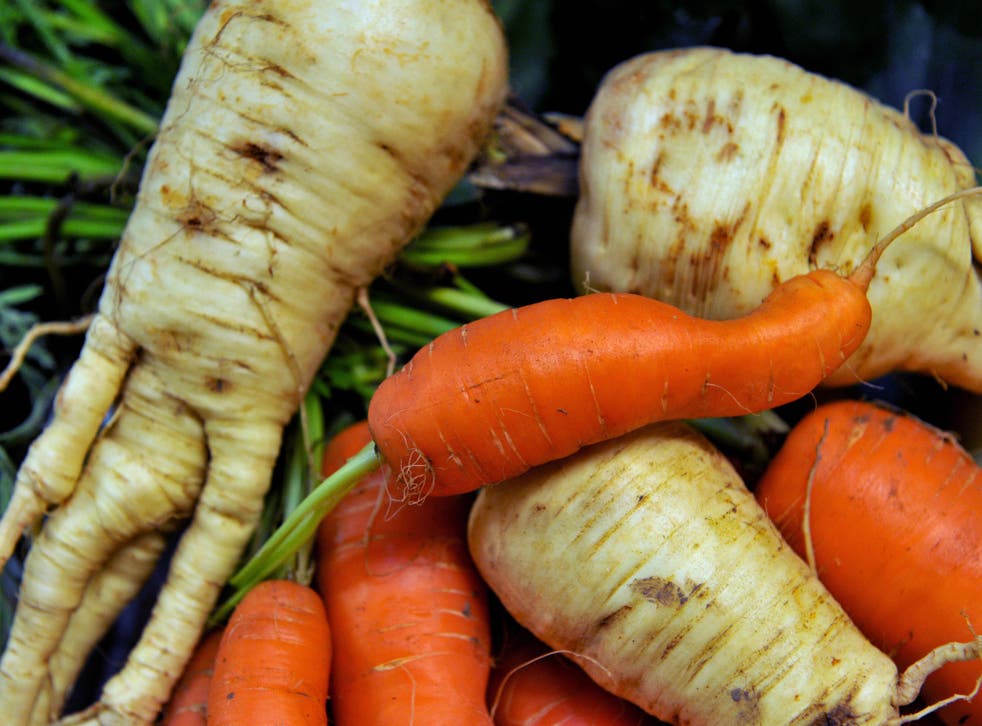 The new (old) vegetables: The popularity of 'heritage' seeds is growing rapidly
Fancy a Boothby's Blonde cucumber? Or Mr Perkins' Leamington cauliflower? Ian Johnston unearths gardeners' latest passion
They are the ultimate antidote to tasteless, mass-produced fruit and veg forced in a vast greenhouse complex to fill supermarket shelves and the pockets of multinational corporations.
And demand appears to be soaring for so-called "heritage" seeds that date back centuries, with gardeners flocking to grow exotic-sounding varieties such as Boothby's Blonde (a cucumber), Unwin's Yellow Perfection (a tomato) and Mr Perkins' Leamington (a cauliflower).
Such is their popularity that some suppliers are struggling to cope as people try to find seeds that can be so rare they are close to extinction.
The idea of growing varieties first developed up to 600 years ago was given a major boost after heritage grower Rob Smith was revealed as the winner of the BBC's Big Allotment Challenge on Friday evening. He is one of about 180 "seed guardians" who keep rare plants alive by growing them and sending the resulting seeds to the Heritage Seed Library, run by the charity Garden Organic.
The library sends more than 40,000 packets of seeds a year to its members but says "it is often a challenge to ensure we have enough seed to supply all... requests". It is appealing for more seed guardians.
And Real Seeds, a family-run firm in Pembrokeshire, has found it has had to turn off its internet shopping cart at times. "Demand for our seed has been increasing year on year and we are now sending out more than 12,000 packets a week," it says. "As a small family business we have made the decision that we don't want to get bigger than this, and risk losing our ability to supply really good seed."
Mr Smith, 35, who has two allotments and a garden at his home near Sheffield, said he felt the trend was in part due to "nostalgia" for flavoursome food. "I'm growing things my grandfather Albert used to grow. It tastes like the veg you used to have as a child," he said.
"When you buy a carrot in a supermarket, you recognise it as a carrot but it tastes nothing like the thing you used to know. I wouldn't really say there's much comparison [with heritage produce]. Its flavour is much more powerful. It tastes 10 times stronger.
Mr Smith grew Boothby's Blonde cucumbers, which are yellow and almost rugby ball-shaped, on Big Allotment.... "It looks amazing. People were just going crazy, saying: 'Why don't they sell things like this?'. But you've got to join the charity [Garden Organic's seed library] to do it," he said.
"What our grandparents had to do we are actually choosing to do."
Merlin Labron-Johnson, the chef at the Portland restaurant in central London, said his most popular dishes included one made almost entirely of heritage carrots cooked in different ways (inset below) and a brassica dish using heritage kale and cabbage.
"Most people hate cabbage, but people are quite often just blown away by that dish. They don't expect it to be good," he said.
"A lot of people's approach to cooking vegetables is as though it's an afterthought. They are the thing that's forgotten… overcooked and underseasoned.
"When I grew up I hated veg. People need to treat vegetables with the respect they deserve."
The acclaimed chef Robin Gill, who grows vegetables and herbs on the roof of his restaurant, The Dairy, in Clapham, south London, told the Independent on Sunday: "People are sick of going to supermarkets where everything looks the same. There's a feeling that everybody's forgotten what a real tomato should taste like.
"At first I thought it [heritage produce] was a bit of a fad, but actually the flavour has been phenomenally better."
Register for free to continue reading
Registration is a free and easy way to support our truly independent journalism
By registering, you will also enjoy limited access to Premium articles, exclusive newsletters, commenting, and virtual events with our leading journalists
Already have an account? sign in
Register for free to continue reading
Registration is a free and easy way to support our truly independent journalism
By registering, you will also enjoy limited access to Premium articles, exclusive newsletters, commenting, and virtual events with our leading journalists
Already have an account? sign in
Join our new commenting forum
Join thought-provoking conversations, follow other Independent readers and see their replies