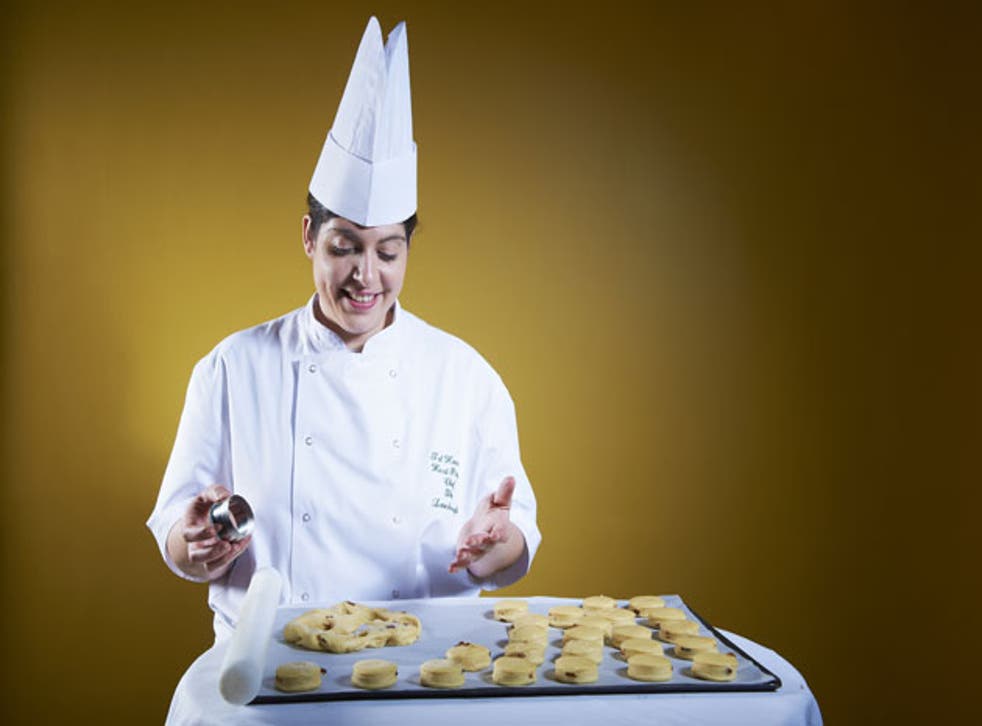 The scone of destiny
Britons are shunning cupcakes in favour of the traditional teatime treat. Genevieve Roberts investigates
It divides the nation's bakers and has pastry chefs reaching for their rolling pins in anger. The claim to the crown of the UK's best scone producer has pitted north against south in an unlikely, and slightly risible, food fight. In the North-west corner is Robin Jones, owner of the Village Bakery, a large-scale craft producer, which from next month will be making 14,000 scones an hour for M&S. He faces Paul Winterton in the South-west, manager of Langage Farm in Plymouth, currently seeking European protection for genuine "Devon cream tea" after seeing inferior versions served across the country.
Mr Jones, based in Wrexham in Wales, claims history is on his side. "Afternoon tea is associated with the West Country. But scones themselves are Celtic, their origins Welsh or Scottish," he said. "Their predecessor is the griddle scone."
It's controversial, according to Mr Winterton, who expects to wait another six years until he finds out if the Devon cream tea will get protected designation of origin. "A scone made anywhere else is going to be inferior," he said. "A 'true' scone to accompany cream tea must be hand-crafted. It's a different tier of quality, uniquely made to complement the cream tea."
Whether the country's best scone hails from Scotland, Wales, Devon or Cornwall is unlikely to be settled, but bakers nationwide are united over one thing: the revival the scone is experiencing. They believe this is partly due to the nation's current love for all things quintessentially British, and partly to a backlash against the ubiquitous cupcake.
At Tesco, sales of fresh cream scones are up 65 per cent, while across the country hotels, bakeries and farm shops are experiencing unprecedented demand. Top hotels have noticed a rise in popularity of afternoon tea, with the earliest reservation for the Savoy's weekend service running into next year.
In London, Dan De Gustibus, owner of the artisan bread firm De Gustibus, has seen a 40 per cent rise in scone sales over the past six months. "I hope this is because people are taking the time to enjoy afternoon tea, but I suspect it may be because they also want affordable comfort food. The scone to England is like the baguette to France: and it can be thrilling or dismal."
He believes the scone is not associated with any one region of Britain, but instead epitomises "the rural side of baking". He believes their contrast with the cupcake has added to their current popularity. "Cupcakes are overdecorated; they're a lot of fun but too sweet. In contrast with their glitter and artificiality, we see the plainness of a good scone with jam," he said.
Tom Hazzledine, owner of BakerTom's Bread, a speciality baker in Truro and Falmouth, has seen sales of scones rise by 75 per cent this year.
He thinks the rise is down to a renewed love of baking. "The Great British Bake Off has sparked people's interest," he said. "I think the Cornish-Devon debate over jam or cream first has also reminded people how much they like scones."
But he doesn't think the South-west can claim the scone as its own. "In Cornwall, people historically used to eat 'splits' rather than scones, which are made from sweet bun dough, almost like a brioche," he said. Peter Sidwell, author of Simply Good Bread, agrees the profile of baking is on the rise and BBC2's The Great British Bake Off has contributed to this as it has inspired people to get out their rolling pins. "People are interested in British baking, and scones are quintessentially British," he said. Joe Queen, executive chef at Hilton Glasgow, who has seen a 30 per cent increase in afternoon tea bookings since the beginning of the year, agreed. "It is partly because of the royal wedding, when the country experienced a resurgence in 'Britishness'," she said.
Charlotte Faith, spokeswoman for the Savoy, said: "We have been fully booked since we reopened last year. There has been a huge rise in the popularity of afternoon tea."
Chris Seaby, product developer for M&S, said: "For several years the American cupcake has become the UK cake of choice. However, we're predicting a return to British bakery favourites. We saw the beginnings of this earlier in the year – our sales of Victoria sponge actually overtook sales of white sliced bread. Scones are traditionally famous in the south of the country – especially in the home of cream tea, Devon and Cornwall. We sell 10 times as many Eccles and Chorley cakes in the North-west than the rest of the country, and our new scone supplier is based in Wrexham, so perhaps by next year the big north-south cake divide will be over."
For Mr Winterton, who has worked with the Grand Hotel in Torquay on what he believes is the true Devonian recipe for cream tea, the newfound popularity of scones can only be good for business: he too has seen demand rise, selling 20 per cent more clotted cream, to accompany scones, this year compared with last.
The expert's guide to scone etiquette
Jam first or cream? This seemingly trivial question arouses surprisingly strong passions. Here Tal Hausen, head pastry chef of the Lanesborough, guides readers through the controversy.
So, which is it? For me, a scone without jam and clotted cream just isn't a scone. There's a huge debate as to which should go first, with Cornwall traditionally choosing jam, while Devon favours cream first. I prefer clotted cream first, then the jam. I like to spread equal amounts of cream and jam, and the jam has a softer texture so it's easier to go on top: if not, the cream can slide off.
Tea or coffee? Despite being a coffee lover, I prefer tea with my scones. Both drinks have a lot of personality, but tea is lighter so it doesn't overpower the scones.
What's The ideal recipe? Ingredients are very important: the butter should be a minimum of 82 per cent fat, to give flavour and moisture to the scone. I crumble flour and butter for half an hour, sugar and baking powder for half an hour, then let the dough rest before adding buttermilk and eggs. It's crucial not to knead the mix for too long: while I knead bread for seven to 10 minutes, depending on the flour, scones take three to four minutes – otherwise there is a risk that the outside of them will crack.
Sweet or savoury? Traditional scones, with jam and cream, are perfect for the afternoon. I think our taste is more savoury in the morning, so I would prefer a cheese scone earlier in the day.
North or south-west? Well, the best scones in the country are here [at the Lanesborough]. The South-west has the cream tea tradition, while the scone itself – traditionally the size of a plate and shared between people taking tea together – is believed to have its origins further north. The most crucial thing for any scone – whether it is crumbly or smooth, stems from the North or the South-west – is that it is made with passion.
An earlier version of this article suggested that the Tilly Mint Bakery in Truro had closed but we are told that this is incorrect and in fact it has expanded.
Genevieve Roberts
Register for free to continue reading
Registration is a free and easy way to support our truly independent journalism
By registering, you will also enjoy limited access to Premium articles, exclusive newsletters, commenting, and virtual events with our leading journalists
Already have an account? sign in
Register for free to continue reading
Registration is a free and easy way to support our truly independent journalism
By registering, you will also enjoy limited access to Premium articles, exclusive newsletters, commenting, and virtual events with our leading journalists
Already have an account? sign in
Join our new commenting forum
Join thought-provoking conversations, follow other Independent readers and see their replies