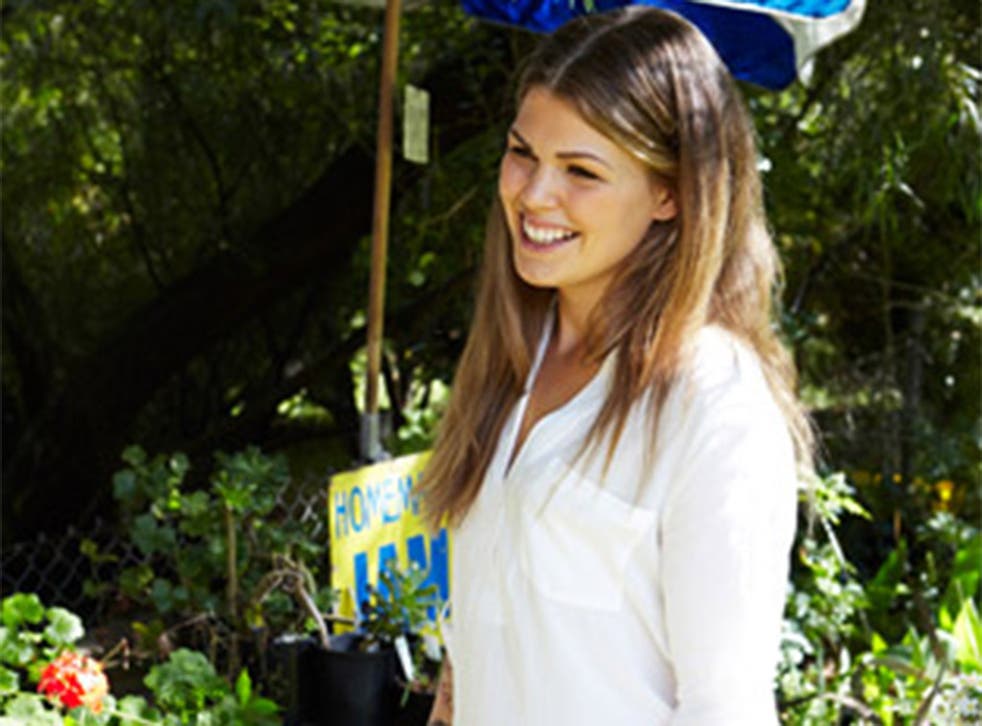 The Whole Pantry withdrawn: Holistic recipe book taken off shelves as Belle Gibson's cancer claims are disputed
Belle Gibson claimed to have embarked on 'a quest to heal herself naturally'
Adam Lusher
Tuesday 17 March 2015 19:38 Comments
A blogger who gained a huge online following after saying she was beating brain cancer through "nutrition and holistic medicine" rather than conventional treatment has had her book withdrawn from publication after doubts were raised about her claims.
Belle Gibson's recipe book, The Whole Pantry, was due to be published in the UK by Penguin next month. But the publishing house yesterday revealed it had shelved publication after failing to receive "sufficient explanation" from the Australian author about doubts being cast on her story.
Ms Gibson has said online and in her book, which has already been published in Australia, that a doctor diagnosed her with "malignant brain cancer" in June 2009, giving her "six weeks, four months tops" to live.
In the book she recounts how she withdrew from chemotherapy and radiotherapy after two months and embarked on "a quest to heal myself naturally… empowering myself to save my own life, through nutrition, patience, determination and love – as well as vitamin and Ayurvedic treatments, craniosacral therapy, and a whole lot of other treatments".
Ms Gibson also says in the book that she thinks that many in her social-media community of more than 200,000 have been attracted by her "authenticity and integrity".
But journalists at The Australian newspaper have alleged that former friends say she never displayed signs of illness in 2009, while her own online "selfies" from the period seem to show a healthy woman.
The newspaper also quoted cancer specialists as saying that the only brain tumour severe enough to cause death within four months is a Grade 4 glioblastoma, and they could find no known record of anyone surviving such a tumour for five years without treatment.
After the allegations surfaced, Ms Gibson told The Australian that she may have been "misdiagnosed" over some aspects of her health problems, adding that "it's hard to admit that maybe you were wrong" and saying she was "confused, bordering on humiliated". But a spokeswoman for Penguin said it was withdrawing the book from sale in Australia, and shelving plans to publish in the UK under the Michael Joseph imprint.
Atria, a division of Simon & Schuster in the US, is reported to be reviewing plans to publish The Whole Pantry in America.
Former fans also appear to have turned against Ms Gibson, with some now demanding refunds for the book and for her healthy living app.
This is in marked contrast to the outpouring of support Ms Gibson received in July 2014 when she told her "beautiful, gamechanging community" that "I have cancer in my blood, spleen, brain, uterus, and liver". One well-wisher told her: "You are THE most inspirational person I have ever encountered. I 'look' at you in awe, in wonder and in the greatest admiration I have ever felt for anyone."
Ms Gibson has previously sought to dispute the claims of those who doubted her, posting on Facebook in July 2013: "It is unfortunate someone [is] trying to discredit the natural healing path I am on. I have been healing a severe and malignant brain cancer for the past few years with natural medicine, Gerson therapy and foods. It is working for me."
Today it appeared that she had made her Instagram account private and taken down some of her 2009 social-media posts. Reports were also circulating that she may have left Australia for the US.
Register for free to continue reading
Registration is a free and easy way to support our truly independent journalism
By registering, you will also enjoy limited access to Premium articles, exclusive newsletters, commenting, and virtual events with our leading journalists
Already have an account? sign in
Register for free to continue reading
Registration is a free and easy way to support our truly independent journalism
By registering, you will also enjoy limited access to Premium articles, exclusive newsletters, commenting, and virtual events with our leading journalists
Already have an account? sign in
Join our new commenting forum
Join thought-provoking conversations, follow other Independent readers and see their replies