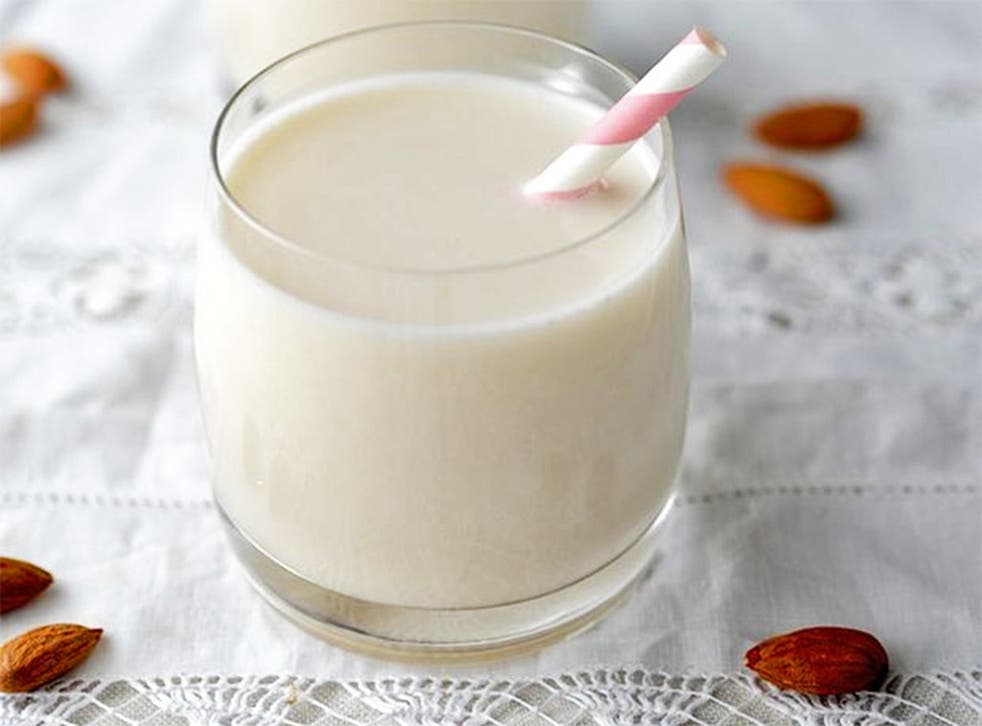 Waitrose confirm that almond milk sales overtake soya milk for the first time
While farmers protest about the prices paid for their bog standard milk, those in the 'nut milk' market are enjoying a boom
First there was just plain old full-fat milk. Then it got a little more sophisticated with semi-skimmed and skimmed. Then came soya milk. Now comes news that milk drinking has reached a whole new level.
Tucked away in the annual food and drink report from Waitrose – the supermarket that doubles as the weather vane of middle-class tastes – comes a single line offering a telling insight into the changing contents of bourgeois fridges: "Almond milk sales at Waitrose have overtaken soya milk for the first time."
While farmers complain and protest about the prices supermarkets pay them for their bog standard milk, those in the "nut milk" market are enjoying something of a boom – and charging prices which, by the time the customer is paying for them, approach £2 a litre.
"We have noticed nut milk becoming more and more popular," said a spokeswoman for the supermarket. "It's a lifestyle brand."
Health news in pictures

Show all 40
Some might say the ascendancy of almond milk was inevitable. Like so many trends, the vogue for almond milk began in the US, where American consumers are now drinking the stuff in record numbers, with last year's sales at $700m, (£452m), a 40 per cent increase from 2013.
Almond milk, of course, has outstripped the soya version in the US and now accounts for 4 per cent of all US milk sales, compared to less than 0.5 per cent five years ago.
US physicians aren't just recommending the milk substitute for the lactose intolerant. They are also recommending it to acne sufferers because it is free of the hormones contained in dairy and soya milk. Some nutritionists say almond milk also edges soya milk in having less fat, carbohydrates and calories, but more calcium.
There is, however, one potential problem with almond milk: it might not contain that many almonds – that, at least, is the contention of one American lawyer, James C Kelly, who is now acting for US consumers Tracy Albert and Dimitrios Malaxiani. The pair are suing two manufacturers, claiming that their almond milk contains a very low percentage of almond.
"It's being marketed as a healthy premium product because it is made from almonds, when it barely contains any almonds" Mr Kelly told reporters.
The two manufacturers, Blue Diamond and White Wave, both defended their products, with Blue Diamond explaining that their Almond Breeze drink was made from an average of more than 50 almonds per half gallon.
"Cow's milk is 85 per cent to 95 per cent water," added a company spokesman.
Meanwhile, back at Waitrose, the spokeswoman insisted that all the supermarket's almond milk was produced by "high quality, respected brands".
Almond milk: Good or bad?
Good for dieting
Almond milk may appeal to people trying to lose weight as it typically contains fewer calories than skimmed milk – around 60 per serving, about 50 per cent less than non-fat cow's milk. Plus it has no cholesterol.
Bad for protein
There are surprisingly few almonds used in almond milk, with much of it consisting of water, according to research. An analysis of the Alpro brand showed that nuts make up just 2 per cent of its drink. While almonds are high in protein, the drink contains very little.
Not best for kids
Young children should stick to cow's milk rather than the almond equivalent as it does not have the same nutritional benefits, say experts.
Register for free to continue reading
Registration is a free and easy way to support our truly independent journalism
By registering, you will also enjoy limited access to Premium articles, exclusive newsletters, commenting, and virtual events with our leading journalists
Already have an account? sign in
Register for free to continue reading
Registration is a free and easy way to support our truly independent journalism
By registering, you will also enjoy limited access to Premium articles, exclusive newsletters, commenting, and virtual events with our leading journalists
Already have an account? sign in
Join our new commenting forum
Join thought-provoking conversations, follow other Independent readers and see their replies