World's food system broken, Oxfam warns
Doubling of prices and 70 per cent rise in demand means millions more will go hungry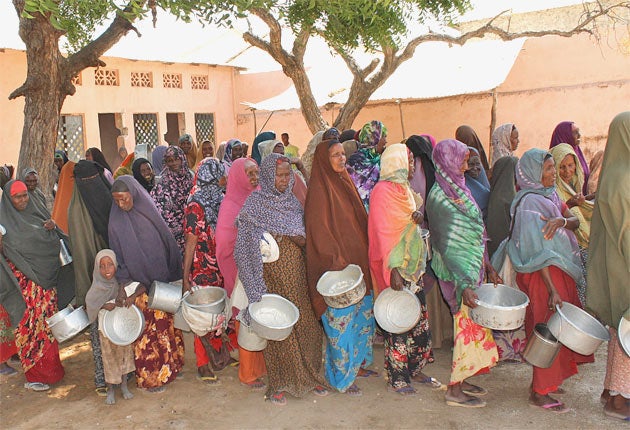 Millions more people across the world will be locked into a cycle of hunger and food crisis unless governments tackle a "broken" production system which is being exploited by speculators and will cause a doubling in basic foodstuff prices in the next 20 years, a leading aid agency has warned.
Research by Oxfam has highlighted a combination of factors, ranging from climate change and population growth to subsidies for biofuels and the actions of commodities traders, which will throw development in poor countries into reverse unless radical reform of the global food system is undertaken.
The charity found that the world currently produces enough food to sustain the population, but still 925 million people go hungry every year. This situation will dramatically worsen as the population reaches 9 billion by 2050, meaning demand for food will increase by 70 per cent at a time when capacity to increase yields is running at less than 1 per cent a year.
Barbara Stocking, Oxfam's chief executive, said: "The food system is pretty well bust. All the signs are that the number of people going hungry is going up. One in seven people on the planet go hungry every day despite the fact that the world is capable of feeding everyone. The food system must be overhauled if we are to overcome the increasingly pressing challenges of climate change, spiralling food prices and the scarcity of land, water and energy."
In a 74-page report drawn up for the launch of a four-year campaign to pressure governments and corporations to increase the affordability of basic staples, Oxfam apportioned some of the blame for the drastic increase in food costs, which has already seen prices double since 1990, to commodities traders and speculation in the global foodstuffs market.
With the world's poorest people now spending up to 80 per cent of their income on food, the aid agency said they were particularly vulnerable to the volatility in prices from which large agricultural trading companies profited. It said that up to 90 per cent of global grain trading happened between just three companies, each of which had made substantial profits from fluctuations in prices since the 2008 food crisis.
One of the companies, the American conglomerate Cargill, saw its profits increase by 86 per cent in the first quarter of 2008 and is heading for its most profitable year yet following further disruption to global supplies, according to the study. Cargill said it welcomed the report, saying that there was a "significant challenge" in meeting demand for food in 2050.
Oxfam is calling for regulators to place limits on trading in agricultural futures – contracts designed to reduce uncertainty in prices, which however, critics say are perversely driving prices higher. The aid agency said global food production was further skewed by subsides for biofuels, large-scale landowners in poor countries and the disproportionate influence of seed manufacturers at a time when increased investment in 500 million small farms in the developing world would yield dramatic benefits for rural and urban populations.
Jeremy Hobbs, Oxfam's executive director, said: "For too long, governments have put the interests of big business and powerful elites above the interests of the seven billion of us who produce and consume food."
The charity said the effects of many of the issues it was highlighting were already being seen in food insecurity "hot spots" around the world, in particular the Horn of Africa, where eight million people across Somalia, Ethiopia and northern Kenya are facing chronic food shortages due to drought.
Join our commenting forum
Join thought-provoking conversations, follow other Independent readers and see their replies