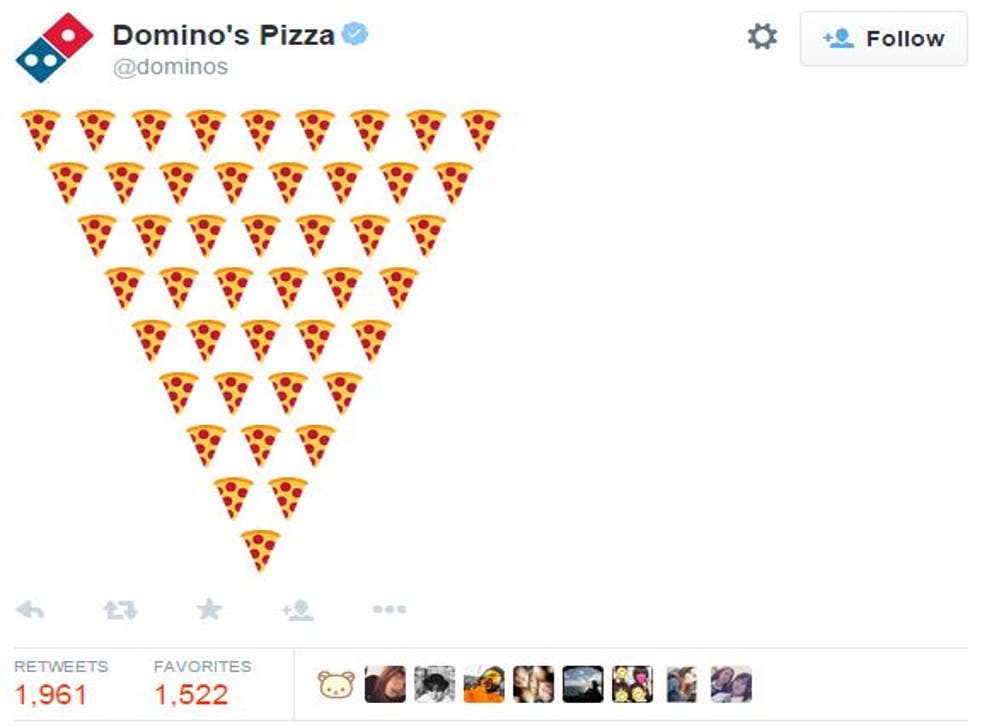 You can now order pizza by emoji because brands are trying damnit
Praise Cheesus
Christopher Hooton
Wednesday 13 May 2015 11:11 Comments
Domino's is trying to cash-in on pizza's continuing revival and general emojification by allowing customers to order simply by tweeting pizza emoji.
It announced a tweet-to-order system for US customers on Twitter yesterday, which involves people setting up an Easy Order account where you register your Twitter handle and topping preferences and then tweet 44 pizza emoji in a pizza formation to order.
Domino's will then DM you to confirm the order and check you weren't just doing one of those 'OMG PIZZA IS LFE' type tweets.
"It's the epitome of convenience," said Patrick Doyle, CEO at Domino's, adding: "We've got this down to a five-second exchange."
The stage is now set for an assassin to corner the market for ordering hits by gun emoji (in fairness, China did have to recently ban an app that let you hire a mercenary to carry out beatings).
Register for free to continue reading
Registration is a free and easy way to support our truly independent journalism
By registering, you will also enjoy limited access to Premium articles, exclusive newsletters, commenting, and virtual events with our leading journalists
Already have an account? sign in
Join our new commenting forum
Join thought-provoking conversations, follow other Independent readers and see their replies