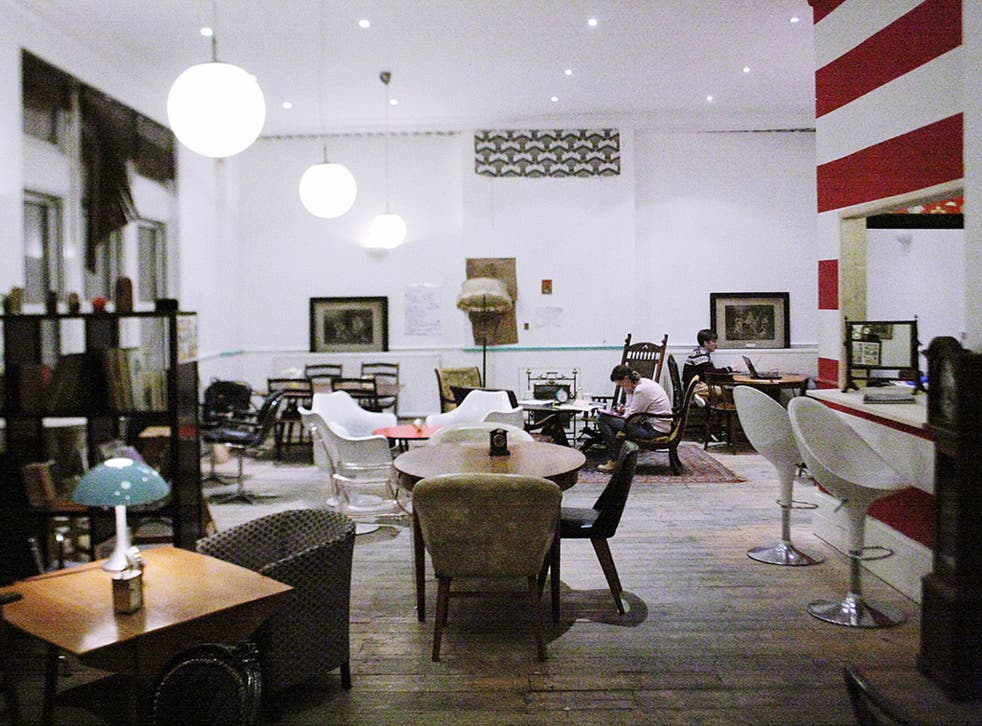 Ziferblat: Pay-per-minute café opens in London
Owner of Russian chain says he hopes café will encourage a more 'communal' experience
Customers will be charged by the minute rather than per cup at a new café chain introduced to the UK from Russia.
Ziferblat ('clock face' in Russian), which opened its first UK branch in Shoreditch, London, at the end of November.
It is the brainchild of Ivan Mitin, 29, who has already opened ten other branches in his native Russia and one in Ukraine.
When guests arrive, they take a clock from a cupboard and keep it with them till they leave, paying 3p per minute spent there.
They make their own drinks and food – and even do their own washing up.
"I love the idea that people could come here and be themselves," said Mr Mitin. "A city like London or any other big city provokes us to behave in such a way that makes it seem like you're wearing a mask.
"We choose the way of living life. I'm going to be the office manager or I'm the artist or I'm the musician and things like that, and sometimes the way of living we choose makes us restricted in this way."
Mr Mitin hopes to create a more communal atmosphere than the mainstream café chains, where patrons often sit hunched over their laptops or closed off in their own social groups.
"Sometimes in cafés your table is your small world and you don't see much around you," he said.
"[In mainstream cafés] you want service. You're looking at how they treat you because you're paying money for that.
"In Ziferblat, you don't pay money for service. Nobody serves you; you help yourselves. By paying for time… you participate in the existence of this space, so it's like we all rent this space together."
Ziferblat, which can accommodate up to 40 people, has already proven a hit, with guests tending to mingle with each other and make friends.
"They go to the shop together to buy ingredients like some vegetables and they cook salads in the kitchen and sit together on one table, inviting other guests to join them," said Mr Mitin.
"They start nice conversations, really open and it's very sincere I would say."
Mr Mitin thinks his concept could start a global trend.
"It's in Ukraine and it's heading more and more to Europe, so I think this idea will challenge the world," he said.
However, he fears his idea could spiral out of control and that people could start to be charged for spending time in other places like libraries as in a "dystopian movie."
"In Russia, for example, there are already restaurants who sell food like normal restaurants but also charge for time," he said.
"I wouldn't be surprised if in a few years there would be a street in London where people will be charged for time for just walking by."
But overall Mr Mitin is optimistic about his project.
"I compare Ziferblat with a treehouse," he said. "While being children we all dream about our own small world that we can build with our playmates. Ziferblat is quite the same. We build it together with our guests."
Register for free to continue reading
Registration is a free and easy way to support our truly independent journalism
By registering, you will also enjoy limited access to Premium articles, exclusive newsletters, commenting, and virtual events with our leading journalists
Already have an account? sign in
Register for free to continue reading
Registration is a free and easy way to support our truly independent journalism
By registering, you will also enjoy limited access to Premium articles, exclusive newsletters, commenting, and virtual events with our leading journalists
Already have an account? sign in
Join our new commenting forum
Join thought-provoking conversations, follow other Independent readers and see their replies