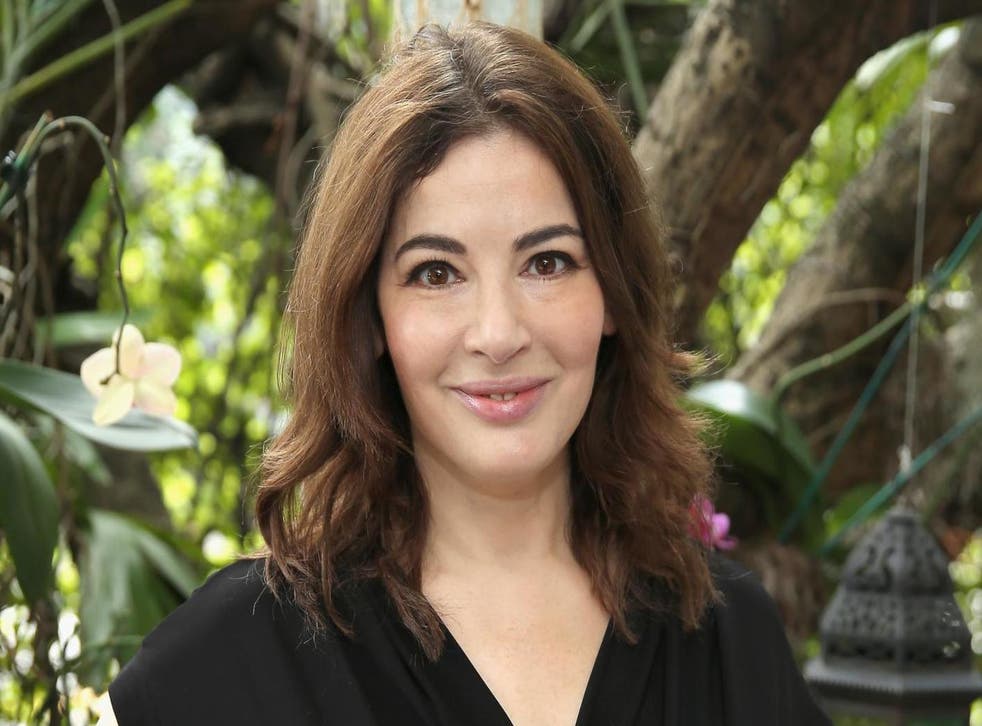 Nigella Lawson to open UK's first cookery school for cancer patients
Cancer treatments can make food taste sweet, salty and even metallic
Celebrity chef Nigella Lawson will open the UK's first cookery school for people living with cancer next month.
From Tuesday 4 June, the non-profit organisation Life Kitchen will offer free cookery classes to those living with the disease in order to encourage a love of cooking and eating through "accessible and creative recipes".
The school, which will be based in Mowbray Park Sunderland, will host cooking classes for cancer sufferers who may suffer from a loss of taste as a result of undergoing cancer treatments.
A side effect of chemotherapy drugs can include the changing of taste receptor cells in the mouth with some sufferers saying food can taste metallic.
Food writer and stylist Ryan Riley founded Life Kitchen in 2018 in memory of his mother who passed away from small cell lung cancer in 2014.
Mastectomy: Stand Up To Cancer launches powerful photo campaign

Show all 13
Like many cancer sufferers, Riley's mother struggled with the loss of taste and appetite during chemotherapy treatment.
"My mother couldn't taste anything," Riley tells The Independent about his mother's experience. "The only thing she enjoyed was ice pops."
Each cookery session will last around three hours and will be available to community members and those from further afield, as well as double up as an outreach space.
During the lessons, Riley hopes to teach students the basics of cooking, seasoning, layering of flavour and different tastes.
The food stylist has worked alongside Professor Barry Smith from the University of London who specialises in senses to help create a menu that is suitable for cancer patients and their sensitive and changing tastebuds.
"We've looked at umami rich foods and developed recipes like our lentils with mushrooms and gremolata," Riley explains.
"We've also worked on strong and balanced dishes such as Life Kitchen's roasted rose harissa salmon with fennel yoghurt salad and our signature pineapple tacos dish."
Macmillan Cancer Support says that while those living with cancer may find that food tastes different during chemotherapy treatment, this is usual temporary.
"You may no longer enjoy certain foods or find that all foods taste the same," a statement on the subject on the cancer charity's website reads.
"Food may taste very sweet or salty, or you may have a metallic taste in your mouth."
To help deal with changing tastes during treatment, Cancer Research advises patients to choose foods that have strong flavours (garlic, lemon juice, herbs), use plastic utensils if food tastes metallic, and marinate ingredients overnight or for a few hours to add flavour.
Since the launch of Life Kitchen, Riley has hosted several pop-up cooking masterclasses at locations across the UK.
He has also received support from several celebrities including chefs Hugh Fearnley-Whittingstall and Jamie Oliver, as well as television presenters Stephen Fry and Sue Perkins (who is now a patron of the charity).
In February, Fry urged his 12.7m Twitter followers to donate money to the fundraising project to launch the cookery school.
Interior designer Laurence Llewelyn-Bowen has also designed an exclusive print for the school; an official pattern printed on Life Kitchen's new tea towels, apron, and other kitchen items.
You can apply to attend the cookery school from 4 June here.
Join our new commenting forum
Join thought-provoking conversations, follow other Independent readers and see their replies