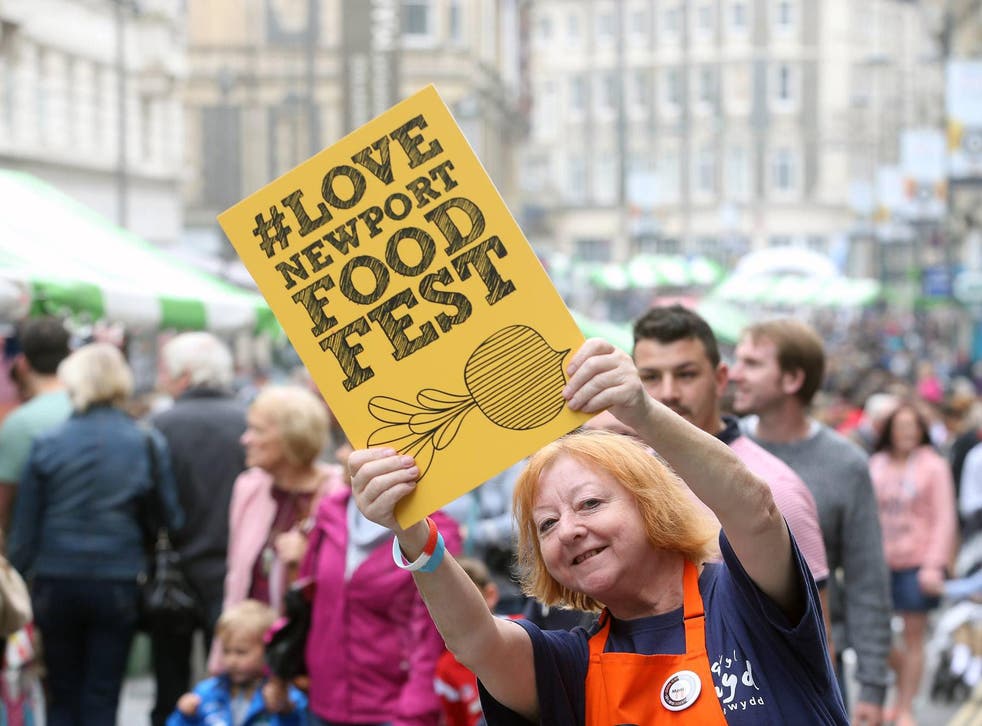 October's 9 best food and drink festivals
Matt Nixon finds the food and drink festivals on hand to help us strap in for the chillier season around the corner, with warm bellies and high spirits
Matt Nixon
Friday 06 October 2017 10:34 Comments
It's a bit nippy. So thank goodness for food, glorious food to help us make the transition into the colder season.
Hertford Food and Drink Festival, Hertford, until 8 tomorrow
For three days explore Hertford's culinary offerings, from Richard Holden's barbecue masterclasses and live cookery demonstrations from celebrity chef Jean-Christophe Novelli. Inside McMullen's 200-year-old brewery, indulge in four-course lunches carefully paired with select beers and wines.
On the cobbles try organic slider burgers, wings and cocktails, or try Italian charcuterie, cheeses and olives. On the final day, head to Hertford castle to sip on local and national beers, ales and ciders. Visit: hertford.gov.uk/events/-hertford-food-and-drink-festival-332/
The Great Framlingham Sausage Festival, Suffolk, 8 October
Perhaps the porkiest event on our list, the Great Framlingham Sausage Festival has a sausage trail full of local pork. You can spend the day sampling sausages all made in East Anglia with local ingredients and mouthwatering recipes. It all ends with attendees voting for the best banger. Set in one of England's most historic and beautiful market towns, there is also family entertainment, barbecues, and sausage-making sessions where you can learn how to get the most flavours out of your meat. Tickets are £5 from: framlinghamsausagefestival.com/
Stone Food & Drink Festival, Staffordshire, 6-8 October
Expect classic British delicacies like organic pork belly, and a range of mouthwatering international cuisines, like sizzling hot Mexican fajitas served with nachos at Stone's site. On top of that all there's a range of real ales and ciders, and a variety of entertainment from pub quizzes to live music and cookery demonstrations. Tickets from £7 at stonefooddrink.org.uk
Tiny Rebel Newport Food and Drink Festival, Newport, today
This October marks Newport's seventh year and will welcome 80 traders offering the best produce Wales has to offer, from Glamorgan sausage to fresh cockles or leek soup. There's a range of food to munch on as you watch live chef demos, visit city stalls, and sip on local brewer Tiny Rebel's range of beers. Better yet, it's all free. To find out more visit: newport.gov.uk/newportFoodFestival
London Restaurant Festival, London, until 31 October
Now in its ninth year, the London Restaurant Festival provides a chance for bespoke dining experiences, all without breaking the bank throughout the month. There are more than 250 menus, ranging from street food Michelin-starred restaurants. Highlights include Petrus by Gordon Ramsay, The Goring Dining Room, and Club Gascon, all of which are putting special offers of £25 to £50 a head for three- and four-course meals. Just be sure to book your tables early at londonrestaurantfestival.com/
Flavours Food Fest, Barnsley, 14-15 October
When The Great British Bake Off's own Nadiya Hussain is on the billing, you know it's going to be a treat. Here there are more than 60 food and drinks stalls and demonstrations from an array of expert chefs sharing their recipes. Tickets start at £5 from elsecar-heritage.com/flavours-food-fest
VegfestUK London, London, 21-22 October
Despite its lack of meat, VegFestUK attracted more than 9,000 people in two days last year, so for the festival's fifth year in the capital, you can expect everything to be even bigger (but not beefier). With 200 stalls in its market hub, there is an impressive range of food and drink products alongside bodycare, cosmetics and fashion items. Even if you aren't vegetarian or vegan, this festival offers a chance to try something new. Pre-booked tickets are £8 from vegfest.co.uk
BBC Good Food Show Scotland, Glasgow, 20-22 October
Eating like a local, visiting pop-up restaurants and bars, and meeting celebrity chefs like Tom Kitchin and the Hairy Bikers is just a flavour of all you can expect at BBC's flagship event in Glasgow. There will be a wealth of cooking knowledge, culinary flair, and a range of food and drink to try – such as jasmine smoked trout available in the SEC centre. Keep an eye out for visiting restaurants and bars The Drugstore Social, Two Fat Ladies, and Red Onion. Tickets start at £20 a day from: bbcgoodfoodshow.com/glasgow
Crewe Cosmopolitan Food Festival, Crewe, 29 October
With the world's most historic railway station, quaint old Crewe offers a cosmopolitan mix of food, celebrating the cultural diversity in our modern world. At one moment, you might be enjoying some British scones and tea, the next you can be munching on a spicy Indian curry. The icing on the cake? Entry is free. Got to foodfestivalfinder.co.uk/events/crewe-cosmopolitan-food-festival
Register for free to continue reading
Registration is a free and easy way to support our truly independent journalism
By registering, you will also enjoy limited access to Premium articles, exclusive newsletters, commenting, and virtual events with our leading journalists
Already have an account? sign in
Join our new commenting forum
Join thought-provoking conversations, follow other Independent readers and see their replies