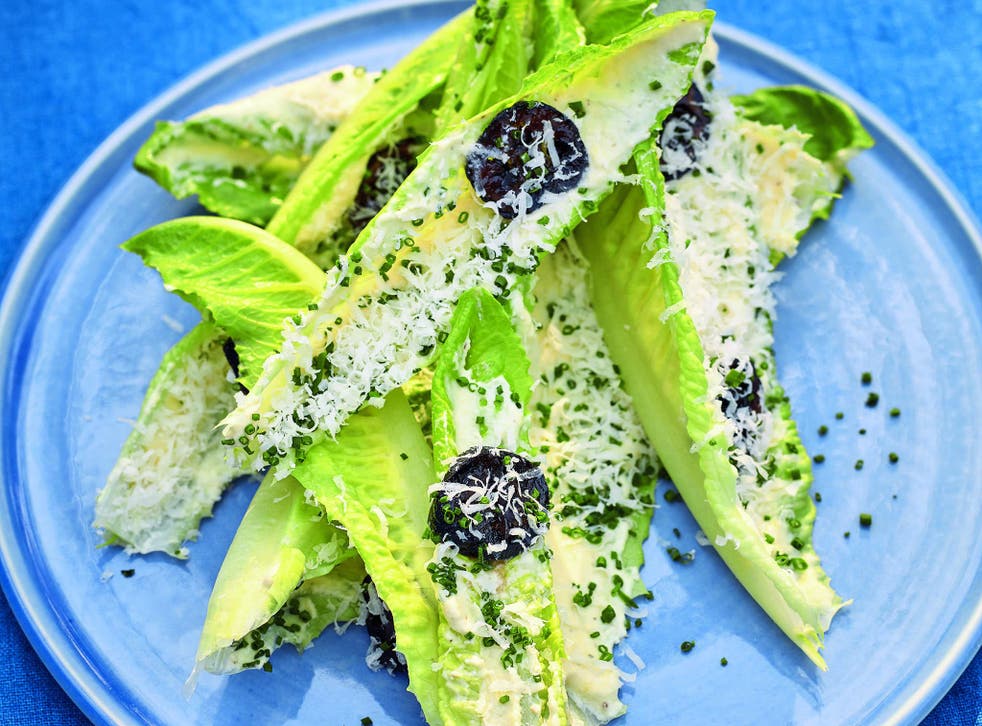 Oklava: Recipes from chicken kofte to tarama with fried mussels
Bringing together recipes from her Turkish-Cypriot heritage, Selin Kiazim's first book, Oklava – which translates as 'rolling pin' – is an ode to her grandmother, who was never far away from the cylindrical kitchen tool
Romaine lettuce salad with candied walnuts and feta dressing
I have been developing this recipe for quite a few years now. The idea initially came to me when I had an amazing salad at a fish restaurant called Uskumru in Istanbul. A bowl full of wonderful greens came to the table with a cheesy dressing. I couldn't work out quite what was in it, so in my very broken Turkish (some days I speak it better than others) I asked the waiter what was in it. The answer was 14 ingredients, and he wouldn't tell me any of them! This salad is pretty different from the one I got served that day. The best place to find candied walnuts is in a Turkish supermarket; they look like little black golf balls in syrup. They are candied when still in their green shells, fresh from the tree.
Serves 4
4 candied walnuts in syrup, or 100g walnuts, toasted
1 head of Romaine lettuce, separated into leaves
small bunch of chives, thinly sliced
30g pecorino or hard sheeps' cheese
For the dressing
300g  Turkish white
cheese or feta
1 garlic clove
1 teaspoon dried oregano
1 tablespoon honey
freshly squeezed juice of 1 lemon
100ml extra-virgin olive oil
80ml water
Start by making the dressing: place all the ingredients in a blender and process until smooth. Slice the walnuts into 3mm slices. Lay all the lettuce leaves out on a tray with their cupped sides facing up. Spread the feta dressing inside all the leaves. Dot the walnut slices across the lettuce, then sprinkle over the chives. Finally, using a fine grater, grate the pecorino all across the top. Transfer to plates and serve.
Chicken and garlic kofte pide with chilli yoghurt, smoked salsa, walnuts and feta
Here is one of those recipes that just came to me, this time during a conversation with my sous chef, Nick. He was telling me that he missed cooking the lamb kofte we'd once had on the menu, while I was thinking that I wanted to put a new meat pide on. The result was that I combined them.
Makes 6
1 quantity Pide dough (see page 60)
flour, for dusting
2 tablespoons unsalted butter, melted
½ quantity Fried Dried Chilli Yogurt (see below)
120g walnuts, lightly toasted and crushed
120g feta
small handful mint, finely shredded
small handful flat leaf parsley, finely shredded
For the chicken kofte
500g minced chicken
1 red pepper, finely diced
1 onion, finely diced
3 garlic cloves, finely grated
100g sweet pepper paste (tatli biber salçasi)
small bunch of flat leaf
parsley, finely chopped
fine salt
For the salsa
6 banana shallots, skin on, halved lengthways
250g baby plum tomatoes
10 long green Turkish peppers (Charleston peppers; use ordinary peppers if you can't find them)
2 tablespoons pomegranate molasses
1 teaspoon sweet smoked paprika
1 teaspoon dried oregano
100ml extra-virgin
olive oil
flaky sea salt
Preheat the oven to 240°C (475°F), Gas Mark 9. Put a pizza stone or a large flat baking tray in the oven. Mix together all the ingredients for the chicken kofte. Season with salt, then fry a little and taste it: adjust the seasoning, as necessary and divide the mixture into 6 equal portions.
To make the smoked salsa, you'll need a hot barbecue or a very hot ridged griddle pan. Working in batches, cook the shallots, tomatoes and peppers until their skins are blackened. Allow them to become cool enough to handle, then peel off the shallot and pepper skins and dice the flesh. Peel and crush the tomatoes with the back of a fork and combine them in a bowl with the shallots and peppers and the remaining ingredients for the salsa. Season with salt.
To make the pides (I suggest making them one at a time), roll out a ball of dough on a floured surface into a large oval shape about 40 x 15cm (16 x 6in). Spread one portion of the chicken kofte mixture down the centre, leaving a border of 3cm around the edge. Season with a little flaky salt. Fold in the sides, and pinch the ends together really well so that the pide doesn't unravel during baking.
Slide your pide onto a very flat baking sheet, then place it on the preheated baking tray or pizza stone. Bake for 10–12 minutes, or until golden brown and crisp on the outside. Remove and brush the sides of the pide with the melted butter, then top with some smoked salsa, chilli yogurt, walnuts, feta, mint and parsley. Make 5 more in the same way. If you want to serve the pides all together, set them aside after baking, then reheat and garnish as described.
Fried dried chilli yogurt **
This is inspired by the delicious (and very hot) fried dried chillies that are served alongside fried liver in the city of Edirne.
Makes 500g
1 tablespoon sunflower oil 
2 tablespoons extra-virgin olive oil
2 hot dried red chillies
​500ml Turkish or Greek yogurt
Freshly squeezed juice of ½ lemon
Fine salt
Heat the sunflower oil in a small frying pan over a high heat. Add the chillies and cook until they change colour, turn a little darker and become crisp. Allow to cool, then roughly chop them.
Once cooled, place in a bowl, whisk in the remaining ingredients and season with salt.
Tarama with fried mussels and mint oil
In Istanbul there are lots of street vendors selling little skewers of battered fried mussels served with tarator, a sauce made with walnuts. Proper tarama, as opposed to the neon pink stuff sold in supermarkets, is a thing of real beauty. I would recommend making it even if you don't have time to make the whole dish. It's wonderful served with warm flatbread, or even chargrilled toast.
Serves 2 – 4
500g mussels, cleaned and de-bearded
plain flour, for dusting
about 3 tablespoons water or beer
sunflower oil, for frying
1 quantity Mint Oil (1 tsp dried mint and 4 tablespoons extra virgin olive oil), for drizzling
2 spring onions, finely sliced
on the diagonal, to garnish
For the tarama
55g smoked cod's roe, soaked in cold water for 2 hours
½ garlic clove
freshly squeezed juice of 1 lemon
½ slice white bread, crusts removed, soaked in water
2 tablespoons water
50ml sunflower oil
25ml olive oil
flaky sea salt
For the batter
1 large egg white
300ml cold beer or sparkling water
175g self-raising flour
15g nigella seeds
fine salt
First make the tarama: start by peeling off and discarding the skin from the cod's roe. Put the roe in a small blender with the garlic, half the lemon juice, the soaked bread and the water. Blend until smooth. With the machine running, gradually add both the oils. (This process can also be done with hand-held electric beaters.) If the mixture gets too stiff, add a little warm water to bring it to the right consistency, then continue to add the oils.
Taste to check the seasoning; add a little flaky salt if needed and more lemon juice if you wish. Set aside in the refrigerator. Heat a large pan over a high heat. When the pan is very hot, add the mussels and water (or beer) and cover with a lid. Cook the mussels for a few minutes, or until all the shells have opened. Discard any unopened shells.
Drain the mussels (reserve the liquor if you like, to make a lovely sauce for another fish dish) and leave them to cool. Once cool enough to handle, pick all the meat out and reserve it. To make the batter, whisk the egg white to fairly stiff peaks. In another bowl, gradually whisk the beer into the flour to form a smooth batter. Fold in the egg whites and nigella seeds, and season with a little fine salt. Heat the oil in a deep-fat fryer to 180°C (350°F). Alternatively, place a deep frying pan over a high heat and add a 2cm (¾in) depth of sunflower oil. When it is hot enough, a small cube of bread added to the oil should sizzle immediately.
Dust the mussels in the plain flour, then place in the batter. (You can thread the mussels on skewers to make them a little easier to cook, if you like.) Using a slotted spoon, lift them out one at a time and lower them carefully into the hot oil. Fry for about 1 minute, or until golden brown all over. Remove and drain on kitchen paper, and season with fine salt. To serve, spoon some tarama onto a plate and place a few mussels on top.
Drizzle with mint oil and sprinkle over the spring onion.
Oklava by Selin Kiazim, published by Mitchell Beazley, £25 www.octopusbooks.co.uk
Join our new commenting forum
Join thought-provoking conversations, follow other Independent readers and see their replies