How to make pan-fried gnocchi and four other dishes we're cooking this week
From a moreish sweet and salty marinade to crispy, healthy smashed chicken burgers, this week's meal plan from Emily Weinstein is full of smart moments and vibrant flavours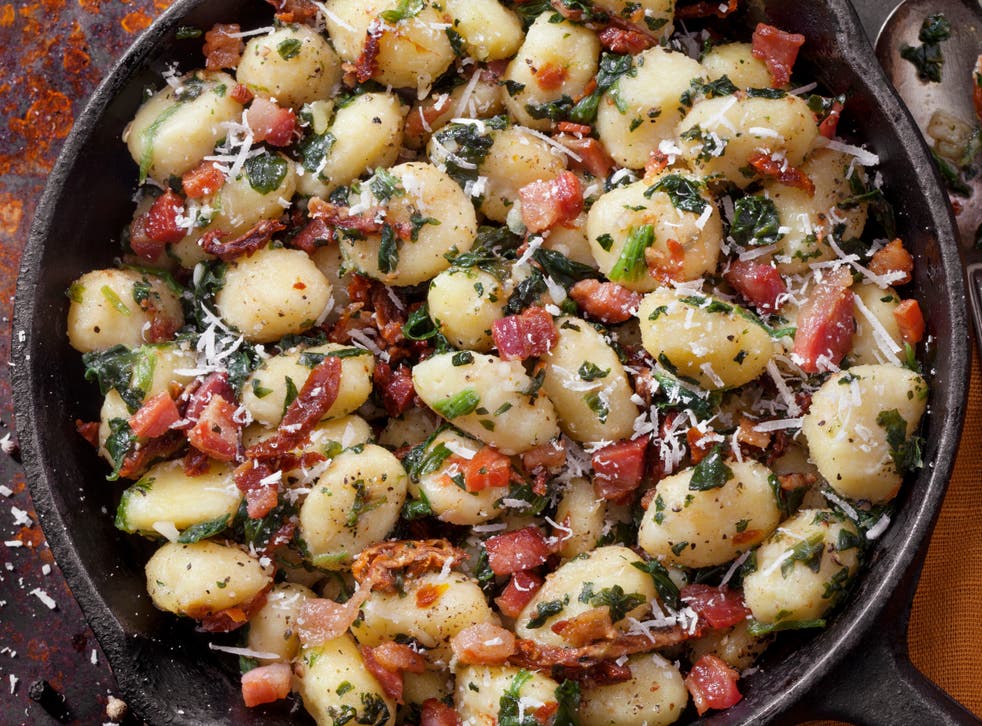 T
he trick of searing or roasting shop-bought gnocchi, rather than boiling it, has appeared a few times in the past year or two. Ali Slagle even wrote a whole story about this approach, which works with either dried or fresh gnocchi.
It might seem as if each little gnocchi would be irredeemably dry and unpleasantly chewy, but that's totally wrong. They are chewy, yes, but almost fudgy in texture, and above all difficult to stop eating.
Here is one of her genius gnocchi dishes, along with four other recipes, each with its own superb idea.
Read more:
Crispy gnocchi with burst tomatoes and mozzarella
Pan-fried gnocchi is like a faster version of baked pasta. Shop-bought gnocchi can simply be browned in a pan for an exciting mix of crispy outsides and chewy middles, no boiling required. This dish is studded with juicy tomatoes and melty pockets of mozzarella.
Cherry tomatoes are reliably more flavourful year-round than larger, more watery varieties like beefsteak and heirloom (that said, taste yours, and if they're more tart than sweet, add half a teaspoon of sugar in step 2).
Toss the tomatoes with browned butter, red-pepper flakes and garlic, then hit them with a little heat, and they'll burst into a bright sauce. Stir in the gnocchi, dot with mozzarella, then broil until the cheese is molten and the tomatoes are blistered in spots.
By: Ali Slagle
Makes: 4 servings
Total time: 25 minutes
Ingredients
2tbsp extra-virgin olive oil, plus more as needed
2 (500g) packages dried or fresh potato gnocchi
½ stick unsalted butter
4 garlic cloves, thinly sliced
¼tsp red-pepper flakes, plus more for serving
Salt and black pepper
250g small tomatoes, such as cherry or plum
5g thinly sliced or torn basil leaves (optional), plus more for serving
225g fresh mozzarella, cut or torn into 1.5cm pieces
Method
1. Heat the grill with a rack about 15cm from the heat source. In a large (30cm) frying pan over medium-high, heat enough olive oil to lightly coat the bottom of the pan (about one tablespoon). Add half the gnocchi to the pan, breaking up any that are stuck together. Cover with a lid or baking sheet and cook, undisturbed, until golden brown on one side, 2 to 4 minutes. Transfer to a medium bowl. Repeat with the remaining gnocchi and olive oil.
2. Add the butter to the pan and cook over medium-high, stirring often, until golden-brown and toasty, 1 to 2 minutes. Add the garlic, red-pepper flakes, 1 and a half teaspoons salt and a few grinds of pepper, reducing the heat slightly if necessary to avoid scorching. Add the tomatoes and three tablespoons of water and cook, shaking the pan occasionally, until the tomatoes have softened and the liquid has slightly thickened, 4 to 6 minutes. Smash the tomatoes as they burst to help them along.
3. Add the seared gnocchi and basil (if using), stir to coat, then shake into an even layer. Top with the mozzarella and drizzle lightly with olive oil. Grill until the cheese is melted and browned in spots, 2 to 4 minutes. Top with more basil, red-pepper flakes and black pepper as desired.
Salty-sweet barbecue salmon and broccoli
This salmon and broccoli sheet-pan dinner gets a boost from bottled oyster sauce, which is made from caramelised oyster juices, salt and sugar, and tastes like a sweet yet briny soy sauce. It makes the perfect base for a rich barbecue sauce that comes together in just 10 minutes.
Caramelised sugar, tomato paste and soy sauce quickly create depth, while vinegar balances the sweetness. The salty-sweet sauce complements the buttery salmon and does double duty as a glaze and finishing sauce.
It also serves as a terrific marinade for chicken and steak, so you may want to make a double batch of it.
By: Kay Chun
Makes: 4 servings
Total time: 30 minutes
Ingredients
450g broccoli florets, cut into 2.5cm pieces
12 spring onions, trimmed and halved crosswise
1 2.5cm piece fresh ginger, peeled and julienned (about 1½ tablespoons)
60ml safflower or canola oil (or sunflower oil)
Salt and black pepper
2tbsp finely chopped yellow onion
1tbsp minced garlic
1tsp tomato paste
3tbsp demerara sugar (or 2tbsp light brown sugar)
6tbsp oyster sauce
2tbsp unseasoned rice vinegar
1tbsp low-sodium soy sauce
4 170g skin-on salmon fillets
Steamed rice, for serving
Method
1. Heat oven to 225C. On a rimmed baking tray, combine broccoli, spring onions, ginger and 2 tablespoons of oil. Season with salt and pepper, and toss to coat. Spread in an even layer and roast until softened, about 15 minutes.
2. While the broccoli mixture roasts, prepare the oyster barbecue sauce: in a small saucepan, heat the remaining two tablespoons of oil over low. Add onion and garlic, and cook until softened, about 2 minutes. Add tomato paste and cook, stirring frequently, for 1 minute. Add sugar and cook, stirring, until sugar dissolves and the mixture darkens slightly, about 3 minutes. Stir in 120ml of water (be careful, as the mixture may splatter a little), then the oyster sauce, vinegar and soy sauce. Bring to a simmer. The sugar may seize, but keep stirring; it will dissolve. Cook, stirring, until sauce is thickened, about 5 minutes. Season generously with pepper. Remove 120ml and set aside for passing at the table.
3. Stir the roasted broccoli. Season salmon with salt and arrange on top of the broccoli. Liberally brush salmon all over with half of the remaining oyster barbecue sauce in the saucepan. Roast until the vegetables are caramelised and the salmon is cooked through, 8 to 10 minutes, basting salmon after 5 minutes with the barbecue sauce.
4. Divide salmon and vegetables among plates. Serve with steamed rice and the reserved barbecue sauce.
New shrimp Louie (poached prawn salad)
In this spirit of classics like shrimp Louie or niçoise salad, this is a fairly basic, highly customisable salad-for-dinner deal, in which the non-negotiables are fresh seafood (prawn or salmon), crunchy lettuce (romaine or little gem) and tons of lemon (which comes in a tangy vinaigrette made with shallot and tarragon).
From there, you can add any number of raw or lightly blanched vegetables, like shaved radish, sliced avocado or blanched green beans. To make things easy and efficient, the prawn, eggs and green beans can all be cooked in the same pot of boiling water, so it's not much of a fuss.
By: Alison Roman
Makes: 4 servings
Total time: 30 minutes
Ingredients
Salt
225g green beans, tails trimmed
680g large prawns, shell on, deveined if you like
4 large eggs
1 small shallot, sliced
2tbsp fresh tarragon leaves, finely chopped
3tbsp fresh lemon juice
Freshly ground black pepper
½ large head romaine lettuce or 3 heads little gem lettuce, torn or cut into large pieces
1 medium watermelon radish or 3 regular radishes (or a mix of both), thinly sliced
1 avocado, thinly sliced
Olive oil, for serving
1 cup aioli or mayonnaise, for serving
Method
1. Bring a large pot of salted water to a boil. Add green beans and cook until bright green and just tender, 2 minutes or so. Remove from water and transfer to a plate to cool (no need to use an ice bath, but if you want to, go for it).
2. Add prawns and cook until bright pink and just cooked through, 2 to 4 minutes depending on the size of the prawn. Transfer to a plate to cool. Once the prawns are cool enough to handle, peel.
3. Return the water to a boil and gently lower in eggs. Boil for 6 to 7 minutes (6 for runnier yolks, 7 for slightly firmer). Remove from heat and run under cold water for a minute or two (feel free to place them in an ice bath, if you wish, but I find very cold running water does the trick).
4. Combine shallot, tarragon and lemon juice in a small bowl and season with salt and pepper.
5. To assemble the salad, arrange the lettuce on a large serving platter or in a shallow bowl and scatter with radishes, avocado, green beans and shrimp. Spoon shallot mixture over everything and drizzle with olive oil. Peel and halve the eggs and nestle in the salad. Serve with aioli or mayonnaise alongside for individual dressing.
White beans with radishes, miso and greens
In this 10-minute take on beans and greens, creamy white beans are sautéed in butter and garlic, then crunchy radishes and tender greens are stirred in at the end for texture and crunch.
White miso, a fermented soybean paste that's worth seeking out if it's not already in your fridge, provides a complex, umami flavor that pairs well with the mild beans. Finish the dish with a good squeeze of lemon to add brightness and balance out the salty miso. Serve these beans on their own, or alongside grilled prawns or salmon.
Any leftover miso paste can be whisked into salad dressings and marinades, or used as a base for a quick weeknight soup.
By: Colu Henry
Makes: 2 to 4 servings
Total time: 10 minutes
Ingredients
2tbsp white miso
4tbsp unsalted butter
2 garlic cloves, finely chopped
2 400g cans white beans, like cannellini or butter beans, rinsed and drained
Handful pea shoots, rocket or other baby greens
3 to 4 small radishes, thinly sliced
Fresh lemon wedges, for squeezing
Black pepper
Method
1. In a small bowl, whisk the miso with 60ml of water until dissolved. Set aside.
2. In a large frying man, melt the butter over medium heat until it foams. Add the garlic and cook, stirring often, until fragrant, about 30 seconds.
3. Add the beans and toss to coat with the garlic butter. Add the miso mixture and cook, stirring occasionally, until the flavours have melded and the beans are warmed through, about 2 minutes. The beans should be a bit saucy, so thin it out with a tablespoon or so of water if needed.
4. Remove from the heat and stir in the greens and radishes. Gently toss until the greens are just wilted. Squeeze with lemon juice, season with pepper and gently toss again.
Smashed chicken burgers with cheddar and parsley
These fresh, flavourful chicken burgers have a crunchy exterior, a tender interior and a healthy slathering of limey Dijon mayonnaise. They're paired with salad that's prepared using leftover burger ingredients, and a little avocado and lettuce.
Serve the burgers between lightly toasted buns, as the recipe suggests, or skip the bread and enjoy them without for a lighter dinner.
By: Yasmin Fahr
Makes: 4 servings
Total time: 20 minutes
Ingredients
115g mayonnaise
1tbsp Dijon mustard
Salt and black pepper
2 limes, 1 juiced (about 2tbsp), 1 cut into wedges
30g flat-leaf parsley, leaves and tender stems, roughly chopped
78g grated cheddar, plus 60g cubed, plus 8 slices for topping
1 small shallot, minced
3 large garlic cloves, minced
1tsp ground cumin
½tsp red-pepper flakes
450g ground chicken, preferably dark meat
2tbsp neutral oil, such as canola oil, or ghee
3tbsp olive oil
1 large head butterhead or round lettuce, leaves torn into bite-size pieces
1 ripe avocado, diced
4 brioche or burger buns, lightly toasted
Method
1. In a small serving bowl, combine the mayonnaise with one tablespoon of mustard. Season to taste with salt and the juice of one lime wedge.
2. In a medium bowl, thoroughly combine 25g of parsley with the grated cheese, shallot, garlic, cumin and red-pepper flakes. Stir in one tablespoon of the Dijon mayonnaise, one teaspoon salt and a quarter teaspoon of pepper. Add the chicken and gently combine. Form into four large, round balls.
Read more:
3. Heat a 30cm cast-iron or heavy frying pan over medium-high until very hot, 1.5 to 2 minutes. Add the neutral oil or ghee, then add the chicken meatballs, spacing them out in the pan. Use a metal spatula or the back of a wooden spoon to press them until they form 1.5cm thick patties. Cook without moving for 3 to 4 minutes, until a deep golden crust has formed on the bottom and they easily release from the pan. Flip the patties using a sturdy spatula and cook until cooked through with a nice crust on both sides, about 3 minutes more. If the patties need more time, you can cover the pan and cook for 1 to 2 more minutes, adjusting the heat as needed to avoid scorching. A minute or two before they're done, set two slices of cheddar cheese on top of each patty to melt.
4. While the burgers are cooking, in the bottom of a serving bowl, mix the two tablespoons lime juice with the remaining one teaspoon of mustard; whisk in the olive oil until smooth and season with salt and pepper. Add the torn lettuce leaves, avocado, remaining parsley and cubed cheddar, and toss to coat with the dressing.
5. Place the burgers on the buns, slather with Dijon mayonnaise, and top with a little of the greens and avocado from the salad. Serve with the salad, plus the lime wedges and any remaining Dijon mayonnaise on the side.
© The New York Times
Join our new commenting forum
Join thought-provoking conversations, follow other Independent readers and see their replies