The Independent's journalism is supported by our readers. When you purchase through links on our site, we may earn commission.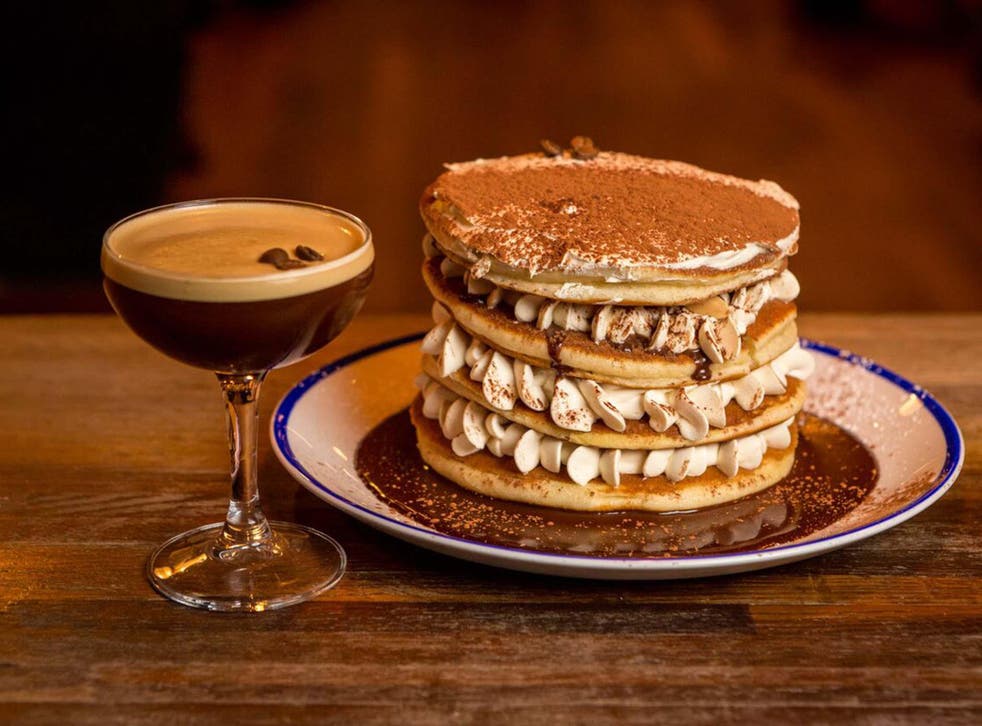 Pancake Day 2018: The 10 best places to celebrate
From pizza pancakes to those served with fried chicken, Niamh Baird rounds up where to get the best pancakes
Niamh Brodie
Friday 02 February 2018 18:02 Comments
If you've got a soft spot for all things savoury, order the okonomiyaki. This Japanese-style pancake is piled with crispy katsu chicken, bonito flakes, Japanese mayo and a spicy teriyaki ketchup. If you're a cocktail lover, you'll be delighted to hear they've also created an espresso martini stack; this beast consists of four fluffy pancakes sandwich together with Kahlua cream, rich chocolate, a vodka-laced espresso sauce and chocolate coffee beans.
If you thought veganism was going to stop you eating your bodyweight in pancakes, think again. The Diner's plant-based stack is smothered in chocolate sauce, fresh strawberries and a coconut and chocolate ripple ice cream. If you aren't vegan, don't panic, there's Oreo cookie pancakes served with (bottomless) maple syrup, a crispy pecan bourbon pancake with banana ice cream, and a peanut butter and jelly pancake, topped with a Rinkoffs peanut butter and a jelly crodough.
The New Club is a beach front eatery in Brighton inspired by everything brilliant about New York, especially the pancakes. They'll be doing a vegan–friendly stack topped with maple pear slices, pomegranate and candied pecans, as well as some savoury pea pancakes with smoked salmon, poached egg and cream cheese.
If you haven't yet tried the tasty (if a bit bonkers) marriage of fried chicken and pancakes, there's no better time to do so than now. Joe's Southern Table & Bar in Covent Garden is passionate about deep southern flavours; their fluffy pancake stack is topped with sweet tea-brined southern-fried chicken and lathered in Jim Beam bourbon maple syrup.
The point is to over-indulge on Shrove Tuesday, but if you'd prefer a (slightly) healthier option, there's always Tony and Jen's in Belfast. This cutesy cafe is no stranger to serving up dribble-worthy (and health-conscious pancakes), but as February is the month of love, they've created the romantic chocolate dipped raspberry stack. This heavenly tower is glued together with raspberry mousse, cacao and oat cookies and drizzled with cacao and hazelnut sauce.
If you've had it with lemon and sugar, The Breakfast Club is here to answer your prayers. They've got Pizza Pilgrims on board to conjure up some outlandish pizza pancakes, along with a Coqfighter Korean fried chicken stack and a Bulleit whiskey-infused pulled pork. But if you want to take things to the next level, wear some stretchy bottoms and take on the charity pancake challenge, where you'll have to devour 12 pancakes in 12 minutes.
It might be the only option on the menu, but that makes Dirty Bones' double dutch pancake all the more special. If you're too flipping busy on the day, head down for a weekend brunch at their Kensington joint and tantalise your tastebuds with their signature deep dish pancake. This gluttonous dish is smothered in fresh clotted cream and blueberries and served with a shot of maple syrup.
Kicking off lent with a lineup of American-style pancakes, choose from the failsafe Nutella and banana, go fruity with strawberries and squirty cream, or indulge in a stack topped with rich blueberry compote, maple syrup and crème fraiche. Whatever you fancy, make sure you turn up on an empty stomach.
Travel 10 floors above the Montcalm Royal London House Hotel to rooftop spot Aviary. You can take in beautiful views of Finsbury Square, all before turning your attention to the three delectable stacks they have on offer. Pastry chef Curtis Poole has listened in on our prayers with lemon meringue and Terry's Chocolate Orange creations. Gluten-free? Don't worry, the banana stack has got your name written all over it.
This pop–up pancake business based in Brighton is bringing their frying expertise to Cafe Plenty for an all-day takeover, where you can indulge in all manner of heavenly creations. From chocolate batter to fluffy American-style pancakes, expect stacks topped with everything from fresh fruit and chocolate to maple cured bacon.
For more info on where to celebrate Pancake Day 2018 in London and across the UK, visit DesignMyNight and follow them on Instagram and Twitter; @DesignMyNight
Register for free to continue reading
Registration is a free and easy way to support our truly independent journalism
By registering, you will also enjoy limited access to Premium articles, exclusive newsletters, commenting, and virtual events with our leading journalists
Already have an account? sign in
Join our new commenting forum
Join thought-provoking conversations, follow other Independent readers and see their replies