The Independent's journalism is supported by our readers. When you purchase through links on our site, we may earn commission.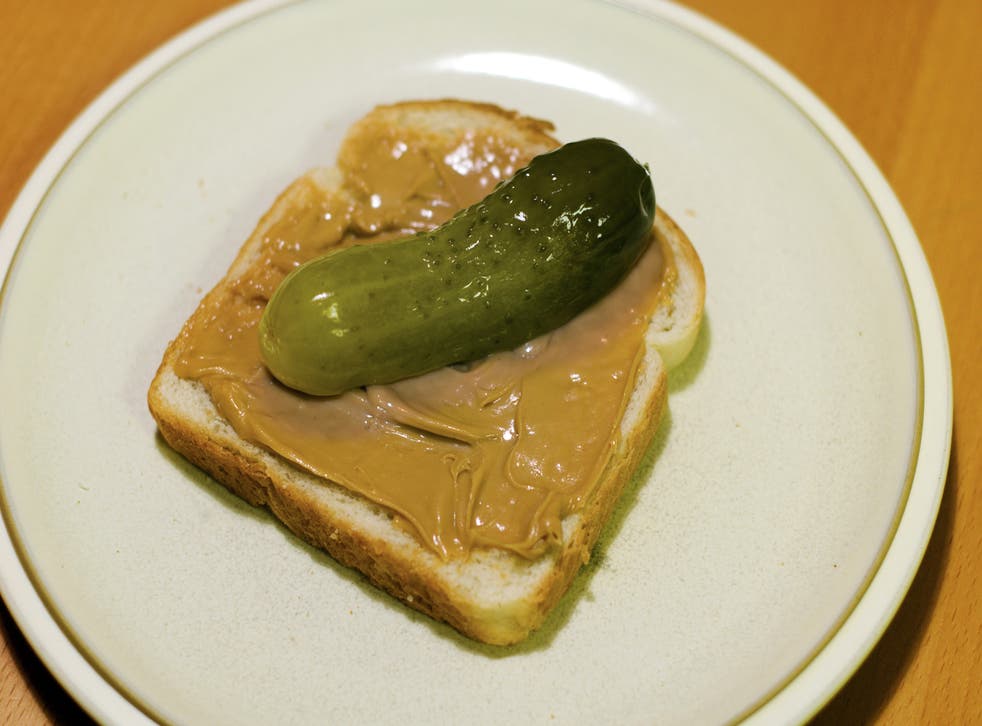 Peanut butter and pickle sandwich divides opinion on Twitter
Does this recipe 'pickle' your fancy?
Sabrina Barr
Sunday 08 April 2018 13:31 Comments
Family recipes that have been passed down from generation to generation hold a very special place in the heart.
However, there are those who believe that one particular sandwich recipe has taken home cooking traditions a step too far.
People have been sharing their strong opinions on the controversial "peanut butter and pickle sandwich" after a recipe began making the rounds on Twitter.
To some, the idea of pairing the much-loved nut butter spread with a pickled cucumber sounds absolutely divine.
To others, it sounds positively horrific.
The recipe in question, first published by The New York Times in 2014, involves simply spreading peanut butter on both slices of bread before placing an overlapping row of pickles on one slice and consuming.
"Some people just want to watch the world burn," one person wrote in response to the recipe.
"Haven't we suffered enough," another Twitter user commented, while someone else grimly remarked: "Well, the end times really are upon us."
However, others have been professing their support for the arguably unusual pairing.
"It's a delicious sandwich that I was introduced to by a friend on a camping trip a million years ago. I scoffed too at first," an individual wrote.
"If you like peanut butter, TRY THIS!"
Some people have even shared photos of their culinary creations.
"A delicious peanut butter and pickle sandwich to start the day off!" a fan of the sandwich wrote on Twitter with an accompanying picture.
In 2012, Dwight Garner wrote a piece for The New York Times about his love for the savoury combination.
"I've been happily eating these distinctive little sandwiches for years," he wrote.
"The vinegary snap of chilled pickle cuts, like a dash of irony, against the stoic unctuousness of peanut butter.
"The sandwich is a thrifty and unacknowledged American classic."
There are a number of unusual food combinations out there that you'd never expect to work but match surprisingly well, as explained to The Independent by author of The Flavor Matrix James Briscione.
There's no point knocking this recipe until you've tried it!
Register for free to continue reading
Registration is a free and easy way to support our truly independent journalism
By registering, you will also enjoy limited access to Premium articles, exclusive newsletters, commenting, and virtual events with our leading journalists
Already have an account? sign in
Join our new commenting forum
Join thought-provoking conversations, follow other Independent readers and see their replies