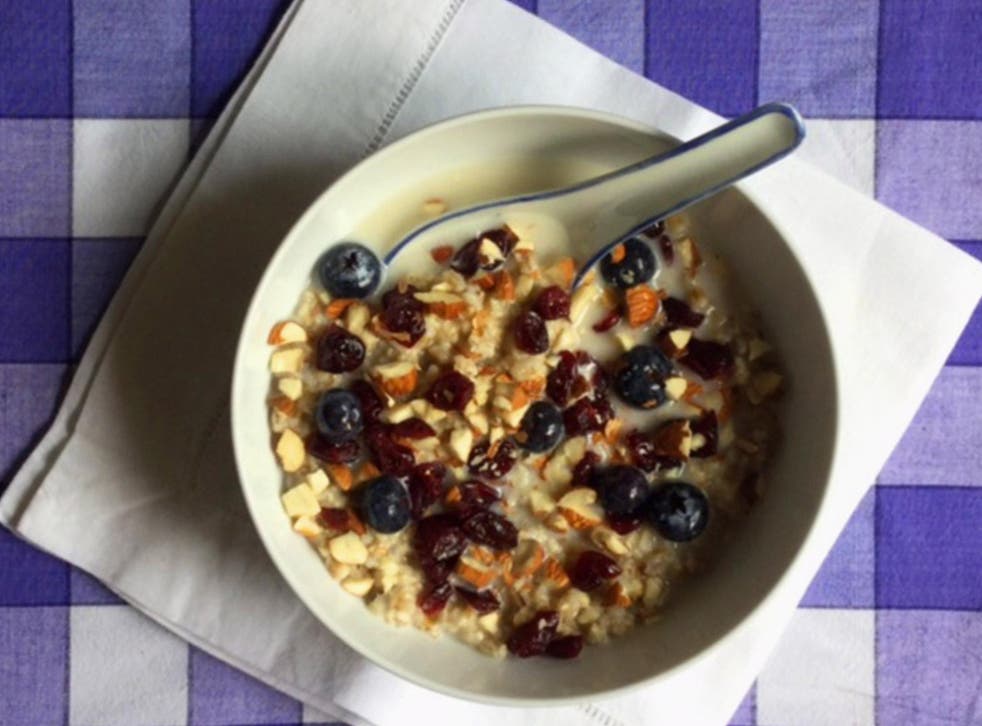 Pearl barley & oats breakfast bowl
On dark chilly mornings, it can be tempting to skip breakfast and sleep in. So prepare ahead with Julia Platt Leonard's hearty pearl barley and oats breakfast recipe
Julia Platt Leonard
Friday 28 October 2016 11:51 Comments
I would no sooner leave the house without eating breakfast than I would drive a car blind folded. I know many do and seem to navigate life until lunch without any issues but I'm not one of them. I need fuel to get me started and keep me going. Most mornings I reach for a jar of homemade granola but now that it's dark outside when I wake up I want something warm. What I actually want is to stay in bed but that's not going to happen is it?
But time is the enemy of a hot breakfast. It's like herding cats at our house and by the time everyone is out the door I feel like I've completed an obstacle course designed by a particularly sadistic SAS officer. So I've devised a breakfast that I can make the night before and microwave in the morning. It's a bit like a Bircher muesli where you soak oats, seeds and fruit overnight but I've combined cooked pearl barley, with some oats and almond or soy milk instead. In the morning, you can eat it cold out of the fridge or heat it up. Enjoy it plain or top with your choice of fruit, nuts, seeds and sweetener and you've got a tasty vegan breakfast. It's hearty in the stick-to-your-ribs-ready-to-cross-a-continent-in-a-covered-wagon kind of way. It gets me out of bed and keeps me going till lunch. Can't ask for more than that, can you?
Pearl barley & oats breakfast bowl
The recipe is easy – no more difficult than cooking the barley. The fun part is figuring out what toppings you want. I've included a list of possible extras but go crazy.
Serves 3-4
150g pearl barley, rinsed
75g oats
250ml almond or soy milk (plus extra on the side for serving)
Salt
Cook the pearl barley in a pot of boiling water until tender but still with a bite, about 20 minutes. Don't overcook as it will get mushy and loose its texture. Drain and place in a medium sized bowl. Add the oats and stir in the almond or soy milk and a generous pinch of salt. Cover and refrigerate overnight. In the morning, remove from the fridge and serve cold or microwave to warm. Serve with your choice of toppings and add additional almond or soy milk as you desire. Toppings: Just about anything goes but to get started, you might try selecting one or two from each of the groupings.
Fruit
Dried cranberries or apricots
Fresh berries
Diced apple
Poached plums
Coconut pieces
Seeds
Sesame seeds
Pumpkin or sunflower seeds 
Chia or flax seeds
Chopped Nuts
Almonds
Pecans
Walnuts
Cashews
Sweetener
Maple syrup
Brown sugar
Date syrup
Register for free to continue reading
Registration is a free and easy way to support our truly independent journalism
By registering, you will also enjoy limited access to Premium articles, exclusive newsletters, commenting, and virtual events with our leading journalists
Already have an account? sign in
Join our new commenting forum
Join thought-provoking conversations, follow other Independent readers and see their replies