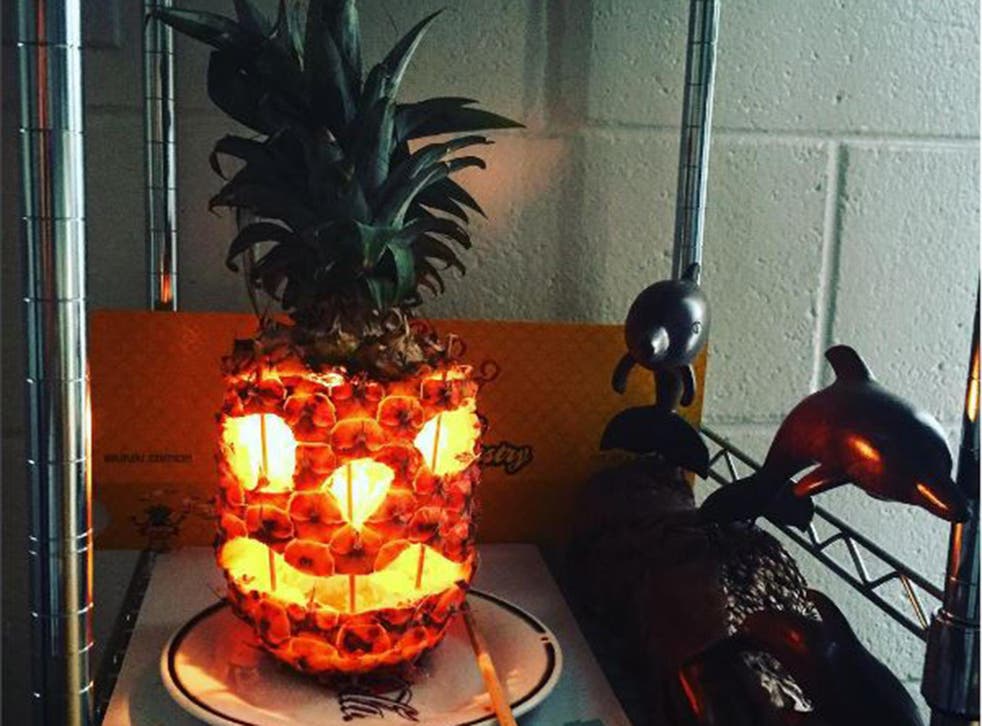 Halloween pumpkins make way for pineapples as trick or treating goes tropical
Get your home Halloween ready with a pineapple jack-o-lantern
Traditional pumpkin lanterns are being ditched by some fashion-conscious trick or treaters - in favour of hollowed-out pineapples.
And the results of their craftwork are lighting up Instagram feeds all over the web, with jaw-dropping creations created from the fruit aisle staple.
The tropical fruit might not be the first thing that comes to mind when contemplating the ceremonious carving of a jack-o-lantern.
But these prickly plants - which are the fruit-du-jour, inspiring everything from lamps to vases - are perfect for making into creepy Halloween ornaments.
Their hair is super spiky, and their rough jagged exterior and knotty rind makes for a seriously scary surface.
Besides being easy to create and delicious to eat, if you're still conflicted about turning your Hallow's Eve tradition into something far more tropical then just imagine the sweet saccharine smell.
To make your own, start by cutting off the top and hollowing out the inside of the fruit then remove the juice, and dry it out with a towel.
Use a knife to cut out your chosen design, add a tea light, and pop the top back on. Et voila, your very own totally tropical terror.
They might be vested in warm, tropical climates but with a little bit of scare-factor these pineapple jack-o-lanterns promise to get your home Halloween ready.
Register for free to continue reading
Registration is a free and easy way to support our truly independent journalism
By registering, you will also enjoy limited access to Premium articles, exclusive newsletters, commenting, and virtual events with our leading journalists
Already have an account? sign in
Register for free to continue reading
Registration is a free and easy way to support our truly independent journalism
By registering, you will also enjoy limited access to Premium articles, exclusive newsletters, commenting, and virtual events with our leading journalists
Already have an account? sign in
Join our new commenting forum
Join thought-provoking conversations, follow other Independent readers and see their replies