Polish Christmas dinner: Carp in the bathtub and hay under the tablecloth
The feast held on Christmas Eve is a 12 course supper with a huge fish as its crowning glory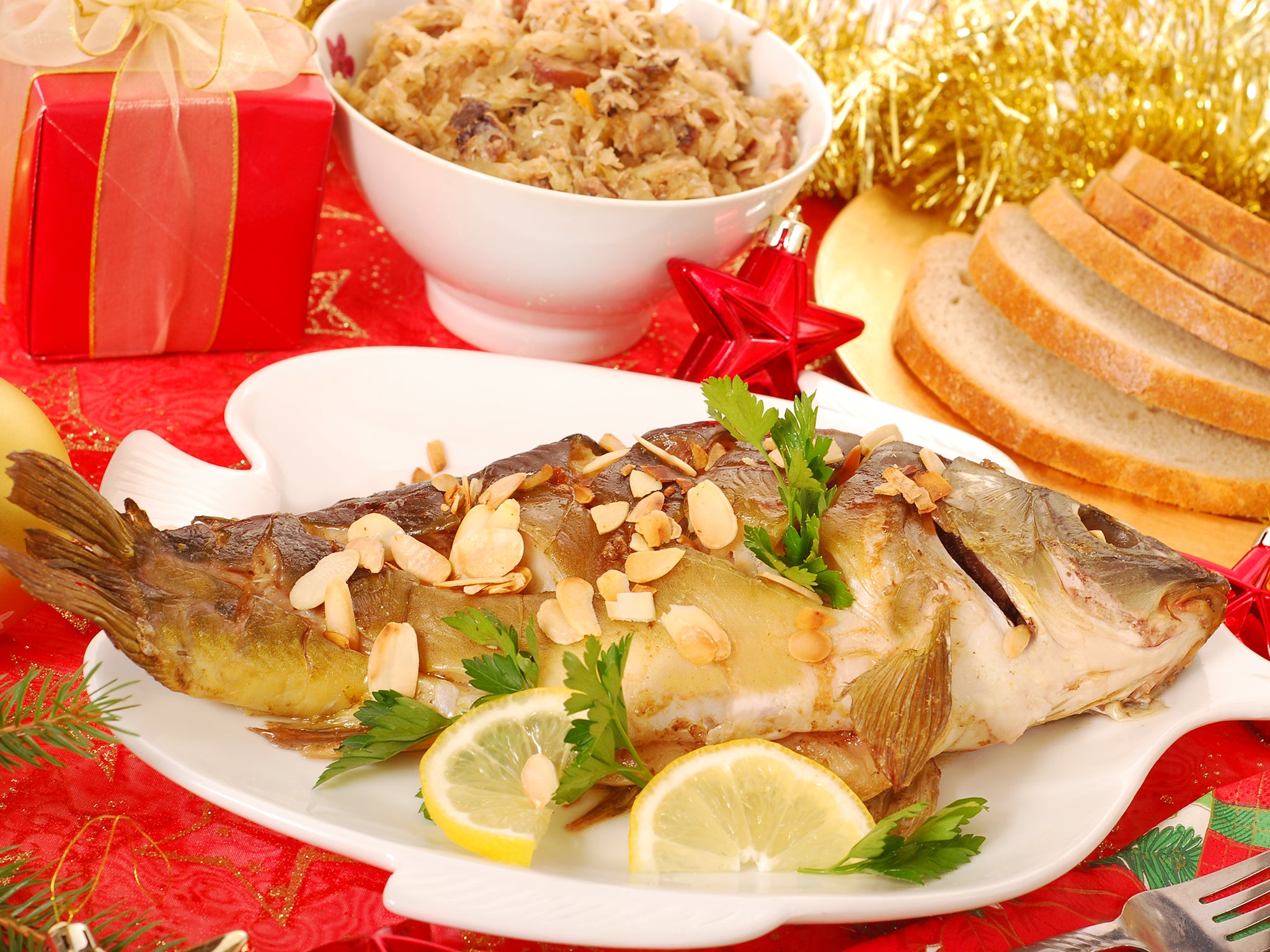 For most Brits, Christmas dinner means turkey and roast potatoes on the 25th, followed by the Queen's Speech and a snooze in an armchair. But for Poles in the UK – who number almost a million – the main festive meal is on Christmas Eve, when they feast on carp, borscht and dumplings in a gastronomic extravaganza that lasts for hours.
Known as Wigilia supper, the meal is the biggest culinary event on the Polish calendar. Generations of women come together to proudly prepare the 12 course feast – one dish for each of the 12 apostles – and tradition has it you must try some of everything to ensure prosperity for each month of the year ahead.
For Ewelina Gradowska, who grew up on a farm near Wroclaw in Poland, Christmas Eve began with fetching a Christmas tree from the forest with her dad. "Then we would all watch for the first star, the Gwiazdka, to appear in the sky, to signal the start of dinner."
The Wigilia feast has some unusual traditions, most curiously placing a layer of hay under the tablecloth. "It's a way of remembering that Jesus was born among animals," explains Gosia, a Polish food blogger, writing at loswege.com. In the Christmas spirit of hospitality to strangers, the dinner table always has one empty place in case an unexpected guest drops by.
The supper begins by breaking and sharing Christmas wafers. "You can't start your meal before you share an oplatek," declares Gosia, and the whole family exchange good wishes for the new year. "We have special wafers to give to the farm animals as well," says Ewelina. Legend has it they are given the gift of human speech at the stroke of midnight. "Every child in Poland tries to wait up to see if they can speak to their pets," laughs Gosia. "I tried to talk to my cat but he never spoke to me!"
As Poland is more than 80 per cent Catholic, the Wigilia meal is meat-free with a main course of fish, most famously carp, which is meant to bring good fortune. The Polish karp zatorski even has EU protected designation of origin status. "My Mum and Grandfather used to go to the shop and bring back five or six live carp for Wigilia," says Gosia, whose extended family numbered 25 for supper. In Poland, many carp are still sold live in supermarkets (to the dismay of animal rights protesters), and the fish are often kept in the family bathtub before ending up on the dinner table. "I was quite happy to see a fish in the bath swimming," recalls Ewelina. "It was some time later on that you figured what happened to it." These days though, there's a gradual change in attitudes about buying carp alive. "The new generations don't do this," says Zaneta Steffek, and for Gosia, who is vegetarian, the idea is upsetting: "You bring the carp home alive in a small plastic bag, then you have to kill it – it shouldn't be happening."
Polish expats here in the UK buy their Wigilia carp imported from Poland and already gutted at delicatessens such as Mleczko in Hanwell, where it retails for £4.49 per kilogram, while Waitrose sells French carp for a pricier £11.99 per kg. At the Polianna Polish delicatessen in Whitton, Middlesex however, owner Anna Bartoszewicz is not stocking carp this year. "A lot of people are going back to Poland, or moving out of London because of Brexit. It's difficult, people don't have money and their kids are growing up and want takeaway fish and chips and pizza. Everything's changing."
Carp is commonly fried in breadcrumbs or baked for Wigilia, but the auspicious dish is not to everyone's taste. "Some people think that it has a muddy flavour," says Ewelina, while software developer Bartek complains "it's really difficult to eat because of all the little bones. Even a small piece of carp will take you 15 minutes at least to finish."
Other dishes on the Wigilia menu include a starter of soup, which varies by region. "People are split into two groups," says Bartek, "those that eat red barszcz (borscht) and those that eat mushroom soup." Many families gather wild mushrooms from the forest themselves.
Pierogi are Poland's famous dumplings, and the most popular filling for Wigilia is sour cabbage and mushroom. Similar to ravioli, families take pride in making them by hand. "You start pierogi the day before, because you have to do the dough, then the filling and sticking them together with your fingers. That takes time," says Ewelina. Another version, pierogi ruskie, is filled with potatoes and cheese, and topped with sour cream or caramelised onions.
The Wigilia meal may be accompanied by wine or a traditional drink made from dried and smoked fruit called kompot. After all those courses, there's little room for dessert, but a popular sweet is kutia, an ancient Eastern European dish made from cooked wheat grains, honey, dried fruits, nuts and poppy seeds, which symbolise prosperity.
When the supper is finally over, the family sings carols and exchanges gifts before heading out to a special midnight mass called Pasterka (Shepherds' Mass).
For each of the expats, Wigilia is a very different celebration in London. "There's something magical about being round a table with your family, which you can't have in London," says Gosia wistfully. "But in turn your friends here are becoming your second family." Ewelina is happy to be taking her children home to Poland for Christmas. "Hopefully they can have the Christmas spirit that we had when we were little."
So will Polish Christmas dinner ever catch on in the UK? "Every time I go to my Polish shop, I meet more British people," says Zaneta, while over at the Polianna deli. Anna now has three times as many English and international customers as Polish ones. "Sauerkraut, bigos, pierogi... they love my homemade food," she smiles proudly.
Join our commenting forum
Join thought-provoking conversations, follow other Independent readers and see their replies