Pope Francis celebrated his birthday with a 13-foot pizza
There ain't no party like a pizza party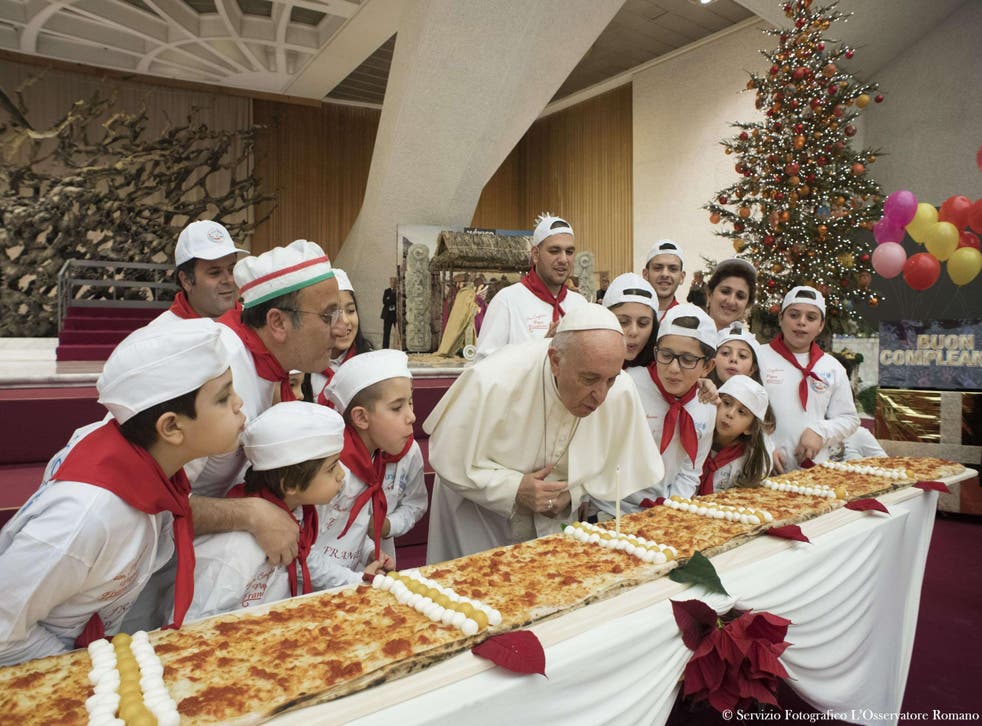 On Sunday, the Pope turned 81 years old.
So of course, he had to celebrate in the best way possible - by eating a 13-foot long pizza.
However, Pope Francis wasn't greedy in the slightest, as he shared the extraordinary pizza with children from the Vatican's pediatric clinic.
He was surrounded by the children in the Paul VI hall at the Vatican.
According to the Associated Press, Pope Francis encouraged the children to dig in, telling them that they should: "Eat all four metres (13 feet)" as it would make them grow.
He followed his pizza party by taking to his balcony overlooking St Peter's Square, where people came in their thousands to wish the religious leader a happy birthday.
The popularity of extra-large pizzas is on the rise, with restaurants serving up gigantic, tasty pizzas to rival the Pope's birthday treat.
Bunga Bunga in Covent Garden is famous for their stone-baked pizza, while Homeslice has also become a foodie favourite thanks to their scrumptious wood fired pizza.
Many people on Twitter loved Pope Francis' choice of cuisine.
One user wrote: "Reason I support Pope Francis: He had a pizza party to celebrate his birthday."
Another commented: "This pope is my kinda guy."
Pope Francis: "Even I fall asleep sometimes while I'm praying"
The current record-holder for the longest pizza in the world measured in at 1,930.39 metres in the US, as stated by the Guinness World Records in June this year.
Register for free to continue reading
Registration is a free and easy way to support our truly independent journalism
By registering, you will also enjoy limited access to Premium articles, exclusive newsletters, commenting, and virtual events with our leading journalists
Already have an account? sign in
Register for free to continue reading
Registration is a free and easy way to support our truly independent journalism
By registering, you will also enjoy limited access to Premium articles, exclusive newsletters, commenting, and virtual events with our leading journalists
Already have an account? sign in
Join our new commenting forum
Join thought-provoking conversations, follow other Independent readers and see their replies