The Independent's journalism is supported by our readers. When you purchase through links on our site, we may earn commission.
Wines of the week: 14 bottles of fizz for a fabulous New Year's Eve
If Christmas has left you out of booze, Terry Kirby has the low down on the high street buys you need to celebrate with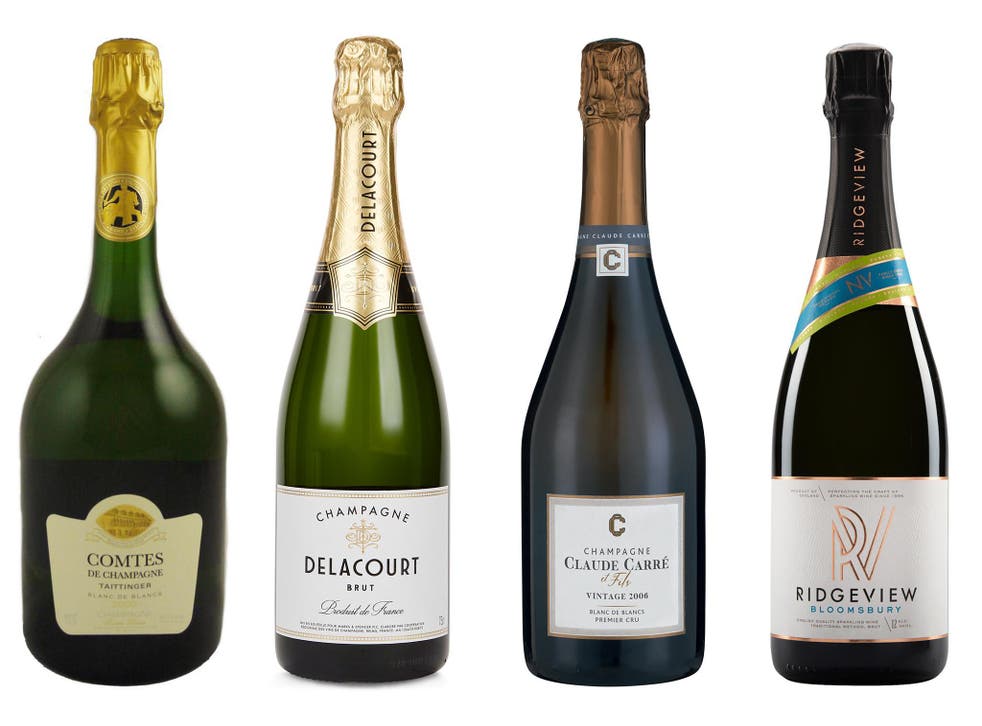 Is it a full-on party or just family and friends around to share the moment? Or maybe only the two of you, with good food and wine, getting some peace and quiet after a hectic Christmas, a last celebration before the return to work?
Whatever the circumstances, New Year's Eve normally calls for some kind of fizz, a cork to pop on a party prosecco, an English sparkling or champagne for two, to bring in the New Year.
But unless you have stocked up well in advance – see my Christmas sparklers column here – your choices this weekend are likely to be limited to the big high street names or local independent off licences and wine shops, since the delivery deadlines for all the online outlets are likely to have passed by now.
So, what's available? Well, Aldi, as I've said before, has an excellent stock of top quality sparklers at bargain prices. If I were having a party, I'd stock up on the vibrant citrus and tropical fruit flavoured Organic Sparkling Grillo, (£6.99 aldi.co.uk) prosecco-like, but more refined, it is made from the grape of the same name in Sicily or the reliably brilliant, 100 per cent chardonnay Exquisite Cremant du Jura (£7.99 aldi.co.uk) full of creamy, zesty lemony notes and highly recommended before.
The Aldi cremant is almost certainly the cheapest around but most cremant – France's national sparkling wine – fills the gap between prosecco and cheaper English sparkling or champagne and is becoming increasing popular. Try the Bouvet Laudubay Samur NV (£9.99 if bought as part of mixed six-bottle purchase or £12.99 each at majestic.co.uk) made in the Loire and gorgeously fresh and envigorating, with characteristic chenin blanc hints of honeyed apricots to give some interesting depth.
Ocado, who deliver up to December 30, but I suspect you have to get your order in as soon as possible this weekend, have an excellent selection of cremants, of which the Arthur Metz Cremant d'Alsace Organic Brut (£11.24, normally £14.99, until January 2, ocado.com) is a standout – pinot gris grapes deliver flavours of pears and apples, with some depth and a richer, lingering finish. A great wine for canapes or fish dishes.
It also has the excellent Proudly Vegan Prosecco (£8.99, normally £10.99, until 2 January at ocado.com) which despite its slightly naff name and label, is actually a rather good, full flavoured, toasty sparkler. And, er, vegan, of course. M&S has its own label and even more prosaically named, Prosecco (£10.00 marksandspencer.com) which is a reliable crowd pleaser and, although it's sold out online, you may find magnums in some stores, which is fun for parties.
If you are looking for English sparkling wine, Waitrose probably has the best selection among the high street retailers, although there can be considerable variation between branches. The best discount at the moment is the exceptionally good, hedgerow and orchard flavoured Ridgeview Bloomsbury NV (£21.49; normally £28.99 until Jan 2, waitrose.com) from Sussex and one the pioneers of English sparkling, while the Waitrose Cellar has Hampshire's Hattingly Valley Brut Rose (£30.00, normally £37.00 until Jan 2, order by 9pm on December 30 for delivery by New Year's Eve waitrosecellar.com) is an excellent pink, with fresh, strawberry and brioche flavours. Sainsbury's also have Chapel Down NV Reserve Brut (£23.00 sainsburys.co.uk) made in Kent by another pioneer of English sparkling and, again, full of bright, hedgerow flavours.
When it comes to proper, more pricey champagnes, all the high stores have ample selections and good seasonal discounts, so it is down to whether your preference is for Moet or Bollinger, Lanson or Laurent-Perrier and the size of your budget.
But two points: own label "exclusive" brands often represent good value for money if you don't feel the need to have a "name" on your bottle. M&S has an offer on it the award-winning, good quality Champagne Delacourt Brut or Champagne Delacourt Rose (£150.00 for six and £162.00 for six at marksandspencer.com) while Sainsbury's also have their own, also award-winning Taste the Difference Blanc Des Noirs (£19.00 sainsburys.co.uk). It's made from pinot noir and pinot meunier, ensuring precise flavours and complexity, both of which were among the leading "Best Buys" in the recent Which? magazine champagne test, beating many of the more familiar names.
Also, seek out "grower" champagnes, made by the small growers that provide grapes for the big houses and which are often great value, with real individuality. Sainsbury's is now also stocking the Champagne Claude Carré Blanc de Blancs 2006 (£25.00 sainsburys.co.uk) which is something of a coup because it is made from chardonnay grapes from one of the best sites in the region and has been aged for 12 years, giving a rich, toasty texture, citrus and ripe peach flavours texture and is a real taste of vintage champagne at a bargain price. I suspect stocks will not last long.
So much for good sparkling at decent prices. But if you really, really want to splash out, then, as they say, go big or go home: the Taittinger Comte De Champagne Blanc de Blancs Brut 2006-07 (£130.00 waitrose.com; waitrosecellar.com, order by 9pm on December 30 for delivery by New Year's Eve; various independents) is really the ultimate special occasion wine, made with an aim of uncompromising quality in only certain vintage years by one of the finest houses and aged for 12 years. Again, this is complex and elegant, exuding finesse and sophistication. And what a way to usher in both a new year and a new decade… as John Lennon said, let's hope it's a good one.
Register for free to continue reading
Registration is a free and easy way to support our truly independent journalism
By registering, you will also enjoy limited access to Premium articles, exclusive newsletters, commenting, and virtual events with our leading journalists
Already have an account? sign in
Register for free to continue reading
Registration is a free and easy way to support our truly independent journalism
By registering, you will also enjoy limited access to Premium articles, exclusive newsletters, commenting, and virtual events with our leading journalists
Already have an account? sign in
Join our new commenting forum
Join thought-provoking conversations, follow other Independent readers and see their replies