The Independent's journalism is supported by our readers. When you purchase through links on our site, we may earn commission.
Forget beer pong - Prosecco pong is the drinking game you've been waiting for
It's all you need to get the party started – with a touch of class of course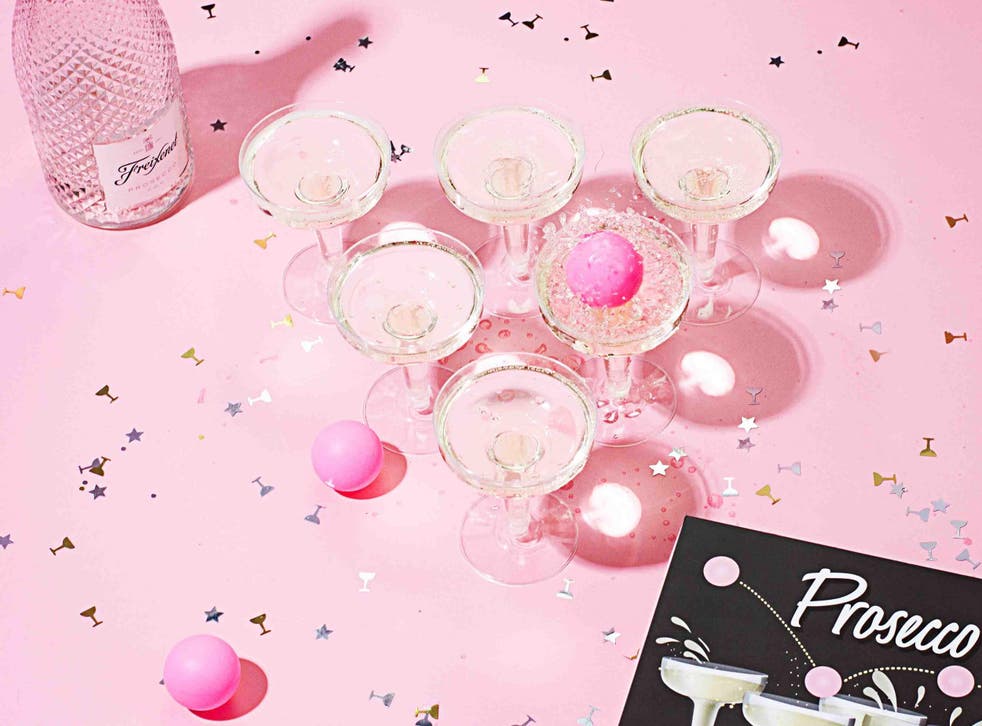 Look, we've all been there – hot day, great company, booze is flowing and before you know it that old table has been set up for beer pong. However, there is one crucial dilemma that until now no one had even thought to challenge – not everyone likes beer.
So, with that in mind a US-based company called Talking Tables turned it all around and is now shipping their Prosecco Pong kits globally.
The box itself includes 12 prosecco coupes and three sturdy pink ping pong balls to keep you going.
It's important to note that it's actually a lot harder to get the ball in the coupes, given they're smaller than the traditional red solo cup – but hey, that's just another reason for the bros to get involved and prove their worth. After all, pink is a real man's colour!
When it comes to the prosecco (that's not included by the way), there's so many choices out there - from the cheaper approachable sort, to the more expensive premium ranges.
You're also not restricted to just using prosecco (don't worry, I won't tell anyone), there's a hell of a lot of English Sparkling Wines, cava's, Champagnes, sparkling reds and more out there too.
Finally, while 'chugging booze' may sound fun, remember that sparkling wines have a lot more ABV than your standard cheap beer, so maybe sip instead and of course and make sure to drink responsibly!
Buy prosecco pong from Firebox for £14.99
If you're looking for sparkling inspiration, try getting your hands on some of these proseccos from major retailers, or shake things up with some English Sparkling rosé!
Belletti Prosecco Frizzante DOC
Where: Aldi
How Much: £5.25
Sainsbury's Conegliano Prosecco, Taste The Difference
Where: Sainsbury's
How Much: £7.95
Prosecco Romeo & Juliet NV Treviso, Pasqua
Where: Majestic
How Much: £9.99
Tesco Finest Prosecco Valdobbiadene
Where: Tesco
How Much: £10
Halfpenny Rosé Sparkling Brut (WILDCARD)
Where: M&S
How Much: £20
Register for free to continue reading
Registration is a free and easy way to support our truly independent journalism
By registering, you will also enjoy limited access to Premium articles, exclusive newsletters, commenting, and virtual events with our leading journalists
Already have an account? sign in
Register for free to continue reading
Registration is a free and easy way to support our truly independent journalism
By registering, you will also enjoy limited access to Premium articles, exclusive newsletters, commenting, and virtual events with our leading journalists
Already have an account? sign in
Join our new commenting forum
Join thought-provoking conversations, follow other Independent readers and see their replies