The Independent's journalism is supported by our readers. When you purchase through links on our site, we may earn commission.
Spam Pumpkin Spice limited edition flavour released just in time for Autumn
Has the seasonal food trend finally gone too far?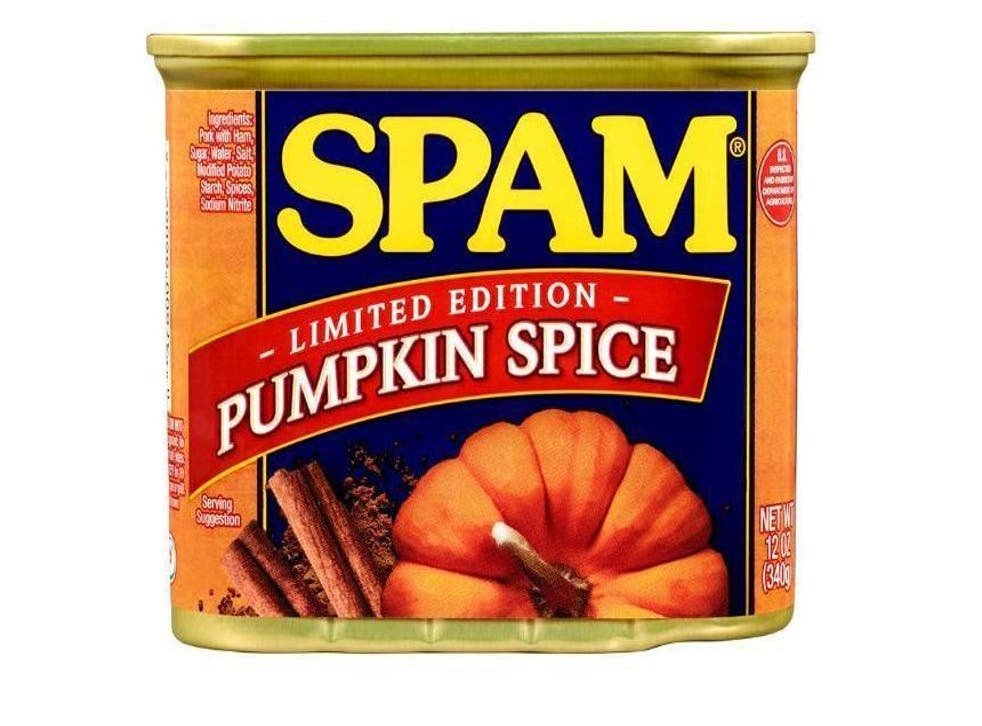 In recent years, the Pumpkin Spice flavour has become synonymous with autumn.
Each season, companies jump on the food trend with new Pumpkin Spice-laced products, including everything from drinks and cookies to breakfast cereal and even beauty products.
Starbucks's now-iconic Pumpkin Spice Latte – or PSL as it is known by super-fans – popularised the trend after it was first introduced on the menu in 2003, while Burt's Bees broke the internet when it released a Pumpkin Spice lip balm, and Lush's Sparkly Pumpkin bath bomb is a sell-out every October.
This year, however, there's a new product that has set it sights on becoming a signifier that autumn has well and truly begun.
Enter: Pumpkin Spice Spam.
In 2017, a joke image circulated on social media, showing a can of Pumpkin Spice Spam.
But now, two years later, the prank has become a reality as everyone's favourite can of processed meat has officially been given the Pumpkin Spice treatment.
Launching on 23 September in the US, fans will be able to order the limited edition item from Walmart.com and Spam.com.
"Limited-edition Spam Pumpkin Spice offers a blend of seasonal spices including cinnamon, clove, allspice and nutmeg," the food company said in a statement.
As for what it tastes like, some media outlets have already been given an early taste.
"Pumpkin Spice Spam certainly seems to err on the side of a breakfast food, and could easily be slathered in maple syrup as you might with breakfast sausage," wrote a reviewer for Food & Wine magazine.
"One colleague even compared it to gingerbread plus ham — maybe this Christmas you could even build a little village out of it?"
Reactions on social media have been mixed with some people saying they can't wait to try the autumnal-inspired canned meat, while fans of the distinctive pumpkin spice flavour think the product is taking things a bit too far.
"I enjoy Spam and Pumpkin Spice. This intrigues me," one person wrote on Twitter.
Meanwhile, another commented: "It's only the middle of August and Pumpkin Spice Spam already ruined my entire holiday season."
And a third person wrote: "Hey Twitter, I'd like to report this as unwanted spam."
Register for free to continue reading
Registration is a free and easy way to support our truly independent journalism
By registering, you will also enjoy limited access to Premium articles, exclusive newsletters, commenting, and virtual events with our leading journalists
Already have an account? sign in
Register for free to continue reading
Registration is a free and easy way to support our truly independent journalism
By registering, you will also enjoy limited access to Premium articles, exclusive newsletters, commenting, and virtual events with our leading journalists
Already have an account? sign in
Join our new commenting forum
Join thought-provoking conversations, follow other Independent readers and see their replies