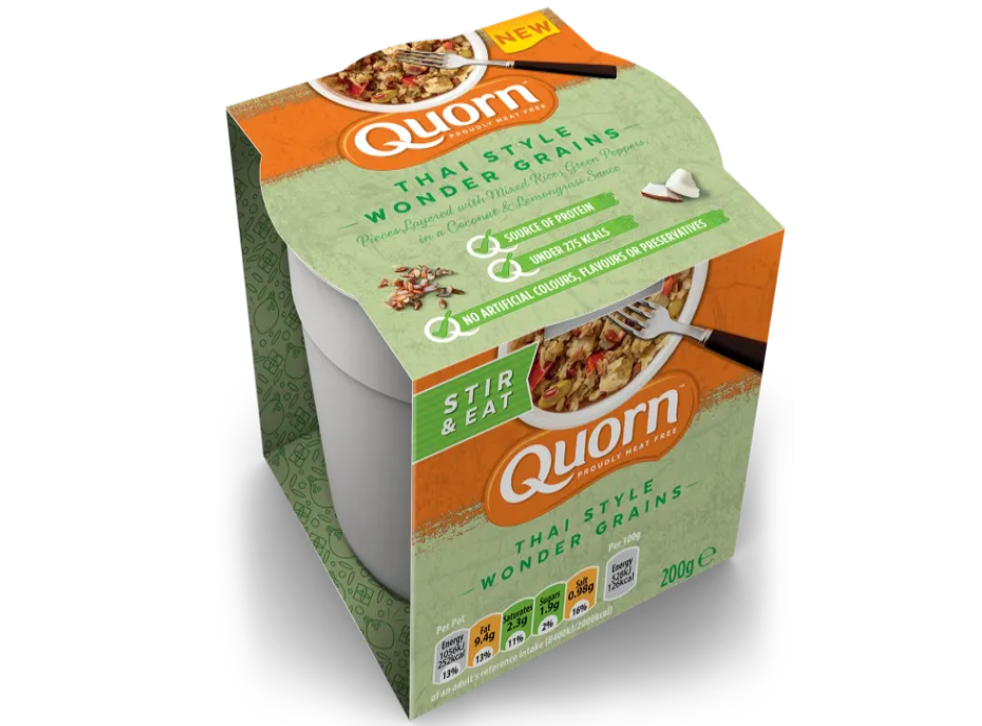 Quorn advert that claimed its food could 'help reduce carbon footprint' ruled misleading
It also said that consumers who 'care about climate change' should 'take a step in the right direction'
Sophie Gallagher
Tuesday 29 September 2020 17:16 Comments
Leer en Español
An advert for Quorn's Thai Wondergrains has been ruled misleading by the Advertising Standards Authority (ASA) after failing to clearly explain its environmental claims.
The TV advert was promoting the Thai Wondergrains, made from Quorn pieces, rice, peppers and coconut sauce, and said the product could "help reduce our carbon footprint".
It also said that consumers who "care about climate change" should "take a step in the right direction" by buying the item.
The advert was aired in April 2020 and 32 complainants challenged the claims made.
Now ASA has ruled that Marlow Foods, which owns Quorn, did not make clear enough what it meant by the claimed reduction in carbon footprint, including what this reduction was being measured against.
It meant "viewers would not know on what this reduction was based", the ASA said.
Marlow Foods defended the advert saying that the food item had been certified by the Carbon Trust, an environmental consultant which helps businesses become more sustainable.
The brand said the product was awarded the Carbon Reduction Footprint certification, meaning it is reducing emissions year-on-year.
It also stated that it had signed up to the carbon footprint protocol, with a commitment to continue reducing the product's emissions.
Quorn pieces, a key ingredient of the Wondergrains, have a lower carbon footprint "at factory gate" than chicken, according to Marlow Foods.
Despite the defence, because the advert did not make clear the basis of the initial claims, and state that Quorn was committed to reducing its footprint over time, ASA concluded its message was "likely to mislead viewers".
In its ruling, the watchdog told Marlow Foods to ensure its environmental claims were made clear and did not "mislead by omitting material information from their ads" in future.
A 2018 study from the University of Oxford found that cutting meat and dairy products from your diet could reduce an individual's carbon footprint from food by up to 73 per cent.
If everyone stopped eating these foods, they found that global farmland use could be reduced by 75 per cent, an area equivalent to the size of the US, China, Australia and the EU combined.
Lead author Joseph Poore said: "A vegan diet is probably the single biggest way to reduce your impact on planet Earth, not just greenhouse gases, but global acidification, eutrophication, land use and water use."
Register for free to continue reading
Registration is a free and easy way to support our truly independent journalism
By registering, you will also enjoy limited access to Premium articles, exclusive newsletters, commenting, and virtual events with our leading journalists
Already have an account? sign in
Join our new commenting forum
Join thought-provoking conversations, follow other Independent readers and see their replies