The Independent's journalism is supported by our readers. When you purchase through links on our site, we may earn commission.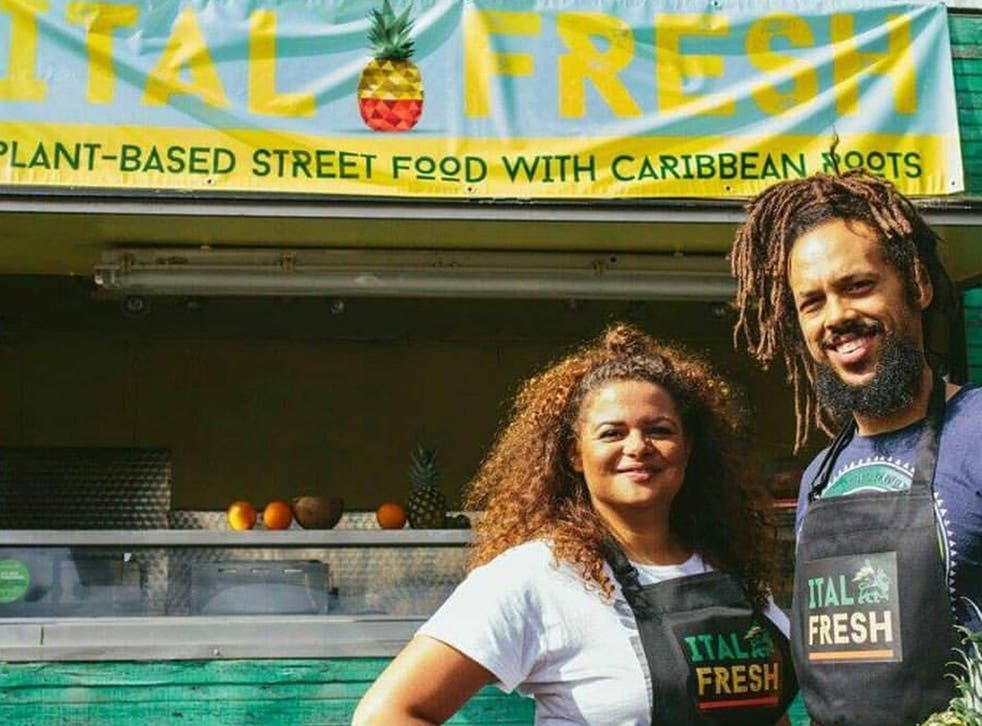 Meet the Rastafarian vegans who ditched meat before it was cool
The Ital movement promotes the idea that everything living has its own energy 
Kashmira Gander
Tuesday 16 May 2017 13:21 Comments
Long before nut milks were in almost every supermarket, vegan leather was on the highstreet, and National Vegetarian Week was challenging people to ditch meat for just seven days, there was the Ital movement.
Those who follow the Ital diet - which stems from the Rastafarian religion developed in Jamaica during the 1930s - eat plant-based and unprocessed foods. So, like the diet of some southern Asian people, including many Jains and Hindus, the Ital diet is proto-vegan.
"Leonard Howell, one of the founding forefathers of Rastafari, was influenced by the indentured Indians on the island that didn't eat meat," Poppy Thompson, who runs the ItalFresh pop-up food van with her partner Dan Thompson, tells The Independent.
Cooked on open coals, traditional Ital dishes include one-pot stews brimming with fruits and vegetables which grow in the Jamaican bush, including yams, peppers and rice seasoned with spring onions, garlic, thyme, scotch bonnet, allspice, nutmeg and limes.
The foods served by ItalFresh are a modern take on Ital ideals, and include cauliflower florets triple dipped in a ginger beer batter with tropical slaw and jerk mango egg-free mayo; channa dal, thyme-infused beetroots, seeds, spinach and maple roasted sweet potato; and the Jerk Porty, which is an homage to Portland Parish in Jamaica where Jerk originated. The chicken or pork is substituted with Portabello Mushrooms, marinated in house jerk and seared, served over quinoa and peas.
Running through Ital food is the Rastafarian concept of livity, which is based in the idea that the lifeforce of God, or Jah, exists within all living things, from people to animals. The term Ital stems from the word "vital".
Food by Ital Fresh - In pictures

Show all 4
The couple haven't always lived Ital, but adopted this way of eating around four years ago to boost their health, prevent damage to the environment and for spiritual reasons. With ItalFresh, they hope to will clear away stereotypes of Rastafarians and veganism.
"Unless you have connections with Rasta - people don't realise that Rastafari is a deeply spiritual and political ideology, the stereotype being Rastas are predominantly ganja smoking lazy dread heads," he says. "It is a state of mind. Our mission with ItalFresh has been to break those stereotypes about Rasta and also about Ital food, It is stereotypically known as one pot, simple stews with no salt and no flavour - but we have flipped that on its head and we cook exciting, vibrant and modern dishes with complex flavour profiles whilst still adhering to the principles of Ital."
"The biggest misconception is that vegan food is restrictive and boring. It's far from it, eating plant based pushes you to be more creative and inventive in the kitchen and explore foods you may have never even heard of before," says Poppy.
"Eating Ital means nourishing our minds, bodies and souls with a clear conscious and being creative in the kitchen to create delicious food. We eat a varied, colourful diet. Lots of fresh fruit and vegetables, pulses, beans, leafy greens. Whatever a non-vegan eats we can pretty much Italise," she adds.
While the pair aren't precious about veganism becoming mainstream, what does annoy Dan, however, is people asking him how he gets enough protein.
"It's amazing how many people suddenly become nutritionists when they learn you're vegan. Most people don't actually know the recommended daily intake of protein!"
What Dan wishes people were more concerned about is being open towards varied diets, re-thinking the amount of mass produced food they eat and the impact what they put in their bodies has on the environment.
"Food is medicine, medicine is food and I think people are definitely waking up to that," adds Poppy. "We say 'eat ital, feel irie'."
Register for free to continue reading
Registration is a free and easy way to support our truly independent journalism
By registering, you will also enjoy limited access to Premium articles, exclusive newsletters, commenting, and virtual events with our leading journalists
Already have an account? sign in
Register for free to continue reading
Registration is a free and easy way to support our truly independent journalism
By registering, you will also enjoy limited access to Premium articles, exclusive newsletters, commenting, and virtual events with our leading journalists
Already have an account? sign in
Join our new commenting forum
Join thought-provoking conversations, follow other Independent readers and see their replies