Acquacota: Recipes and stories from Tuscany's Secret Silver Coast
After discovering the Maremma, a little paradise from Tuscany's coast, Emiko Davie's second book Acquacotta is devoted to the wealth and produce of the new landscape she fell in love with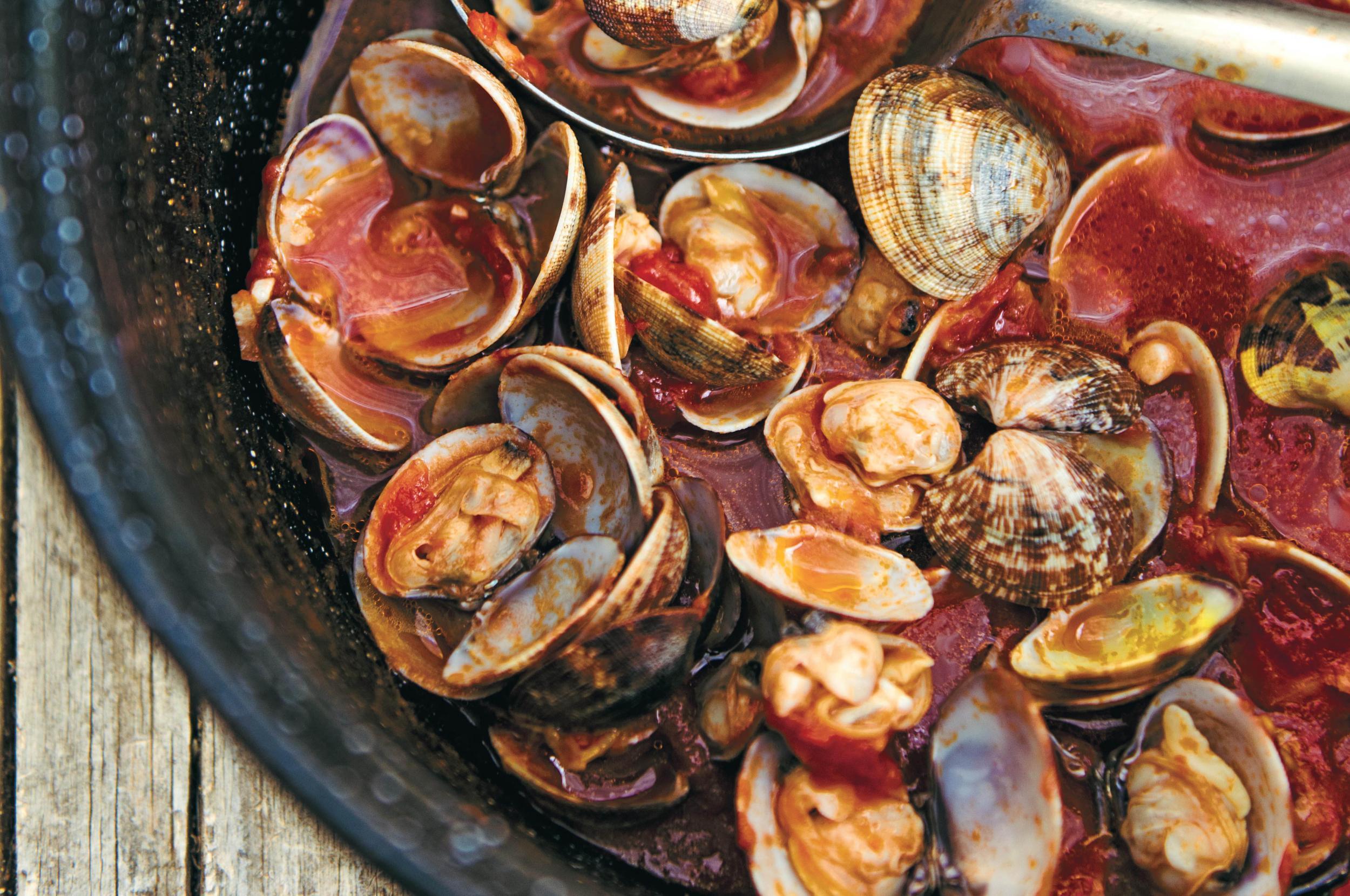 Vongole E Polenta - Clam stew with polenta
This recipe calls for a creamy, pillowy polenta base, made with fioretto or fine-round cornmeal, quite different to the sturdy and firm one used in the Polenta Crostini with Mushrooms (page 25). Much like fluffy mashed potatoes, this starchy, comforting staple needs love and care (and the right seasoning) for a good result. It takes a bit of time, but if you're at the stove anyway, checking on the tomato sauce and preparing these clams, you won't even notice having to give the polenta a stir every 4–5 minutes.
Polenta should be well salted, but for some good seafood flavour you can add some grated bottarga to the polenta instead of salt.
Serves 4
1 kg (2 lb 3 oz) vongole clams
1 garlic clove, chopped
3 tablespoons extra-virgin olive oil
1 freshly chopped red chilli or dried chilli flakes to taste (optional)
400 g (14 oz) tomato passata (puréed tomatoes)
2 teaspoons salt
200 g (7 oz) fine polenta
125 ml (4 fl oz/½ cup) dry white wine
1 handful flat-leaf (Italian) parsley, leaves picked and roughly chopped
1 handful basil, leaves picked and roughly chopped 
Ben Tish's Venetian recipes
Show all 8
Rinse the clams quickly under water, weed out any with crushed shells (tiny chips or cracks are usually fine) or that are open and don't move when touched or squeezed (rule of thumb: if they are open before cooking, they're dead. If they don't open after cooking, they're dead. Throw them away). Purge the clams, if necessary, for at least 1 hour (see "Purging Clams," page 95). And regardless of whether or not you're purging, do not skimp on step 5.
In a saucepan, heat the garlic gently in 2 tablespoons of the olive oil. Add the chilli and the tomato, along with about 250 ml (8½ fl oz/1 cup) of water, and season with salt. Let it simmer for 30 minutes or until slightly reduced.
To prepare the polenta, bring 1 litre (34 fl oz/4 cups) of water to the boil in a deep, non-stick pot, add the salt (or grated bottarga) and the remaining tablespoon of olive oil. Pour in the polenta slowly while stirring (I like a wooden spoon, others like a whisk) to avoid lumps; stir for 1-2 minutes until the mixture thickens.
Turn the heat down to the lowest setting possible and cook gently, covered (but giving a vigorous stir every 4-5 minutes) until it is creamy and silky and it begins to come away from the sides of the pan. It's useful to have a small saucepan of simmering, salted water nearby to add in spoonfuls if the polenta looks too thick or lumpy when stirring. Taste it too – the polenta should be completely soft, with no bite to it, at about 45 minutes. Cover with plastic wrap, ensuring that the plastic is touching the entire surface so that it doesn't develop a skin. Set it aside while you prepare the clams.
Insalata Di Pesce Alla Grossetana – Grosseto-ttyle fish salad
When it's too hot to cook in summer and you need a handy, fast, filling meal that you can pull together in just minutes, this salad is here to save you. It's also a good make-ahead dish (let the flavours mingle), which is ideal for packing for picnic lunches for the beach. Traditionally made by boiling a variety of pesce azzuro (oily fish), such as anchovies, sardines and mackerel, the tinned versions of these fish are perfectly suited (or you can use your own Bonito Preserved in Oil, page 69), making this a quick and tasty meal.
Inspired by a recipe I spotted in Laura Rangoni's Tuscan seafood cookbook La Cucina Toscana di Mare, I've adapted it a little to suit my tastes and make it my summer staple. The original recipe calls for 4-5 raw garlic cloves, chopped and muddled through the salad. It's a bit overpowering for me. I prefer to leave them out entirely but garlic lovers might like to add them. You can use capers in brine instead
 of the salted ones (brined ones don't require soaking) but I always prefer salted capers.
Serves 4
2 tsp salted capers
10-12 green olives in brine

2 fresh tomatoes, chopped 300 g
(10½ oz) tinned sardines (or any other tinned fish, such as tuna or mackerel)

juice of 2 lemons

2 tbsp extra-virgin olive oil
1 handful flat-leaf (Italian) parsley, finely chopped
Rinse the capers of the salt and place in a bowl. Cover with water and let them soak for about 15 minutes. Drain, pat dry, then finely chop. Pit the olives by flattening them with the side of a large knife and pulling out the pit. Chop roughly. Combine the capers, olives and tomatoes in a salad bowl. Drain the tinned fish and crumble into the bowl. Toss with the lemon juice, olive oil and parsley to combine well. Taste for seasoning and, if desired, add freshly ground black pepper (between the fish, capers and olives, you've got a lot of flavour going on and you may only need the tiniest pinch of salt, if any).
Cinghiale in umido – Wild boar stew
"Don't marinate it," said Ilena Donati, firmly, referring to the common practice that everyone's nonna advocates of marinating game in wine for 24 hours before cooking it. "It disguises the true flavour of the meat. Besides, the wild boars today aren't like the ones they once were."
And especially not in Capalbio, where there is plenty of farmed boar, more "polite", tender and delicate, as gastronome Aldo Santini says.
"Lots of bay leaf. Lots of rosemary. Whole. A pinch of chilli. Not everyone likes it, but it's good." She said it in a way that means the chilli really belongs there.
"And brown the meat. Brown it really well. Add a splash of vinegar. When that evaporates, add vino nero." She means red wine, but calling it "black wine" is an old-fashioned expression that makes me smile.
"And then tomatoes, broken down with your hands." She gestures with her hands as if holding them above the pan and I'm imagining the feel of peeled tomatoes being squashed between my fingers – "and cook it, slowly, slowly". This last treasured piece of advice for cooking like a Maremman, piano, piano, is the key to this very special stew. See page 51 for more on Ilena, the inspiration behind this dish.
Serves 4
1 kg (2 lb 3 oz) wild boar, cut into large chunks (on the bone)
2 tbsp extra-virgin olive oil
4–5 garlic cloves whole

60 ml (2 fl oz/¼ cup) red wine vinegar

4 rosemary sprigs

4 bay leaves
1 litre (34 fl oz/4 cups) dry red wine

400 g (14 oz) tinned peeled
tomatoes
 
chilli flakes or chopped fresh red chilli (optional)

good crusty bread or soft polenta to serve
You can source wild boar from game meat suppliers, speciality butchers and even online (local wild boar is easily available in the US, UK and Australia). However, this recipe works with any wild game, including venison, hare and even duck.
In a large casserole pot, brown the meat in the olive oil in batches over high heat until seared evenly on all sides. Don't worry if the meat sticks – that wonderful brown crust on the bottom of the pot will just add flavour later. Once well-browned (about 10-15 minutes per batch), return all the meat to the pot, season with salt and freshly ground black pepper, add the garlic and let it colour a little, about 2 minutes.
Pour over the vinegar to deglaze the pot and stir, scraping at the brown crust, with a wooden spoon. Let the liquid evaporate almost completely, about 5 minutes, then add the herbs, wine and tomato. Add chilli, if using.
Once the liquid comes back to the boil, turn the heat down to a low simmer and cook, uncovered, until the meat is tender and falling off the bone – about 2 hours. Top up with water as necessary to keep the meat covered with liquid.
Serve the stew as it is with something starchy to mop up the juices, such as good crusty bread or soft polenta. It is often served with a side dish like the Sformato di Cipollotti (page 168). Alternatively, toss it through some pasta like tagliatelle or pappardelle and serve it.
Acquacotta by Emiko Davies (Hardie Grant, £25) Photography © Lauren Bamford & Emiko Davies
Join our commenting forum
Join thought-provoking conversations, follow other Independent readers and see their replies