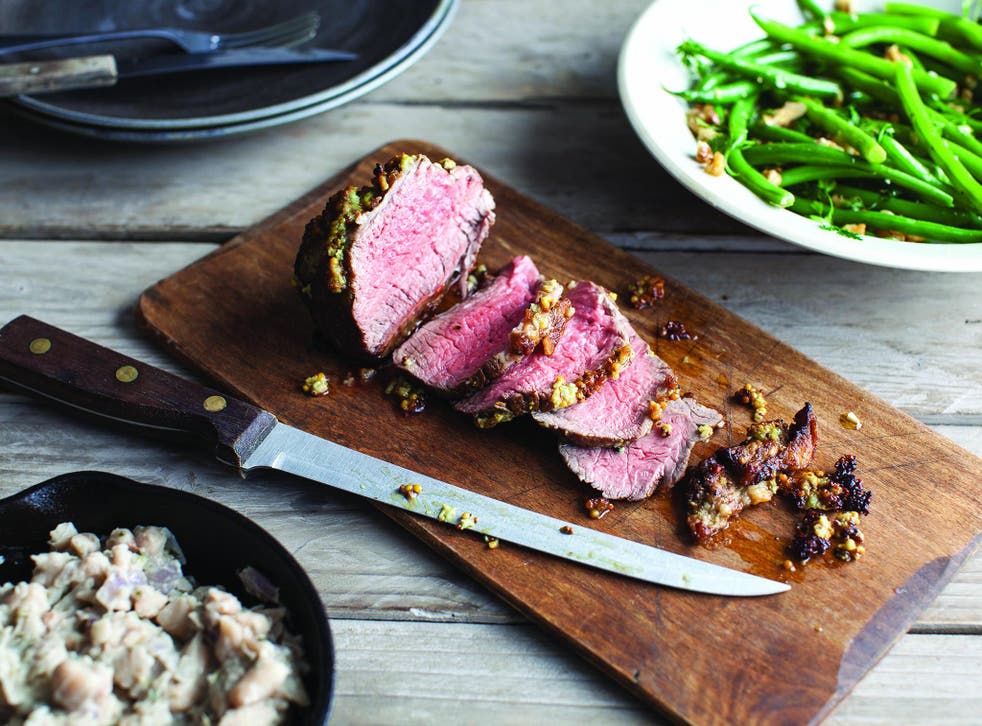 Beef recipes: From mustard crusted roast beef to crispy Korean
Once you've sourced your ethical beef, justice must be done by cooking it in the most delicious way you can whether it's mustard-crusted roast or Korean-style or Moroccan
Friday 04 August 2017 16:46 Comments
Mustard-crusted roast beef with white-bean mash and walnut-dressed beans, from Riverford
Prep and cook 45 mins
Serves 2
This is a great dish using our mini-roast-beef joint, perfect for two. Sealed and coated with mustard and garlic, then thinly sliced and served on a creamy red-onion and white-bean mash. Finely chop your rosemary until it looks like breadcrumbs, this will help it cook down without leaving any sharp, hard little nuggets when you come to eat the beans. It's important to leave any cooked joint of meat out of the oven for a little while before carving. This allows the meat fibres to relax and the juices to permeate the meat, giving you a juicier joint. It really won't lose its heat too much but if you are at all concerned about this, loosely cover it with foil.
1 large or 2 small red onions
10g rosemary
30g fresh chervil – use half
​200g green beans
​300g beef mini roast 
oil for frying & roasting e.g. sunflower or light olive
2 garlic cloves
1 tbsp wholegrain mustard
2 tins of cannellini beans – use 1½ tins
25g walnut pieces
1 lemon
Olive oil
Preheat your oven to 220C. Peel and finely dice the red onion(s). Pick the leaves off the rosemary and very finely chop so they resemble breadcrumbs. Wash half the bag of chervil and leave to drain. Wash the green beans and trim off the stalk tops.
Rub the beef mini-roast with a little oil and season with salt and pepper. Heat a frying pan. When hot, sear the beef on all sides to brown and seal it. Make sure it has a good dark brown colour to the outside.
Transfer the beef to a baking dish. Peel and finely chop or crush 2 garlic cloves. Mix it with the mustard and 1 tbsp of oil. Smother it over the beef. Transfer to the oven and cook for 15 or 20 mins for rare or medium-rare meat, or a little longer, 25 mins or so, for well done.
Once the beef goes in, heat 2 tbsp of oil in a saucepan. Add the onion and rosemary. Fry for 10 mins, stirring often. Add a splash of water if it looks like catching at any point. Next, make the cannellini mash. Drain and rinse the beans. You just need 1½ tins, so keep some back in a pot in the fridge and use in lunchbox salads. Rinse out and fill 1 of the tins a quarter full with cold water. Put a pan of water on to boil for the green beans. After 10 mins, add the cannellini beans to the onion. Add the water in the tin.
Bring up to a simmer. Cook for 5 mins, stirring often; the beans will start to break down a little and become creamy. Give them a prod here and there with your spoon to break them down further, adding a splash more water to stop them getting too dried out, if needs be. Once cooked, remove the beef from the oven and leave it to one side to rest for 10 mins. Chop the walnuts up so the pieces are nice and small. Cook the green beans in the pan of boiling water for approx 4 mins or so, until just tender but still with a little squeak. Drain the beans and toss with the walnuts, a little squeeze of lemon juice, a glug of olive oil and salt and pepper to taste.
Season the white-bean mash with salt and pepper to your taste (gently reheated if necessary). Serve with the green beans and thinly sliced beef.
Crispy Korean beef with summer greens, kimchi and rice, from Riverford
Prep and cook 30 mins
Serves 2
The trick with the beef is to get it as brown as you can before adding the spices and sauce. Browning meat creates deeper and more complex flavours, as well as adding pleasantly crisp edges for texture.
Rather than cook the greens in oil you can keep the leaves wet after washed and rely on the residual water to lightly steam them in a hot saucepan.
Kimchi is a punchy fermented condiment from South Korea, not too dissimilar to sauerkraut. It is fresh, crisp and deeply savoury. If you are unsure, add to taste; we'd recommend the lot!
100g brown basmati rice
25g ginger
1 garlic clove
2 spring onions 
1 fresh chilli
oil for frying e.g. sunflower
​250g beef mince
​200g summer greens
2 tablespoons tamari
½ tablespoon mirin
2 tablespoons kimchi
½ tablespoon sesame seeds
1 lime
Put a kettle of water on to boil. Rinse the rice in a sieve under cold running water. Place in a saucepan with a pinch of salt. Cover well with boiling water and simmer for 25 mins until tender. Meanwhile, peel and finely grate enough of the ginger so you have approx. 1 tbsp. Peel and finely chop 1 garlic clove. Trim and finely slice 2 spring onions. Deseed and finely slice the chilli.
Heat 1 tbsp oil in a frying pan. Fry the beef for 10 mins on a medium heat, turning often, until well coloured (see cook's note). While the beef browns, strip the summer green leaves away from their tough central stalks. Discard the stalks and finely shred the leaves. Wash them well but don't dry them (see cook's note).
Add the garlic and ginger to the beef. Fry for 2 mins. Add the tamari, mirin, spring onions and as much chilli as you fancy. Fry for a further 2 mins. Taste and adjust the seasoning.
Leave to rest.Put another saucepan on the heat. Add the greens and cook for 4-5 mins, until wilted and tender. Add a dash more water if needed. When cooked, stir in the kimchi. Taste and adjust the seasoning with more salt if needed.
Drain the rice and serve with the beef and greens. Garnish with the sesame seeds and a wedge of lime.
Merguez beef and green bean quinoa with preserved lemon carrots, from Riverford
Prep and cook 30 mins, serves 2
Merguez is a North African spice mix traditionally used to flavour lamb or beef sausages.
In this recipe, the spice blend is aromatic rather than hot, but there is a little kick from the cayenne. Use a cautious pinch to begin with, as it's quite fiery and can vary in strength. Taste and add more at the end of cooking, if you like.
125g French beans
100g quinoa
300g carrots
1 lemon
250g beef stir fry strips
merguez spice:
½ tbsp smoked paprika
½ tbsp ground cumin
½ tbsp ground coriander
¼ tbsp ground cinnamon
½ tbsp cayenne
½ bunch of spring onions 
1 piece preserved lemon
50g watercress
15g dill
olive oil
Put a kettle on to boil. Trim the French beans and chop each one into 2 or 3 pieces. Put the beans in a saucepan and cover with boiled water from the kettle. Bring to the boil on the hob. Cook for approx 3 mins, until just tender. Drain and run under cold water to cool, then keep to one side.
Put the quinoa in another saucepan with a pinch of salt. Cover with 350ml boiled water. Bring to a simmer on the hob and cook for 12-14 mins, until the water is absorbed and the quinoa tender. Keep an eye on the liquid, add a splash more water if it looks like boiling dry. Once cooked, cover and keep to one side.
Once the quinoa goes on the hob, reboil the kettle. Peel the carrots. Cut into angled pieces, approx 1cm. Put them in the pan used for the beans. Pour over water from the kettle to almost cover them. Add a pinch of salt and the juice from half the lemon. Bring to a medium boil. Cook for 10 mins, or until the carrots are just tender.
While the quinoa and carrots cook, put the beef on a plate and season with salt and pepper. Dust with the merguez spice mix and a pinch of cayenne (see cook's note). Turn the beef in the spices to coat. Trim and finely slice the onions. Scoop out and discard the flesh from the preserved lemon, then finely chop the skin. Roughly chop the watercress.
When the carrots are just tender, turn up the heat and reduce any excess liquid. You want the carrots to be just coated in juices, not completely dry. Remove from the heat and stir in the preserved lemon rind. Heat 1 tbsp oil in a frying pan. Fry the beef on a high heat for 2-3 mins until nicely coloured. If you like, add a little more cayenne, to taste.
Finely chop the dill leaves. Stir the French beans, watercress, onions and dill into the quinoa. Add a squeeze of lemon juice and season to taste. Serve the beef alongside the carrots and quinoa.
Recipes from riverford.co.uk
Speedy seared Thai beef by Sam Richards for Abel & Cole
Prep: 15 mins
Cook: 20 mins
Rich, tender slices of seared beef tossed in a fresh, fragrant salad of rice and torn lettuce, flecked with basil, mint and chilli and drizzled in a punchy dressing with plenty of citrus zing.
150g white basmati rice
​300ml boiling water
2 butcher's centre cut steaks
Sea salt and freshly ground pepper
3 tbsp olive oil
1 garlic clove
1 chilli
1 lime
1 tbsp rice wine vinegar
A handful of mint, leaves only
A handful of basil, leaves only
1 tomato
1 red onion
1 mini romaine lettuce
Tip the rice into a sieve and give it a good rinse under cold water. Tip into a small pan and add 300ml boiling water and a pinch of salt. Pop on a lid and bring to the boil, then turn right down and very gently simmer for 8 mins, till all the water has been absorbed. Take the rice off the heat and leave it to steam in the pan, covered, for 10 mins.
Rub the steaks with 1 tbsp olive oil and a generous pinch of salt and pepper. Bring a heavy griddle or frying pan to a high heat. When smoking hot, carefully add the steaks and fry for 3-4 mins on each side for medium rare, or a couple of mins longer for well-done meat. Transfer to a plate, loosely cover with foil and leave to rest.
Food and drink news

Show all 35
Peel and grate the garlic clove into a bowl. Finely slice the chilli and slide it in. Grate in the lime zest and squeeze in the juice. Pour in 1 tbsp rice wine vinegar. Pick half of the mint leaves and half of the basil leaves. Finely shred them and add to the dressing. Finally, stir in a pinch of salt and pepper and 2 tbsp olive oil. Chop the tomato into small chunks. Peel and finely slice the red onion. Pop both in a large bowl. Tear the lettuce leaves into rough pieces and add to the bowl. Finely slice the steaks using a sharp knife. Pour any resting juices into the dressing and stir well.
Add the rice to the salad bowl along with most of the dressing and toss together. Arrange the salad on plates and top with the slices of steak. Finish with the remaining dressing and the reserved mint and basil leaves.
Turmeric topside with speedy spiced yoghurt by Rachel de Thample Abel & Cole
Prep: 10 mins
Cook: 50 mins
Topside is beautifully tender with bags of flavour, enhanced here with this rich and mild sauce. It makes a might summer Sunday roast but is equally delicious served up at a picnic as cold cuts.
1kg topside of beef
3 onions, thinly sliced
2 tsp turmeric
6 curry leaves
500ml low-fat natural yoghurt
A glug of olive oil
Salt and pepper
Preheat your oven to 240C.
Unwrap your beef and pat it dry with kitchen paper. If you have enough time, leave it out of the fridge for an hour to let it get to room temperature. Place the joint in the middle of a large, deep metal roasting tray.
Rub all over with a little olive oil and a generous amount of salt and pepper. This will help form a lovely crust when it is roasting. Slide your beef onto the top shelf of the oven, and immediately turn the temperature down to 200C. Roast for 35 mins for rare, 45 mins for medium and 1 hour for well done.
Once cooked, transfer the meat to a plate. Allow it to rest for at least 30 minutes before carving.
While the beef is resting, put the roasting dish containing all of the juices onto a medium hob and tip in the onions. Fry for 5 minutes, scraping up the meaty crust from the bottom with a wooden spoon.
Using a pestle and mortar (or a small food processor), bash the turmeric and curry leaves together with some salt and pepper. Pour this mixture in with the onions and cook for another few minutes. Finally spoon in the yoghurt and warm everything through. Thinly slice the beef and spoon over generous amounts of the sauce.
Orange-infused brisket burrito bowl with creamy guacamole
Serves 4
1.2kg organic beef brisket joint
1 onion
1 tsp dried thyme
half tsp sweet smoked paprika
quarter tsp garlic salt
For the guacamole
2 ripe avocados
Juice of 1 small lime
2 tsp Holy Cow organic cottage cheese
1 small red onion, peeled and chopped finely
Good pinch of salt
The easiest way to cook a beef brisket joint is in a slow cooker, because you can throw everything in, replace the lid and forget about it until your house smells incredible and you're all hungry.
Alternatively, you can cook the brisket joint in a casserole dish topped up with stock in a low oven for about 4-5 hours until falling apart tender. First of all, mix together the orange zest and juice, the thyme, paprika and garlic salt and rub all over the surface of the beef brisket joint.
Quarter the onion and throw it into the bottom of the slow cooker pot or casserole dish and then place the beef joint on top. If you're cooking this in a casserole dish in the oven, top it up with beef stock. If you're cooking this in a slow cooker, you won't need the extra liquid.
Cover and leave to cook in the slow cooker for 5 hours on high, or until meltingly tender. To make the creamy guac, mash together the flesh of 2 avocados and squeeze in the lime juice.
Beat in the cottage cheese and the red onion pieces and mix well. Season with salt just before serving. Shred the cooked brisket and serve with white basmati rice, pinto beans, shredded lettuce, salsa, fresh parsley or coriander leaves and the guacamole.
Recipe from wellhungmeat.com
Register for free to continue reading
Registration is a free and easy way to support our truly independent journalism
By registering, you will also enjoy limited access to Premium articles, exclusive newsletters, commenting, and virtual events with our leading journalists
Already have an account? sign in
Join our new commenting forum
Join thought-provoking conversations, follow other Independent readers and see their replies