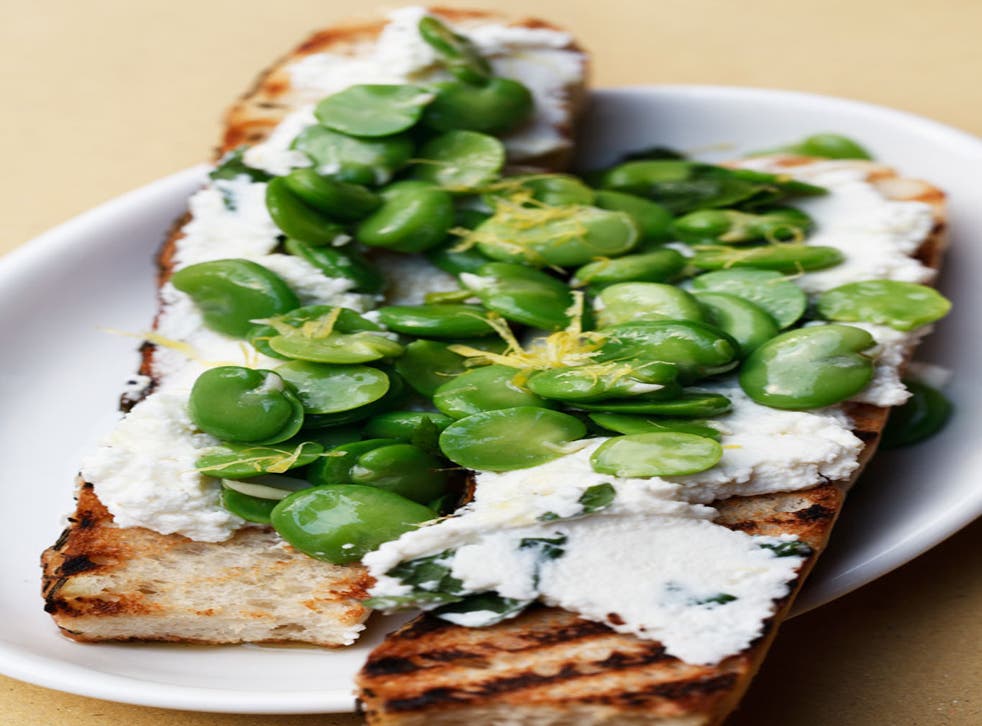 Broad bean, mint and ricotta bruschetta
Russell: This is one of the most popular dishes on the summer menu at Polpo. The colours are such strong indicators of the flavours that are to follow but, despite the assertiveness of the ingredients, it is still a subtle and delicate combination. This dish is a joy to prepare. Ricotta is readily available from Italian specialists and even in good supermarkets now. And I don't know about you, but podding and skinning broad beans is one of my favourite kitchen pastimes.
2 thick slices of sourdough or soda bread
A good handful of podded broad beans
3tbsp fresh ricotta
2tbsp extra virgin olive oil
½ clove of garlic
The zest of one lemon and a little juice
10 mint leaves, roughly chopped
Salt and pepper
Place the broad beans into boiling water for 5 minutes, remove and plunge into cold water. Then drain and skin them. Put them in a small bowl and dress them in the olive oil, the zest, a little lemon juice, most of the mint, salt and pepper.
Toast or grill the slices of bread so that they are crunchy on the outside but still have a bit of give when squeezed. Rub one side of each slice with the cut side of the garlic. The clove will melt into the bread's hot surface.
Spread the fresh ricotta, with salt and pepper added to taste, on to the hot and prepared bread. Top with the broadf beans and garnish with the remaining chopped mint.
Join our new commenting forum
Join thought-provoking conversations, follow other Independent readers and see their replies