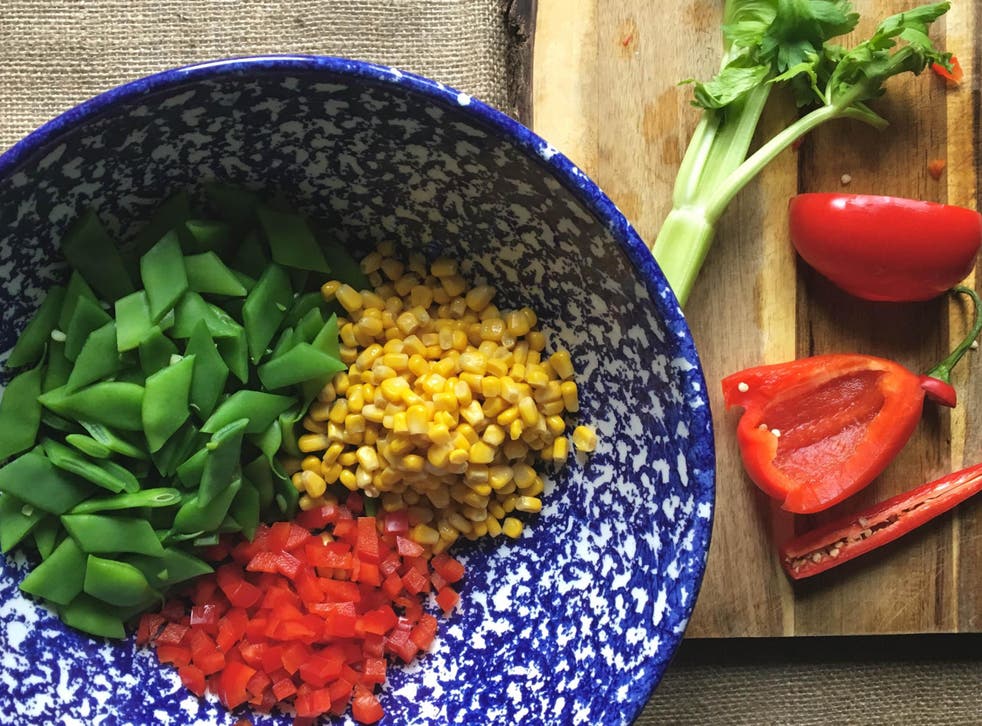 How to make a broad bean, sweetcorn and red pepper pickle
You don't need to be a preserving expert to make a pickle, says Julia Platt Leonard. A quick pickle is simple, easy to make and will last for at least a week or more
The word glut gets a bad reputation. It comes from the Latin gluttire – to swallow – and means too much, an excess, or more than can be used. It's a close cousin to glutton and gluttony which doesn't help either.
But when it comes to the garden, is a glut really a bad thing? Isn't a glut of something – tomatoes, courgettes, even mint – simply a sign that you've done well?
And if you've got more than you can swallow, isn't it the perfect opportunity to share what you've sown? If showing up on your neighbour's doorstep with a bag of veg feels odd, then making a jar of pickles might be the answer.
You don't need to be a preserving expert either – a quick pickle is simple, easy to make and will last for at least a week or more refrigerated.
This one is based on an American-style chow-chow – the term used for pickled vegetables served as a condiment. It gets its yellow colour from a generous dash of turmeric and some yellow mustard seeds.
I've used broad beans because there was an abundance of them at the vegetable market. I added the spices to a mix of sugar and vinegar to make a quick pickling juice.
Food and drink news

Show all 35
Then 24 hours later, it's ready to go but I must confess I started nibbling before it ever hit the jar. Serve it with a pork chop or sliced ham and cheese for a ploughman's lunch and you'll never say another bad word about a garden glut again.
Broad bean, sweetcorn and red pepper pickle
I've given approximate weights for the vegetables because you're aiming for around 750-800g of chopped vegetables for this amount of pickling liquid. You could change the combination and use cauliflower (a classic chow-chow vegetable) or French green beans. I briefly blanch the runner beans but the other vegetables are fine to use raw.
500ml white wine vinegar
1 tbsp mirin
100g caster sugar
1 tsp turmeric
1 tsp celery seed
1tbsp mustard seeds
2 tsp sea salt
A few black peppercorns
300g runner beans, sliced into 2-3cm pieces
1 red pepper, about 200g, diced
1-195g tin of sweet corn, 160g drained weight
1 large stalk of celery, about 100g, diced
½ long red chilli, deseeded (optional) and diced
Place the vinegar, mirin, sugar and spices into a pan. Bring to a boil and stir to ensure the sugar fully dissolves. Lower the heat and simmer for 5 to 10 minutes. Remove from the heat and allow to cool.
While the pickling liquid is cooling, bring a pot of water to the boil. Generously salt it and blanch the runner beans for 1 or 2 minutes.
They should still have a good crunch to them. Drain and refresh with very cold water. Spread out on a sheet pan or plate and gently dry them with a piece of towel paper. In a large bowl, combine the runner beans with the chopped red pepper, celery, drained sweet corn and chopped chilli (if using).
Pour the pickling liquid onto the vegetables and stir gently. Place the vegetables in clean glass jars and refrigerate until ready to use.
@juliapleonard
Register for free to continue reading
Registration is a free and easy way to support our truly independent journalism
By registering, you will also enjoy limited access to Premium articles, exclusive newsletters, commenting, and virtual events with our leading journalists
Already have an account? sign in
Register for free to continue reading
Registration is a free and easy way to support our truly independent journalism
By registering, you will also enjoy limited access to Premium articles, exclusive newsletters, commenting, and virtual events with our leading journalists
Already have an account? sign in
Join our new commenting forum
Join thought-provoking conversations, follow other Independent readers and see their replies