Cherry clafoutis
Serves 6-8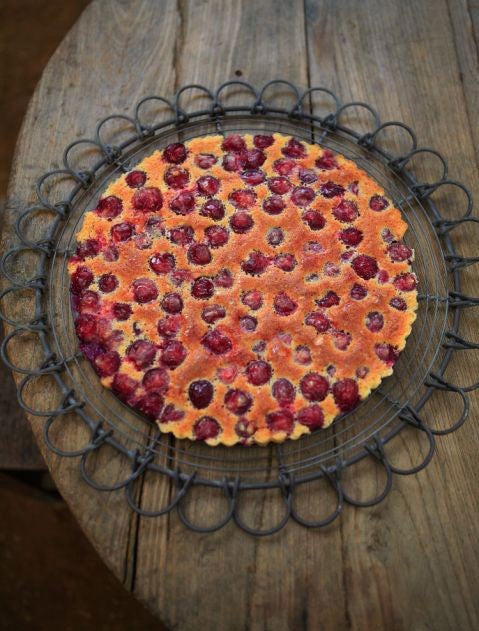 I have always loved clafoutis as it can be made with any summer fruits (try peaches, blackberries or a combination of all three, though you don't need to cook peaches or blackberries first). In this recipe I have left in the pips because, annoying though it may seem, cherries left this way remain much more flavoursome and juicy. Clafoutis, in essence, is a simple batter, easy in itself to make. Best eaten no more than a few hours from the oven.
60g/2oz unsalted butter
500g/16oz sweet cherries
100g/3oz caster sugar
1tsp of kirsch
grated zest of 1 lemon
2 medium eggs, separated
3tbsp plain flour
1tsp vanilla extract
120ml/4fl oz double cream
1tbsp ground almonds
a little icing sugar for dusting
Heat the oven to 180C/350F/Gas4. Grease and flour a 23cm (9in) baking dish. Melt the butter in a pan over a gentle heat and, when the butter is foaming (but not coloured), add the first 100g (3oz) of sugar, lemon zest and kirsch. Cook over a low heat for 5 minutes or so, stirring occasionally. When finished, the cherries should be tender when prodded with a fork.
Beat the egg yolks and sugar together (ideally in an electric mixer) until light and airy. Fold in the flour and vanilla extract and the ground almonds. In a separate bowl, beat the egg whites with a pinch of salt until they form soft peaks. Fold the whites gently into the batter until just blended.
Pour the cherries into the tin. Pour over the batter and bake in the middle of the oven for 20 minutes or until the batter is puffed and browned. Remove from the oven and allow to cool slightly.
To serve, dust with icing sugar and put on a plate with a dollop of unpasteurised thick cream.
Join our commenting forum
Join thought-provoking conversations, follow other Independent readers and see their replies