These are the recipes you should be making with chestnuts this December
The classic festive song, 'roasting chestnuts on an open fire', suggests these nuts are just for Christmas, but they're certainly not. Try them in salads, stews and pasta dishes
Wednesday 28 November 2018 11:03 Comments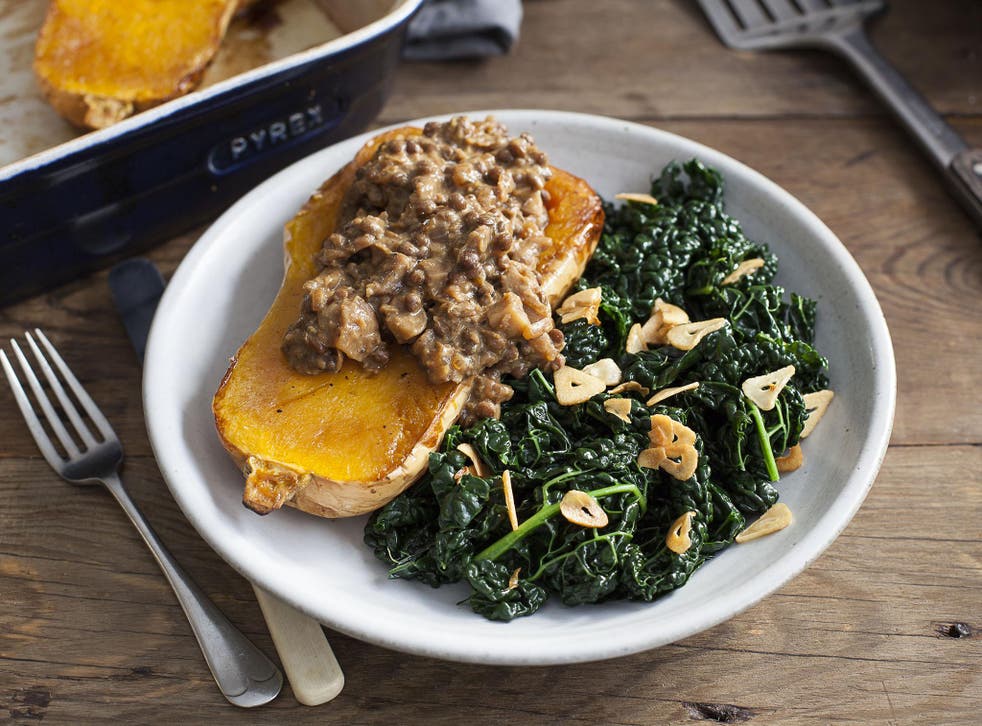 Unlike other nuts, this variety are quite soft because they have a higher water content, and for that reason they need to be kept in the fridge, preferable with a damp cloth over them.
Fresh chestnuts are available in shops and at markets from the end of September until the end of January. If you're buying them fresh, look for ones with shiny dark brown skins that feel heavy and don't have any cracks in its skin already, as this may lead to mouldy nuts inside.
To open them, you can get a special knife fo the job which has a little curved tip, but you can use a normal sharp knife if you prefer. First of all, score the shell and then soak them in water for about half an hour.
This helps the nuts retain their moisture when they're roasted and stop them from drying up.
Roast them for about an hour, let them cool (but not get cold) and begin peeling them while they're still warm so it's easier to also peel off the skin underneath the shell.
Chestnut, miso and lentil stuffed squash with crispy garlic and kale
Chestnuts add a festive feel to this lentil stuffing, with a flavour nod to the East. Season carefully, as the tamari and miso both bring their own saltiness. Tahini is added for extra flavour and nutrients and to thicken the sauce; if it gets a little too thick, just let it down with a splash of water. The chestnut mixture and the kale can both be reheated if you're speedy at the stove and they're ready before the squash is cooked.
Prep and cook 45 mins
Serves 2
1 butternut squash, halved lengthways & seeds scooped out
oil for roasting and frying eg sunflower
10g dried mushrooms
1 onion, peeled and finely diced
25g ginger, peeled and finely grated
150g curly kale, leaves stripped off stalks and shredded 
100g chestnuts
½ tin dark green lentils 
1 tablespoon brown rice miso​
1 tablespoon tahini
1 tablespoon tamari​
1 teaspoon five spice
2 garlic cloves, peeled & finely sliced
Preheat your oven to 200˚C/Gas 6. Place the squash in a baking dish, drizzle with oil and season. Turn cut-side down and bake for approx. 45 mins, until the flesh is tender when pierced with a knife.
Meanwhile, boil a kettle. Put the dried mushrooms in a mug and cover with 250ml boiled water. Leave to soak. Heat 1 tbsp oil in a large saucepan. Fry the diced onion on a low heat for 10 mins, stirring now and then to prevent it from sticking.
Drain and rinse the lentils in a sieve. Keep the other half of the tin for another meal. After 10 mins, add the miso, tahini, tamari, ginger and five spice to the onion. Carefully tip in the mushroom soaking liquor, leaving the mushrooms and last little bit of liquor (with the grit) in the mug.
Stir in the chestnuts and lentils. Simmer for 10 mins. Keep an eye on the liquid level and top up with a little extra water if needed. Heat 3 tbsp oil in a frying pan. Add the garlic and gently fry until golden brown: take care as they can catch and burn quickly. Scoop them onto a plate.
Add the kale to the same pan. Stir and cook on a medium heat for 3-4 mins, until it wilts down. There should be sufficient water on the washed leaves to help it along, but add a splash more if needed. Season to taste.
When the squash is cooked, gently reheat the lentils, if needed, and season to taste. Serve the lentils spooned into and over the squash, with the kale alongside, scattered with the garlic.
Chestnut, thyme and mushroom casserole with mashed potato
Chestnuts aren't just for Christmas, they're a great addition to vegetarian dishes all year round. Here we using their nutty sweetness with our chestnut mushrooms in a hearty casserole, with red wine and fresh thyme.
1 onion
1 large or 2 small garlic cloves
1 tsp thyme leaves
Oil for frying e.g. sunflower or light olive
400g mushrooms
6 cooked chestnuts
1 tsp wholewheat plain flour
1 tbsp tomato purée
75ml red wine
1 tbsp vegetarian Worcester sauce
1 low salt vegetable stock cube
600g potatoes
25g butter
Splash of milk (optional)
Handful parsley
Salt and pepper
Peel, halve and finely slice the onion. Peel and finely chop or crush 1 large or 2 small garlic cloves. Pick the leaves off enough thyme sprigs so you have 1 good tablespoon worth. Heat 2 tablespoons of oil in a flameproof casserole, one with a lid (or use a saucepan, then transfer to a casserole or baking dish, using foil to cover).
Gently fry the onion, stirring now and then, for 10 minutes or until softened. Add a splash of water if it looks like catching at any point. Meanwhile, preheat your oven to 180˚C/Gas Mark 4. Wipe the mushrooms clean with a damp piece of kitchen paper or clean cloth. Cut them into quarter's. Break up the chestnuts (they tend to be stuck well to each other!).
Once the onion has cooked for 10 minutes, add the garlic, mushrooms, thyme and flour. Increase the heat slightly. Stir-fry for 2-3 minutes, just to soften the mushrooms slightly, and cook the flour out.Add the tomato purée. Stir for 1 minute. Add the wine, Worcester sauce and 300ml water.
Crumble in half the stock cube and stir in the chestnuts. Season with salt and pepper. Bring the pan to the boil. If you've used a saucepan, transfer to an ovenproof casserole at this point. Cover whichever pan or dish you're using and cook in the oven for 30 minutes.
Check and stir it towards the end, adding a splash more water if needs be. While it cooks, wash, peel and dice the potatoes into 2-3cm chunks. Put them in a pan of cold water. Season well with salt and bring the pan to the boil. Cook for 10-12 minutes or so, until the potatoes are soft when pierced with a sharp knife. Once cooked, drain into a colander. Leave in the colander for 2 minutes to allow excess water to evaporate.
Mash in the same saucepan with the butter, salt and pepper to season, and a splash of milk from your fridge too, if you like. The mash can be kept and gently reheated to serve with the casserole. Wash, shake dry and roughly chop the parsley.
Once the casserole is ready, stir in the parsley, check the seasoning and serve with the mash.
Cooks notes: If you don't have a potato ricer, treat yourself to some new kitchen kit or add one to your next birthday or Christmas list. They make the smoothest mash with little effort, and aren't too expensive to buy. It's fine to use a potato masher, of course, but don't be too over zealous with it, as you can overwork the mash, making it gloopy.
Red cabbage salad with beetroot, blue cheese and crispy chestnuts
This bright winter salad with buttery chestnuts, creamy cheese and tangy apple is good enough to eat on its own. Macerating the raw cabbage and beetroot in the spiced dressing allows the veg to soften and take on some extra flavour. If you don't have chestnuts, walnuts or even toasted seeds would work well too.
Zest and juice of 1 orange
1 tbsp red wine vinegar
1 tsp Dijon mustard
1 tsp allspice
1 tsp caraway seeds
Olive or hazelnut oil
1 beetroot, peeled and cut into matchsticks
½ red cabbage, core removed, shredded
40g cranberries
25g butter
1 pack pre-cooked chestnuts, roughly chopped
1 apple, core removed, halved and thinly sliced
75g blue cheese
Salt and pepper
In a large bowl, mix the orange zest, vinegar, mustard, allspice, caraway seeds, 2 tablespoons of orange juice and 2 tablespoons of oil. Add the beetroot, cabbage and cranberries. Season with salt and pepper. Stir to combine. Set aside and allow to macerate.
After 10 minutes, heat the butter and 1 tablespoon of oil in a frying pan. When the butter is bubbling, add the chestnuts. Fry for 3-4 minutes, until crisp at the edges.
Season the cabbage and beetroot to taste. Use a slotted spoon to transfer to a serving platter or large plate. Hold back the juices. Top with the apple slices and chestnuts. Crumble over the blue cheese.
Chestnut and sprout gratin with spiced red cabbage, apple and beetroot
This quick-cook red cabbage dish has all the appeal of classic slow-braised red cabbage but takes less than an hour to make rather than the usual three or four. Adding a little beetroot helps the colour stay bright.
¼ large red cabbage
1 beetroot
1 small red onion
1 apple
¼ tsp allspice
1 bay leaf
1 tsp dark brown sugar
10ml cider vinegar
1 nutmeg
Oil for frying, e.g. sunflower or light olive
1 leek
200g brussels sprouts
15g sage
1 tin borlotti beans
6 cooked chestnuts
50g Italian-style hard cheese
100ml double cream
1 tsp Dijon mustard
25g breadcrumbs
Salt and pepper
Very finely shred quarter of the red cabbage. Wash, peel and coarsely grate the beetroot. Peel, halve and finely slice the red onion. Cut the apple into quarter's, cut out the core, then thinly slice. Put the cabbage, onion, apple, allspice, bay leaf, sugar, vinegar and a scant grating of nutmeg into heavy-based pan, one with a lid.
Add a little slug of oil and stir well. Heat until it starts to bubble. Add enough water to come about a third of the way up. Bring to the boil, reduce the heat, cover and simmer for 30-40 minutes, until the cabbage is tender. If it is done before your gratin, it can be reheated to serve.
While the cabbage cooks, cut the leek in half (save half for use in other meals). Slice lengthways in half, then finely shred and wash well to remove any grit. Heat 2 tablespoons of oil in a large frying pan. Add the leek and fry on a low heat for 8 minutes, stirring now and then to stop it catching.
Add a splash of water if it looks like it might. Meanwhile, wash, peel and trim the base of the Brussels sprouts. Cut them in half through the root, then into thin shreds, discarding the stalk base. Wash and finely shred 8-10 sage leaves, depending on size. Preheat oven to 210˚C/Gas Mark 6.
After 8 minutes, add the sprouts and sage leaves to the leek. Fry, stirring, for 4 minutes. Meanwhile, drain the borlotti beans into a colander and rinse under cold water. Roughly chop half the pack of chestnuts into half's or quarter's.
Add the borlotti, chestnuts, cheese, three quarters of the pot of cream and 4 tablespoons of water to the mix. Season with a little salt and pepper (not too much salt, as the cheese is quite salty). Bubble for 1 minute. Stir in the mustard. If your pan is ovenproof leave the mix in it.
If not, transfer to a baking dish. Cover with the breadcrumbs. Bake in the oven for 15-20 minutes, until the top is lightly golden brown. Serve with the cabbage.
Cooks notes
We're serving it with a seasonal gratin – sprouts and chestnuts, a classic pairing, beefed up with nutty borlotti beans and earthy sage. If you like, you can fry some extra sage leaves as we did to garnish the top: heat a little oil in a pan, add the sage and fry for a minute or so, until they crisp up (they become slightly darker once done). Drain on kitchen paper and scatter over the top of the gratin.
Squash and chestnut pasta with crispy sage and garlic
The chestnuts have already been cooked and may seem a little bland and mealy at first. Colouring them in the pan reveals lots of complex sweet, nutty flavours and changes the texture, too.
1 butternut squash
Olive oil
1 whole garlic bulb
15g sage
6 cooked chestnuts
200g orecchiette
25g butter
25g Parmesan cheese
1 lemon
1 nutmeg
Salt and pepper
Put a large pan of well salted water on to boil. Preheat oven to 200˚C/Gas Mark 6. Peel the butternut squash and remove the soft, seedy core with a spoon, discard. Chop the squash into 1½ cm chunks.
Place them in a roasting tray, coat with oil and season with salt and pepper. Place them in the oven to roast for 25 minutes, or until tender and slightly coloured. While the squash cooks, break the garlic bulb into its separate cloves. Peel each clove, keeping them whole. Pop the garlic cloves into the pan of boiling water and cook them for 10 minutes, until just tender to the tip of a knife.
While the garlic poaches, pick the sage leaves from the stalks. Coarsely chop the chestnuts. When the garlic has cooked, remove from the pan with a slotted spoon and slide the pasta into the same pan of water for 12 minutes to cook. Slice the larger cloves of garlic into quarter's, the smaller into half's. Heat 1 tablespoon of oil in the saucepan.
Add the butter and heat until it melts and starts to gently foam. Add the chopped chestnuts. Season with a sprinkle of salt and gently fry for 4-5 minutes. Turn frequently until they start to smell fragrant and nutty. Add the sliced garlic and the sage leaves.
Turn the heat up and fry for 2-3 minutes until the garlic and chestnuts are golden brown and the sage leaves have crisped up. Add a good squeeze of lemon juice. Take the pan off the heat. Drain the pasta and remove the squash from the oven. Add them to the pan of chestnuts and return it to the heat. Season with freshly ground pepper and throw everything together for about 1 minute.
Divide into shallow bowls, grate over a scant dusting of nutmeg and sprinkle with the cheese. Serve immediately.
Cooks notes
Don't be put off by the inclusion of a whole bulb of garlic in this recipe. By poaching the cloves the pungent notes are softened and the whole thing becomes sweet and soft. They can then be lightly browned in the pan until slightly crisp and chewy, a process that would render them bitter if cooked from raw.
Recipes from Riverford.co.uk
Register for free to continue reading
Registration is a free and easy way to support our truly independent journalism
By registering, you will also enjoy limited access to Premium articles, exclusive newsletters, commenting, and virtual events with our leading journalists
Already have an account? sign in
Join our new commenting forum
Join thought-provoking conversations, follow other Independent readers and see their replies