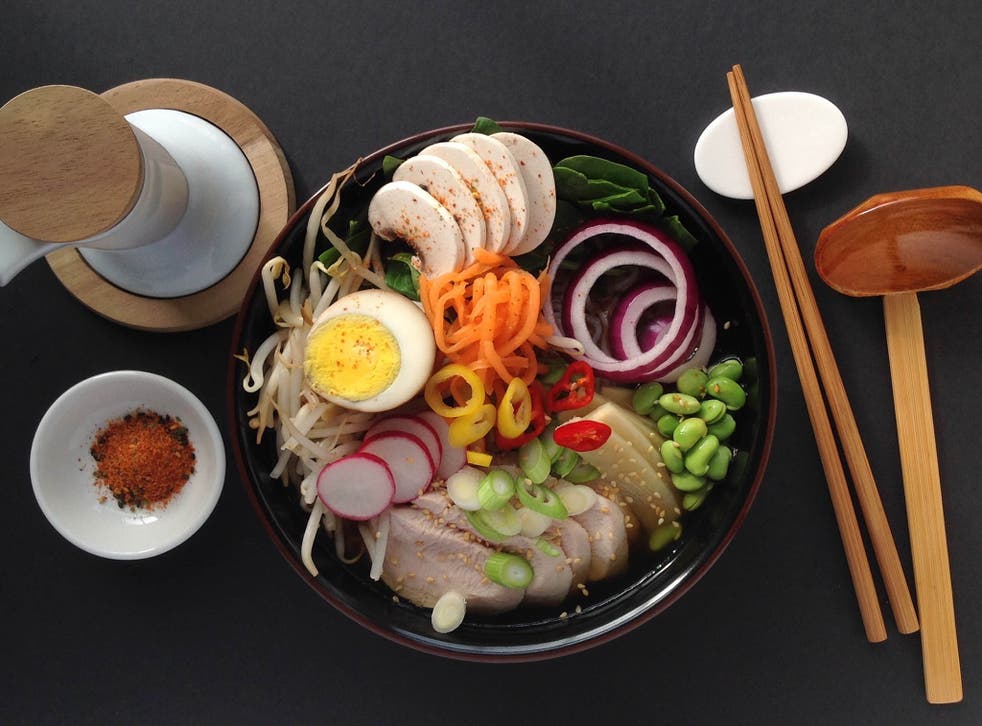 How to make chicken and ginger noodle soup
Chicken and ginger noodle soup
Somewhere between a bowl of noodles and a bowl soup. Get the best of both, with succulent poached chicken, noodles and fresh vegetables all pulled together with a light, miso stock infused with zingy ginger.
Makes enough for 2 servings
1 boiled egg, shell removed
400g konjac noodles, rinsed and boiled for 2-3 minutes (you may substitute your own choice of noodles if you like)
1 small piece of wakame (an edible sea vegetable)
750ml water
A thumb tip of ginger, grated
1 cooked chicken breast, sliced against the grain
2 large handfuls of bean sprouts, rinsed and drained
½ red onion, sliced into rings
2 closed cap mushrooms, finely sliced
50g cooked soya beans
Large handful chopped spinach
1 small carrot, grated
2 radishes, finely sliced
A few slices of red or yellow chillies
50g tinned bamboo shoots
1tbsp sweet white miso paste
1tsp toasted sesame oil
To garnish
2 spring onions, finely chopped
Toasted sesame seeds
Soy sauce
Soak the peeled boiled egg in a cup of strong black tea. Leave to one side. Prepare the konjac noodles according to the packet instructions. Rinse and soak the wakame in warm water for about 5 minutes until softened, chop finely.
Bring the water to a boil and tip in the ginger and wakame, reduce the heat and simmer for 5 minutes. While the water is simmering carefully cut the tea-stained egg in half with a very sharp knife to avoid ripping the yolk. Lay out the egg and all the other ingredients so that once the stock is made you can assemble your soup quickly.
Add the miso paste and sesame oil to the ginger-infused water and stir to combine.
Divide the noodles between two large bowls, top each bowl with half of the other soup ingredients, keeping each ingredient separate for presentation. Ladle over the hot stock, sprinkle with the spring onions and sesame seeds and serve with soy sauce on the side.
Food facts: Konjac noodles, also called zero noodles, are made from glucomannan flour, which is a product of the large starchy tubers of the konjac plant. The noodles contain 96 per cent water and less than 4 per cent glucomannan fibre, as a result, there are very low in calories but extremely filling.
Follow Beverley Hicks @littlechelseakitchen
Register for free to continue reading
Registration is a free and easy way to support our truly independent journalism
By registering, you will also enjoy limited access to Premium articles, exclusive newsletters, commenting, and virtual events with our leading journalists
Already have an account? sign in
Join our new commenting forum
Join thought-provoking conversations, follow other Independent readers and see their replies